case study
Monkee - how creative iterations increased the conversion rate from installs to registers by 30%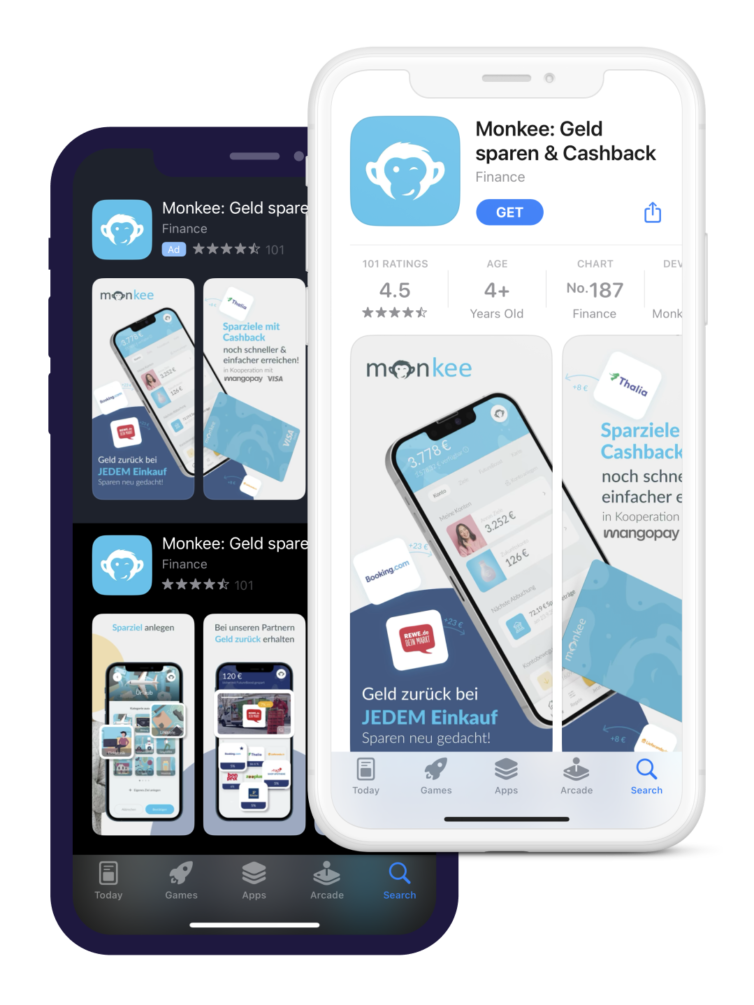 Monkee is a save money & cashback app that a Tyrolean start-up created. The central concept of Monkee is to show what saving can look like in the age of digitization. The app has a core mission to help people lead financially healthier lives by making saving as easy as spending, and available on Google Play Store, Apple App Store, Huawei AppGallery.
Monkee's innovative features are designed to give users a personalized digital financial coach experience that inspires and supports them in establishing new savings habits as part of their daily routine.
Boosting conversion rates in a highly competitive financial sector
The financial app category is highly competitive on Google Play and Apple App Store. Moreover, big players in this niche invest significant budgets in promoting their mobile applications, which leads to high cost per install in finance app stores' categories.
Therefore, one of Monkee's biggest challenges was overcoming costly competition with a limited budget. Additionally, Monkee needed to increase its user base and conversion rate from downloads to registration. Driven by high motivation, our team of app marketing experts took on this challenge and started developing a winning strategy for our client.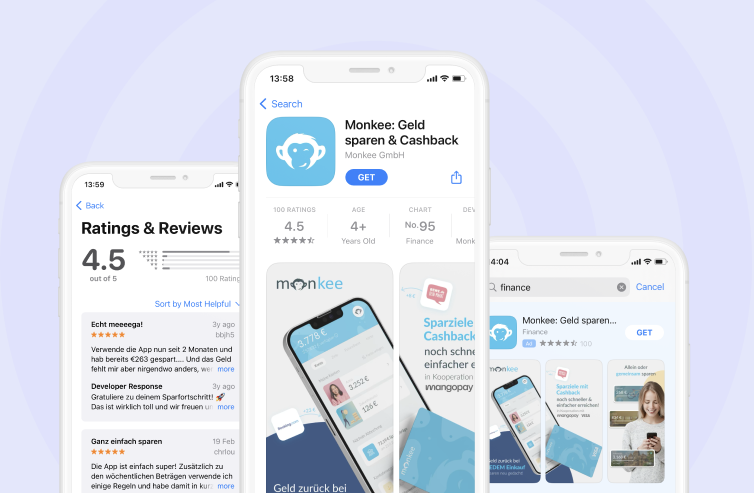 App Stores: Apple App Store, Google Play Store
Platforms: Apple Search Ads, Google Ads, Meta Ads, TikTok Ads
Markets: Austria & Germany
Services: Paid User Acquisition and ASO
The collaboration between App Radar & Monkee started in early 2022. As the first step, we defined with the client 3 main goals of our partnership:
Increasing Monkee's user base
Decreasing cost per install
Increasing in-app register volume
With a clear understanding of our objectives, App Radar's user acquisition team has suggested concentrating our efforts on campaigns centred around creative content. This approach promises to have positive results and help us achieve our goals efficiently.
As the first step, we needed to analyze past paid campaigns and define the pain points of the previous approaches. Once we determined patterns in each promotional channel, our team started to dive deep into Monkee's business use case. We needed to comprehend the needs of their users and establish clear user journeys.
As the next step, we focused on identifying the fundamental components and topics that would effectively convey Monkee's unique selling points to potential users. At the same time, we also concentrated on creating a solid brand image.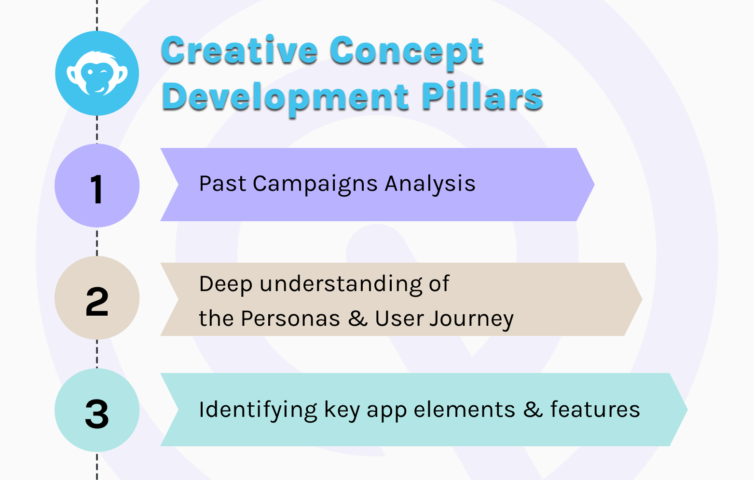 All these steps were crucial, as they enabled us to develop creative ad campaigns that enhanced clients' conversion rates.
Creative ad campaign - Hopes & Dreams
Our initial strategy aimed to attract more downloads by incorporating eye-catching messages that showcased the benefits of saving money. For example, fulfilling travel goals like visiting Barcelona or achieving personal goals with Monkee.
We utilized lifestyle content featuring real people on the ad banners to create a relatable and emotional connection with potential users.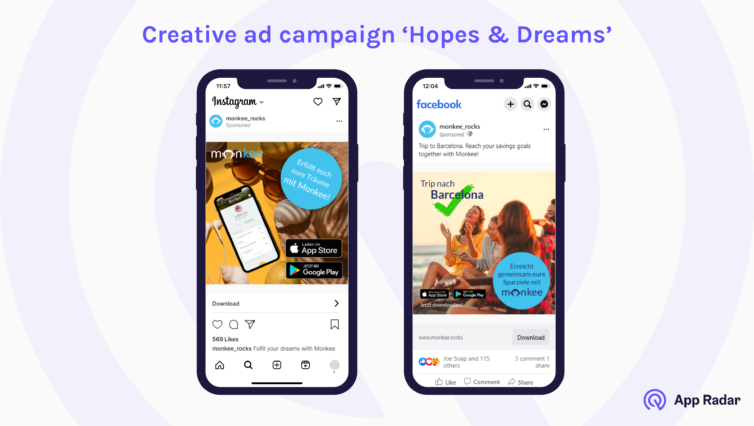 Creative ad campaign - 'Tangible benefits'
As a part of the second creative ad campaign, our team highlighted the Monkee app's short-term benefits. We aimed to showcase tangible examples of what users could expect when they start using Monkee, along with numerical advantages. This approach led us to make some significant changes in how we communicated with our audience:
Saving money together is easy -> 20% cash back on every purchase
Save money to go to Barcelona -> Save money while using Booking.com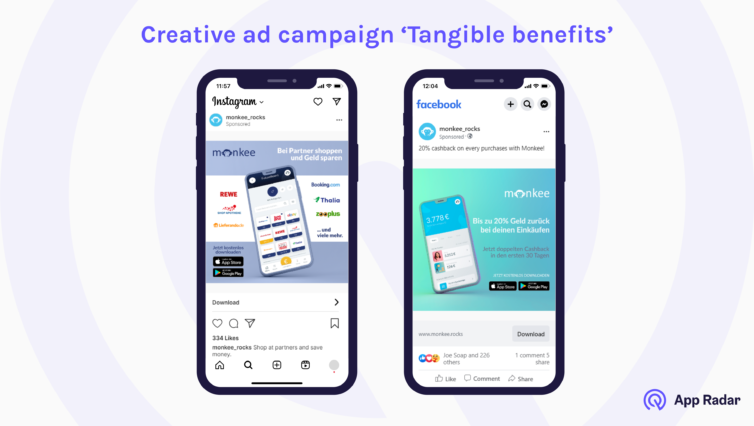 In line with our strategy, we also created an app walkthrough video that showcased the most profitable feature of the Monkee app - FutureBoost. With this fantastic functionality, users can make purchases and receive instant cashback! Giving more attention to this feature was crucial; therefore, we approached a video format ad as one of the most effective.
On-going testing of creative ad campaigns
During the campaign timeline, App Radar's team constantly tested ad creatives to ensure the conversion rate was increasing. Although the testing process was effective, we required additional content to combat ad-fatigue*.
*Ad-fatigue occurs when your audience sees your ads so often that they become bored with them and stop paying attention.
To gather more insights, we utilized the A/B testing capabilities of social platforms and targeted large audiences. Our team has also isolated various variables and experimented with different hypotheses. This testing approach allowed us to understand our audience's preferences better while enhancing our overall strategy.
Here are some of the main app elements that we tested together with Monkee :
Key visual elements
Using percentages
App screens
Colour pallets
User experience
Trending topics
Seasonality
UGC videos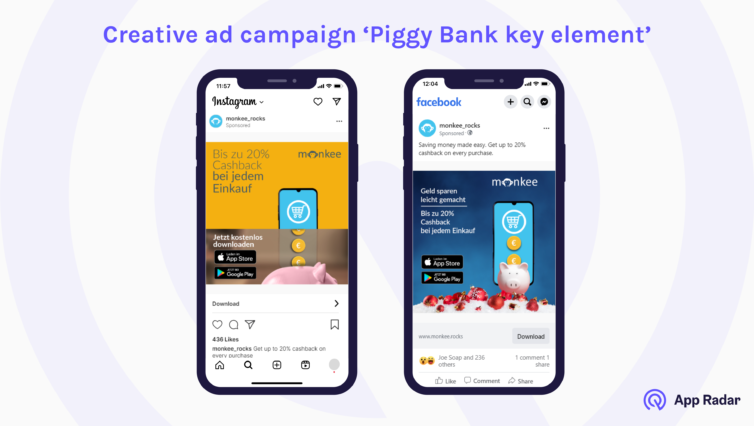 Our team successfully combined all the winning testing components to create a captivating video that effectively increased conversions. We strategically utilized our key visual elements, particularly in the initial moments of the video, resulting in exceptional outcomes on both Meta and YouTube platforms.
Recycling of low-performing banners
Based on the impressive performance of the video ad, we decided to upgrade our static banners. Our creative team created animated banner versions that display app screen recordings on smartphone mockups. This new approach has proven highly effective in capturing audience attention and boosting engagement.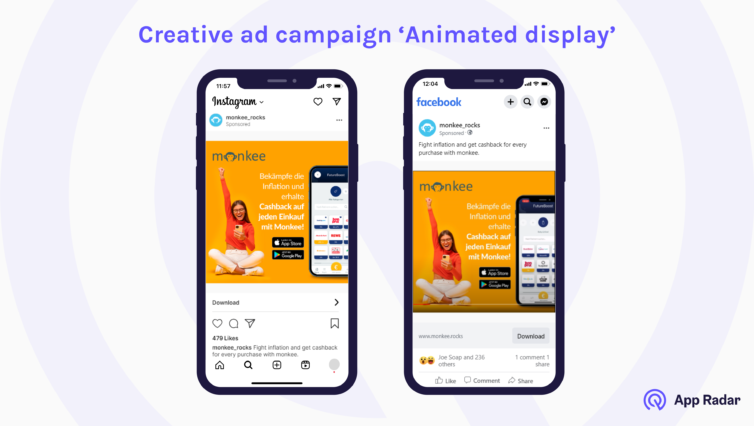 Creative refinement based on data amplified the in-app conversion rate by 30%
+30%
in-app conversion rate
Data gathering through creative testing enabled us to improve ads by generating more precise and strategic messaging aligned with the campaign's primary goals.
Throughout the hypothesis, testing, learnings, and analysis, the campaigns increased the in-app conversion rate from downloads to registrations by 30%, acquiring the correct and most profitable users for Monkee.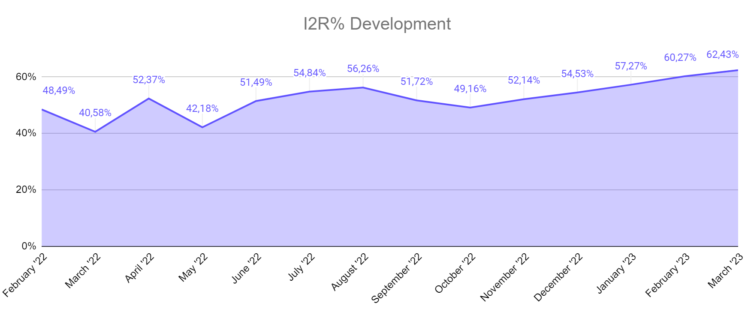 App Radar helped us so much getting up to speed with our mobile app marketing efforts: attribution, paid channels and ASO. I'm impressed by their passion, skills and that the collaboration really felt like they were part of our growth team.