Find Out Which Keywords Your Competitors Run Apple Search Ads On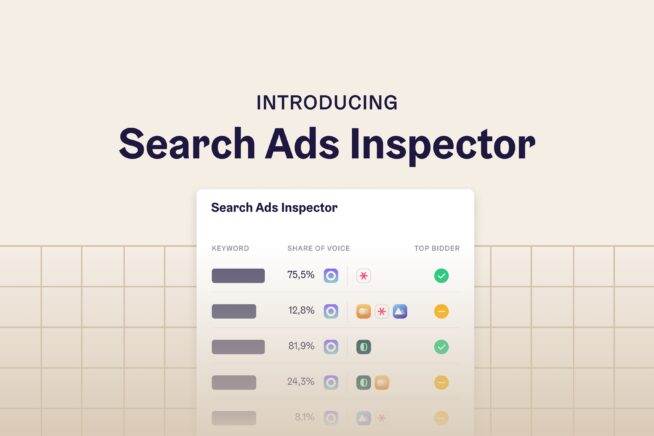 You've worked so hard to get your app to rank well in the App Store. And we congratulate you on achieving such an impressive feat. The organic installs are rolling in, and your loyal user base continues to grow. You have a pretty good view from the top of the App Store search results, right? We think so.
Not to rain on your App Store rank parade, but we feel the immense responsibility to let you know that your organic rank, even when you're #1, can be bulldozed by Apple Search Ads. This is especially true when you're competing in a highly saturated app niche, such as photo editing or fitness.
What are App Store Ads?
App Store Ads are officially called Apple Search Ads. Apple Search Ads is the only promotional channel available inside the App Store. These ads are seen at the top of a search results page. They're displayed in a blue box labeled Ad.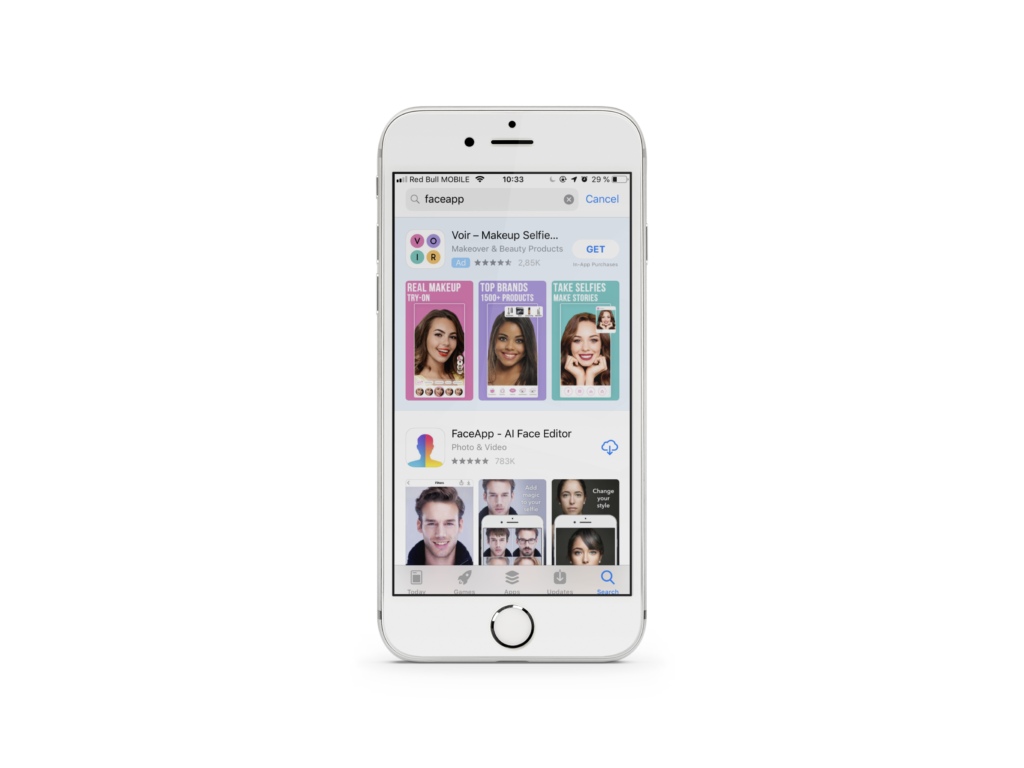 App Store visitors see these ads before the #1 organically ranked app. So if your competitors are running Search Ads on your app's name or top keywords, they're stealing all of your well-earned App Store visibility.

It's an outrage. Totally.

Now, don't worry. You know we never leave you hanging. There is good news! Here we go.
Run Apple Search Ads the Smart and Informed Way
The App Radar Search Ads Inspector
Our development and product team have been working day and night to bring you an all-new App Radar feature. The App Radar Tool now includes a Search Ads Inspector.
With our new Search Ads Inspector feature, you'll be able to:
Spy on competitors to see which keywords they're running ads on
Discover yours and competitors' share of ad impressions per keyword
Identify competitors running aggressive campaigns on your brand/app name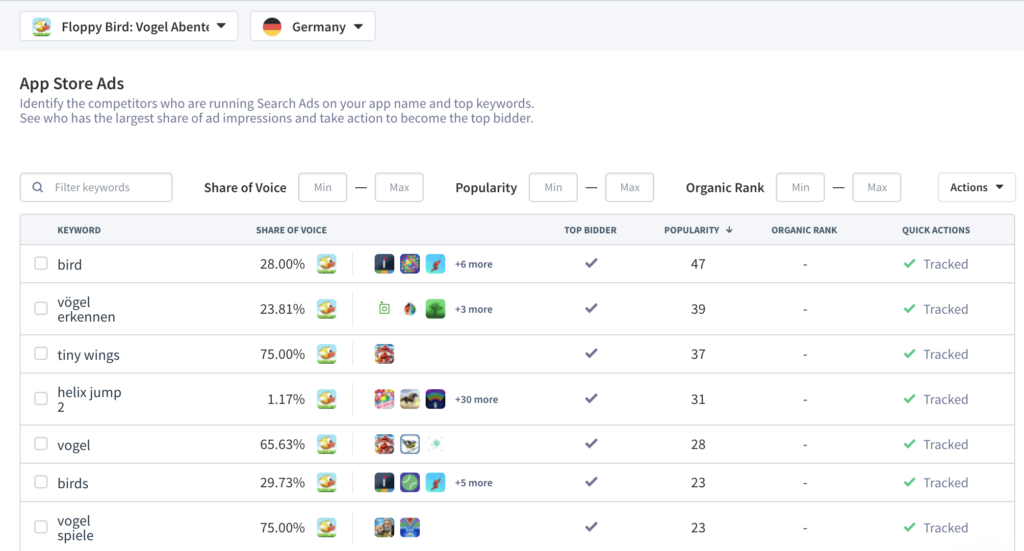 You won't get this information on the Apple Search Ads dashboard. We, on the other hand, believe knowing the above points is absolutely necessary to running successful ad campaigns. That's why we built this feature for you.

Now that we've equipped you with the supercharged tools you need, go ahead and dive into Apple Search Ads.
Here are some actionable strategies:
Run ads on the same keywords your competitor is running ads on
Up your bid when your Share of Voice (share of ad impressions per keyword) is low
Go on the offense and run campaigns on competitor brand/app names
Go on the defense and protect your brand
Identify high popularity relevant keywords and run ads on them
Looking for more? Here you can learn how to analyze and optimize Apple Search Ads.
Alright, that's enough talk. We just officially introduced you to our newest App Radar feature, the Search Ads Inspector. Go get em.
Get Insights on Apple Search Ads

See which keywords competitors are placing App Store ads on. View your share of ad impressions. Make sure you're always the top bidder.
Create a Free Account