Use AI-powered Ad Copy Generator
to write high-converting ad copy
Empowered by OpenAI integration with App Radar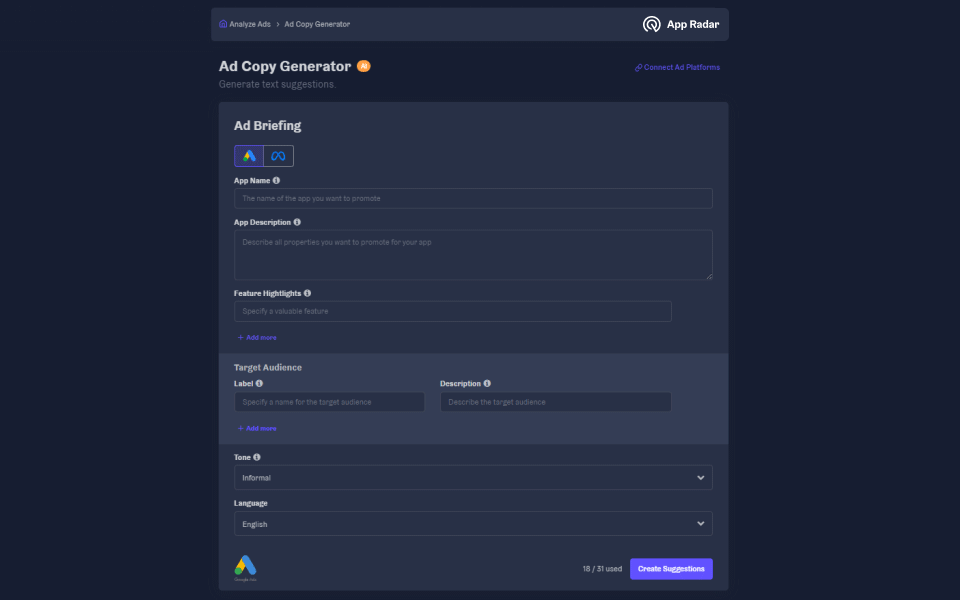 Create your winning app ad copy with minimal effort
With App Radar's Ad Copy Generator, your outstanding ad copies for Google & Meta Ads will be created with lightning speed.
Ad Copy Generator simplifies the ad creation process, allowing performance marketers to focus on other important tasks.
Save time on ad copy creation
AI takes care of specific requirements for each platform, including character limits, tone, and emojis. 
Improve Google & Meta Ads conversion
Designed and tested exclusively for the purpose of acquiring paid app users.
Skyrocket your productivity with AI-features
AI-powered writing assistants help you write ad copies up to 10 times faster, boosting your productivity and helping you achieve better results.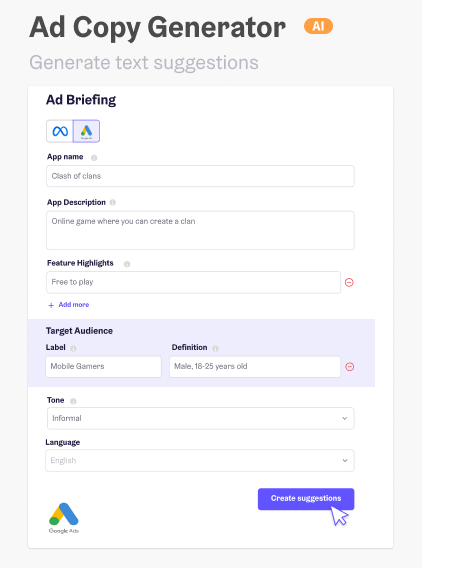 Cut your app ad copy writing in half with
Ad Copy Generator

Want to see how AI creates copy? Check out some examples of ad copies written by Artificial Intelligence.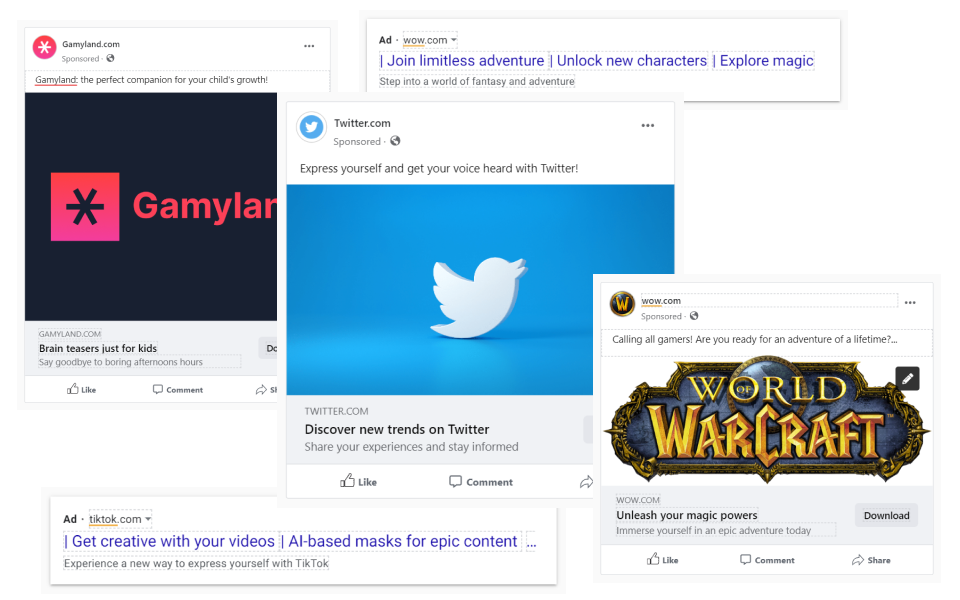 More than 100,000+ apps have used App Radar to optimize their app store ranking and get more downloads
"

With AI App Review Summaries, finding the strengths and weaknesses of my clients (and their competitors) apps has become an easy task! It delivers
the ChatGPT outputs I'm used to, in a fast and convenient way. A great starting point for ads, copy and screenshot ideation directly from App Radar's UI!

"

Marcus Burke

App Growth Consultant

"

I save 90% of time for App updates thanks to features like the Store Listing Bulk Editor. I can now update our games' store listings for several languages every week.

"

Juliane Besler

Marketing Manager, Kolibri Games

"

Rolling out your app to the world sometimes lets you lose sight of which markets to focus on. The App Radar Optimization Score really helps us keep an overview and set priorities.

"

Alexander Marktl

CEO, iTranslate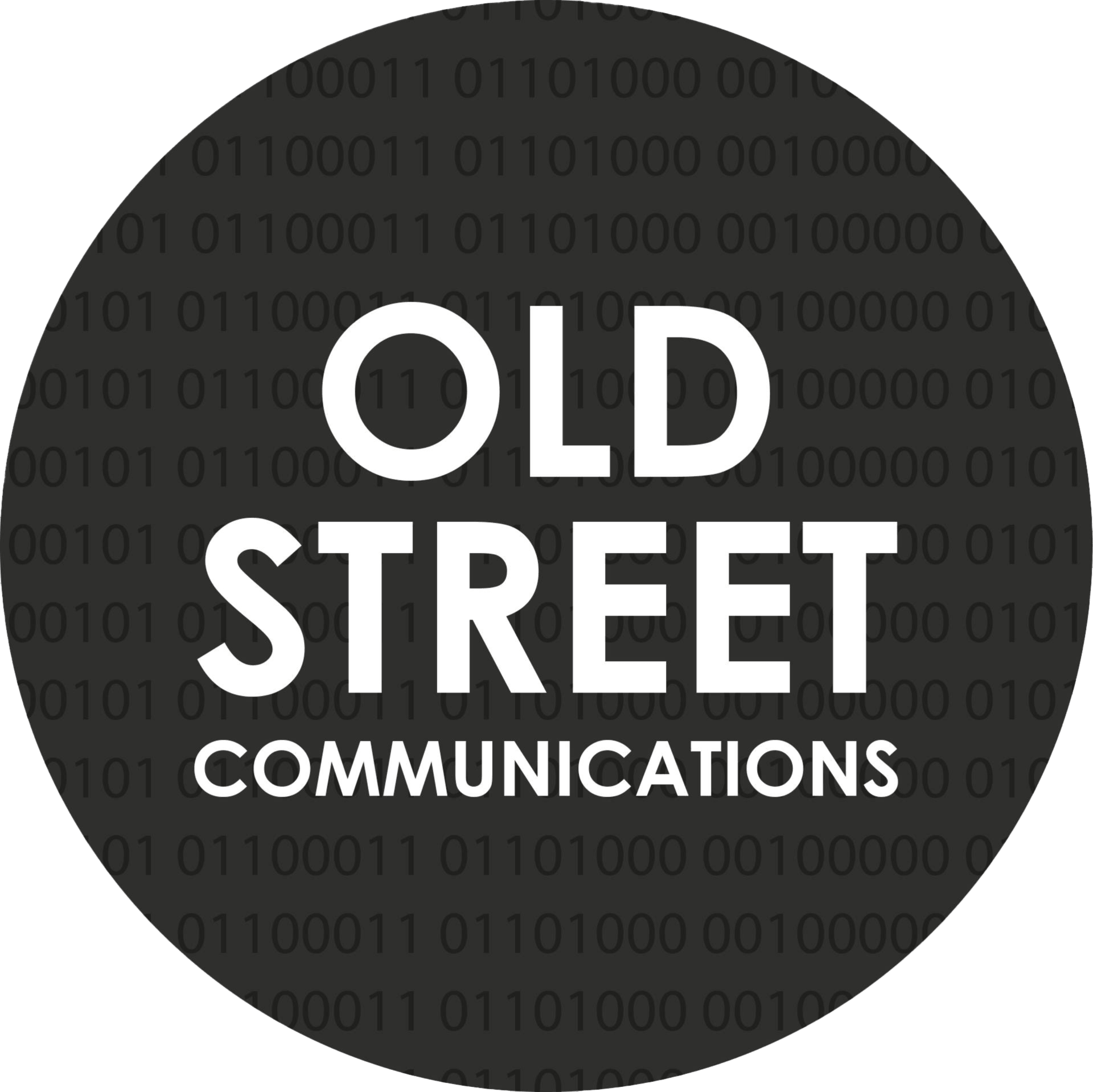 "

From App Radar's platform, we can quickly and easily see how apps are performing across a huge range of categories. It's perfect for any business that wants to undertake deep market research, see how their competitors are performing or use app downloads to better understand wider customer behaviour.

"

Robert Bownes

CEO of Old Street Communications
Don't miss your chance to get a head start with App Radar's integration with OpenAI