App Metrics and Keywords Dashboard: Quickly Evaluate the Effectiveness of Your ASO Strategy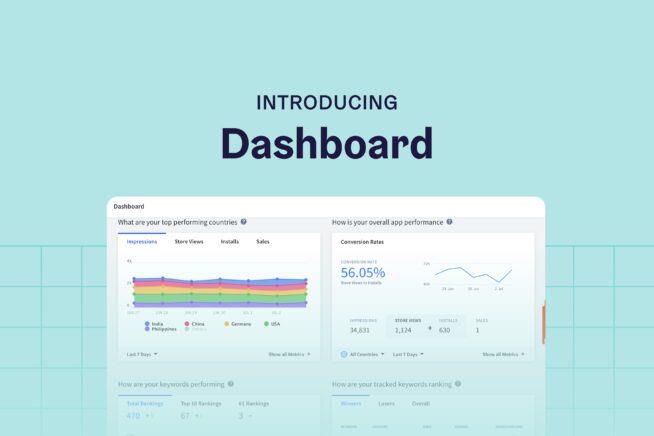 App Radar's App Store Optimization (ASO) tool is constantly evolving to provide you with better app growth solutions. Knowing which app metrics and data to pay attention to and how to interpret it can become quite complicated. We've seen time and time again, app developers, app marketers, and app publishers struggle to identify which data is essential and how to pull out actionable insights. Our team is excited to introduce a solution to this problem: App Metrics and Keywords Dashboard.
How You Benefit from the New App Radar Dashboard
The Dashboard is now your home base in App Radar. It'll help you sift through all of the information, which can be overwhelming, and identify which parts of your App Marketing and App Store Optimization strategy needs to be improved.
The Dashboard will guide you in answering the following questions.
1. Which countries drive the most app impressions, store views, installs, and sales?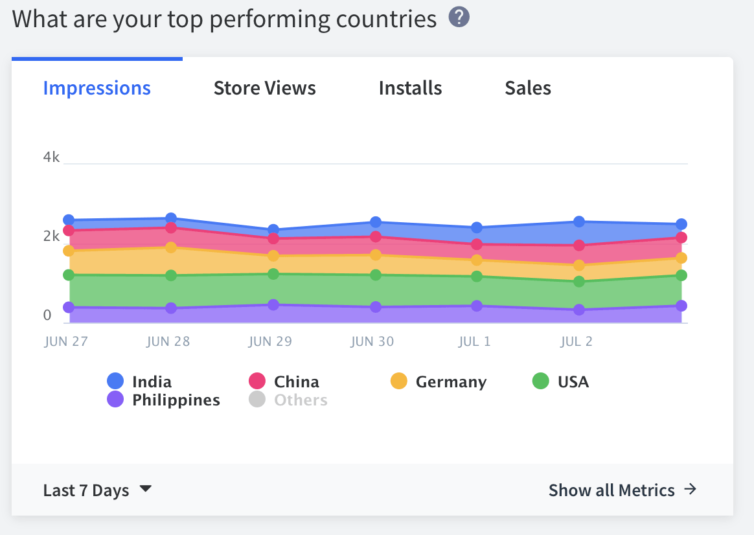 By identifying your top-performing countries, you can first, more easily replicate a successful strategy in other geo-markets that are similar. Second, focus on pushing more app growth campaigns in countries where your app is not gaining traction.
Consider what the countries performing well have in common and the same with those that aren't. It may be that your app is not localized for that specific geo-market. People respond better to apps that are presented and available in their native language. In addition, your visuals, whether in your advertising or app store listing, matter. Different cultures and countries have different visual preferences. For example, the color red in China represents luck, happiness, good luck, good fortune, and success. The color red in the US is associated with danger, aggression, financial loss, and even fast food.
2. Are my app conversion rates increasing or decreasing?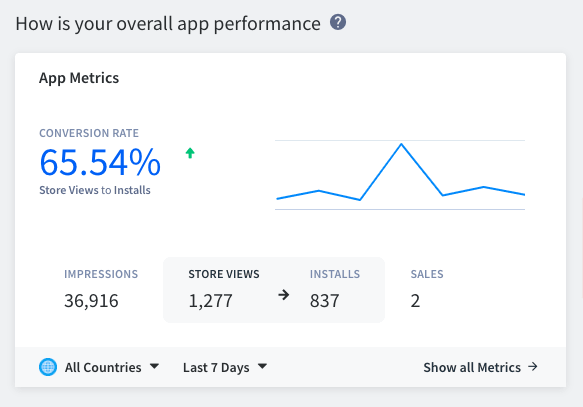 Never forget to analyze your app conversion rates. This is where you can see if your app is on a viable path. Conversion rates tell you what needs further optimization. For example, if the conversion rate from store views to installs is dropping, you know that your app store listing does not appeal to your target audience.
If the conversion rate from installs to sales increases, you know your monetization strategy is working well.
3. Is my app ranking top 10 in the app store search results for my tracked keywords?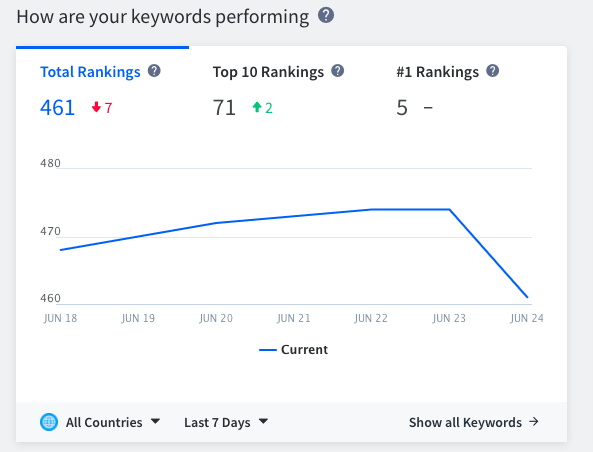 People don't usually scroll past the top 10 search results when they're in the App Store or Google Play. They may not even scroll past the first five results. That's why ranking high in the app store is crucial to getting more visibility and, thus, downloads.
This section of your Dashboard shows you if your app is ranking in the top 10 or, even better, as #1 for any of your tracked keywords. First, you have to add keywords to your tracking list in Keyword Tracking for this analysis to be truly useful.
Okay, so how can you get actionable insights from knowing if your app is ranked for tracked keywords? If you see that your total, top 10 or, #1 rankings are dropping, you need to act fast. What you can do is move priority keywords into metadata fields that have a higher ranking weight. The App Name or Title has the strongest ranking influence, followed by Subtitle or Short Description and then Description (Google Play only).
4. Which keywords does my app have the highest ranking for, and which keywords are experiencing the most substantial change in ranking?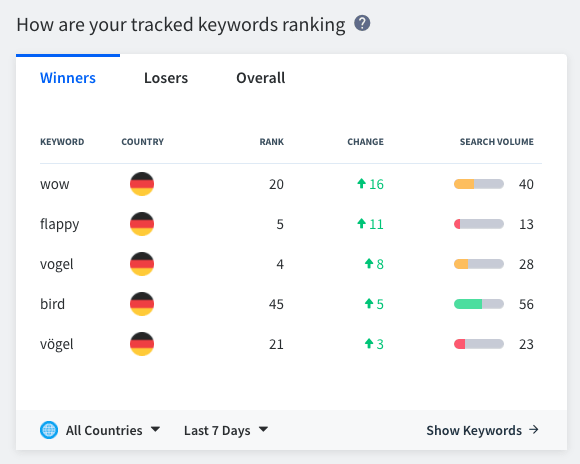 This section shows you the most significant drops and rises in keyword rankings. It also shows you the keywords you rank the highest for. Remember, you have to first track the keywords in Keyword Tracking.
When you can quickly see your keyword ranking winners and losers, you can again act fast. Big drops for keywords that you once ranked high for signals that your ASO strategy is no longer sufficient. You have to update your store listing and cycle in and out keywords more frequently.
5. How can I further optimize my app store listing?

Here you get a quick overview of your ASO Score and further optimization steps for all countries. The ASO Score evaluates your app store listing and identifies opportunities for improvement. Use it to prioritize storefronts that need to be updated and possibly localized.
The AI-powered optimization suggestions can help guide your ASO strategy. For example, if you have an app published in the App Store, repeating keywords across metadata fields is not a good idea. The suggestions will detect duplicate keywords and let you know to remove them.
Even if your ASO Score is high, optimization is not done. It's a continuous process that requires updates at least once a month, and there are always rooms for improvement.
6. Is my app increasing in category rank?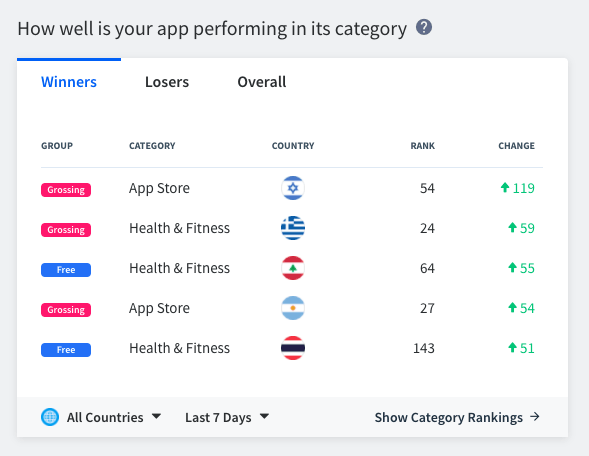 App Store and Google both rank apps by category. Having a position in category rankings will catalyze a positive feedback loop. The more visibility and downloads your app gets, the higher it climbs in category rank, and then the more visibility and downloads it gets. Of course, you want your app to fall into this positive feedback loop. It will exponentially boost app growth and increase your chances of being featured by Apple and Google.
Your app marketing campaigns are working if your category rank keeps rising.
7. When and where is my app featured?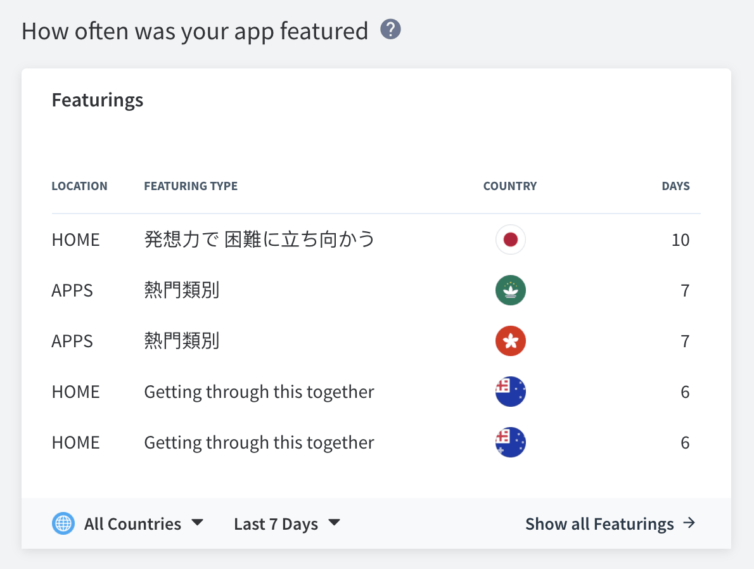 Being featured by App Store and Google Play is a big deal. It not only drives more downloads but also marks your app with a seal of trust. What do I mean by this? People will trust your app more if Apple and Google endorse it by featuring it. The friction people feel when deciding to download your app is lessened, and they're more likely to make their decision faster.
When and where your app is featured will tell you what audience is receiving your app well. Also, this information uncovers how Apple and Google categorize your app.
You can also identify if getting featured increased any other metrics: keyword rankings, app metrics, conversion rates, etc.
App Radar also notifies you about app features 24-48 hours ahead of time.
8. How do users feel about my app?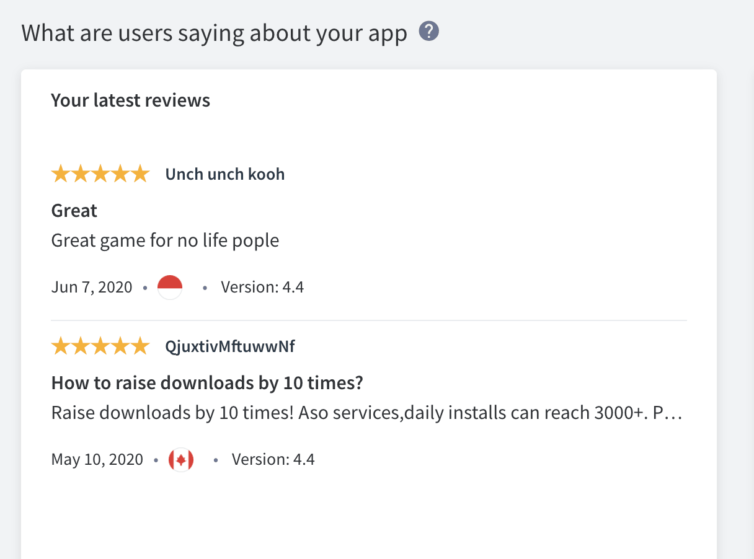 App reviews are one of the primary sources of user feedback. It would be detrimental to your app growth to ignore them. First, users want to know their opinions are being heard. You can show them you care by replying to reviews. Second, users may find bugs or submit feature requests through their reviews. So you must read through every review and use the feedback to inform your roadmap.
9. Are my app ratings increasing or decreasing?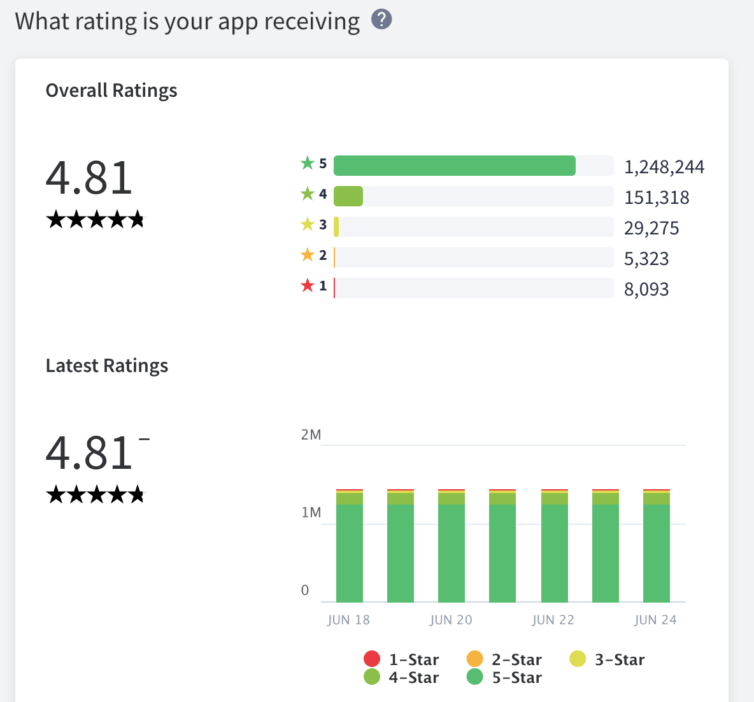 People will not download apps that have a low app rating. Period. Keeping your app ratings high, above a 4-star, is beneficial in so many ways. It will help you get more downloads and also get featured by App Store or Google Play.
To figure out if users are receiving your app updates well, start tracking your app ratings. When you see more positive ratings and reviews after an app update, it's likely that it was effective and contributed to your app growth.
Where to find my Dashboard?
The Dashboard is available for all App Radar users, including the free plan. You can find the Dashboard under "Dashboard" in the side navigation bar. To get the most out of the feature, connect your app to your App Radar account.
Get the New Dashboard
Quickly evaluate how your app is performing and identify areas of improvement.
Create Free Account