How to use competitor's creatives for your app creative strategy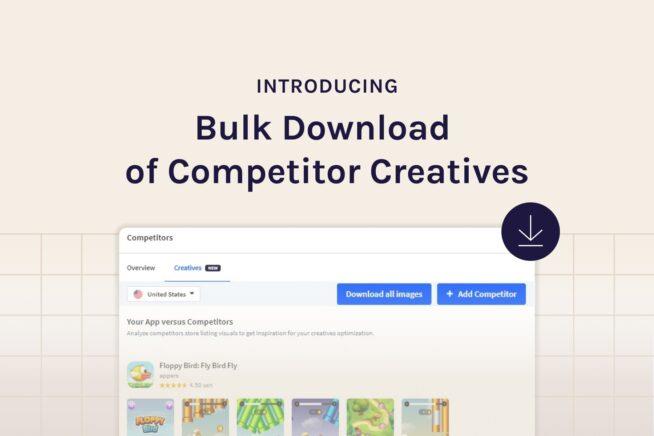 Do you know the feeling of being stuck in a creative app marketing rut and can't seem to get out? We've all been there. But don't worry, we're here to help! This article will give you some great ideas on where to find creative inspiration for your app store aesthetic and how to share those ideas with your team efficiently.
With App Radar's latest release, we introduced a new function to download all your competitor creatives at once into one single zip file. In other words, you can now download your competitors:
app store screenshots, 
app store icon aesthetic, 
feature graphics across different locals. 
Moreover, you can share creative inspiration with your team in the blink of an eye. Not only it saves your time, but it will also help you keep your team on the same page.
Why do creatives matter for the app store product page?
It's not a secret that creative assets are essential in app marketing. In fact, creatives are the pieces that help to persuade your target audience to take action. Numbers speak for themselves: for over 50% of app store users, the app store aesthetic is a crucial factor in whether to download an app or not. Therefore, optimizing your app store aesthetic is vital to any successful ASO strategy.
A successful creative strategy should always start with a deep competitor analysis. Once you've got a good understanding of what's out there, you can begin to optimize your creatives. It could involve anything from localizing assets and A/B testing different headlines to trying out new seasonal images and call-to-actions.
No matter what you do, always remember that tonality is key when it comes to persuasion. So, make sure your app store aesthetics reflect the overall tone of your brand and speak directly to your target audience. And don't forget to comply with Google Play and Apple App Store guidelines.
How to get inspiration for a creative optimization strategy?
If you're looking for creative inspiration for your next ASO update, consider researching what your competitors are doing. Seeing what's working well for them can give you some great ideas for your own work. Chances are, they've already put together some great assets that you can learn from.
To stay ahead of the competition, it's essential to keep track of competitors actions and identify creative trends. It can be anything from the colors on their app store screenshots or app store icon aesthetic to their creative assets' overall tone and approach. By understanding what creative elements work for them well, you can adapt and improve it in your creative optimization strategy. Additionally, if you see a particular trend emerging, you can be one of the first to capitalize on it and really make a splash.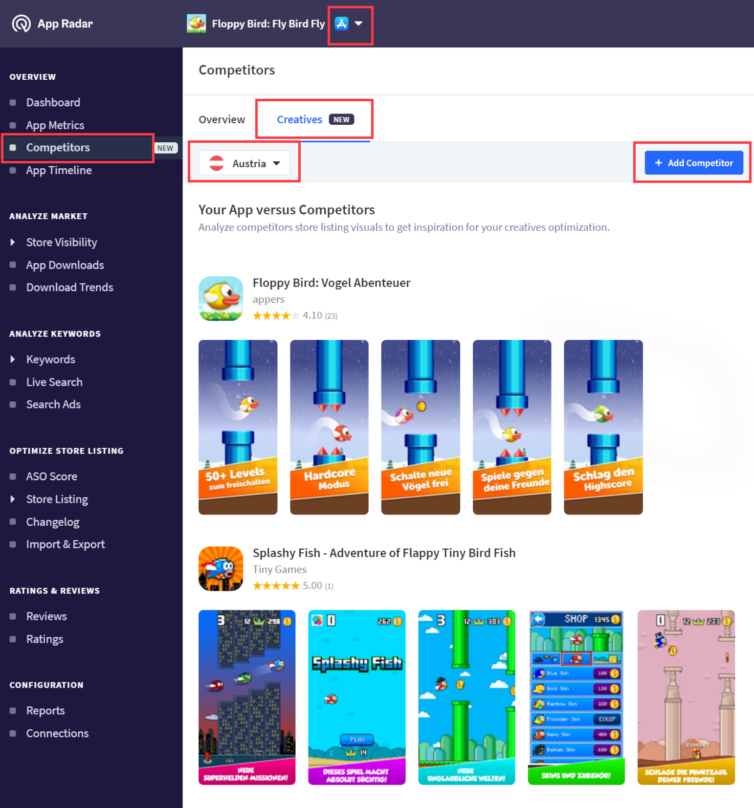 Remember: don't underestimate the importance of conducting app competitor analysis and monitoring your competitors' creative strategies!
It's crucial to ensure you're not just copying what your competitors are doing. Use competitor analysis results to jumpstart your creativity and get your team thinking about new possibilities. Taking a close look at competitors' creatives can give you some fresh ideas for how to improve your own. Plus, it's always good to keep an eye on the competition, so you know what they're up to.
So next time you feel stuck, look at what your competitors are doing. It might just give you the boost of inspiration to create something truly unique. And don't forget to use an app marketing tool like App Radar, which will make the competitor analysis more efficient.
Learn more about how to analyze competitors' creatives in our blog article App Store Aesthetic: competitor creatives vs. your app visuals.
Share inspired creatives with your team in the blink of an eye
Competitor analysis can be a time-consuming process. Moreover, it can get even more exhausting when you have to compare app creatives across different markets and then present it to your team members.
One way to ensure that your team is always on top of the creative game is to share competitor creatives with one another. This way, you can all be inspired and learn from what's working well for others in your category. Not only will this help to get the creative juices flowing, but it will also help to build team morale and keep everyone on their toes.
There are a few different ways to do this. You could send an email with links to the creative assets, or even just screenshots. You could also create a shared folder on a cloud storage service like Dropbox or Google Drive. No matter which way you choose, first and foremost, you need to gather all these insights into one file.
We know how valuable your time is and how important it is to be able to share that inspiration with your team quickly and easily. That's why App Radar introduced a new feature, that will make sharing creatives' inspiration with your team more efficient. With our new bulk download option, you can quickly download all of the creatives you need:
App store icon
App store screenshots
Feature graphic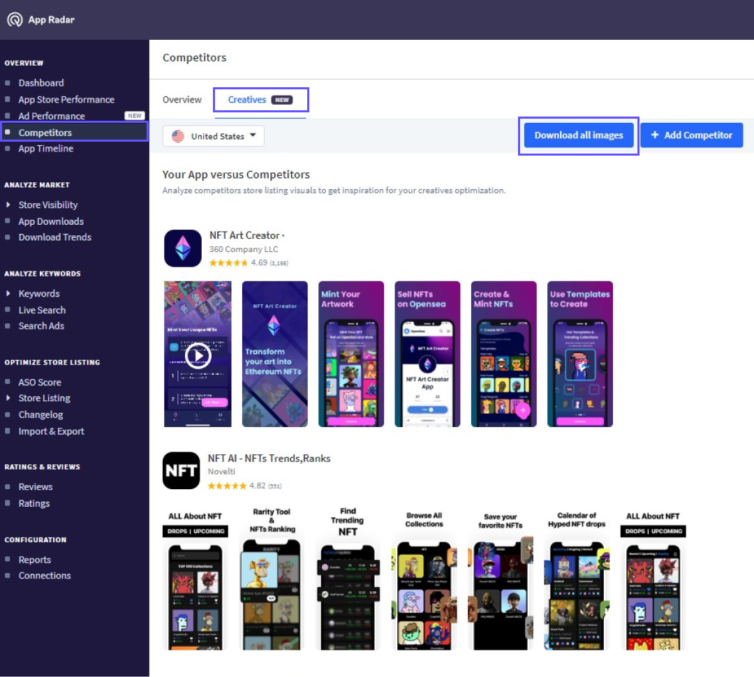 Moreover, you can truly rely on our competitor research features and save your time with:
quickly finding competitors' creatives,
optimizing your own creatives,
downloading creative assets for offline use.
Summary
You can never have too much inspiration when it comes to your creative assets. Remember, it's important to keep an eye on what your competitors are doing. Share their creatives with your team and use them as inspiration for your own work. And don't forget to optimize your own app store aesthetic for maximum impact.
By taking the time for competitor analysis, you can find new ways to improve your own app store aesthetic and stand out from the crowd. Our latest feature addition, bulk downloading competitor creatives, can be a huge time saver when you're trying to quickly gather inspiration for a new project and share it with your team.
Save time by downloading a large number of creatives at once and start optimizing your own creatives in the meantime!