10 tips for developing a successful ecommerce mobile app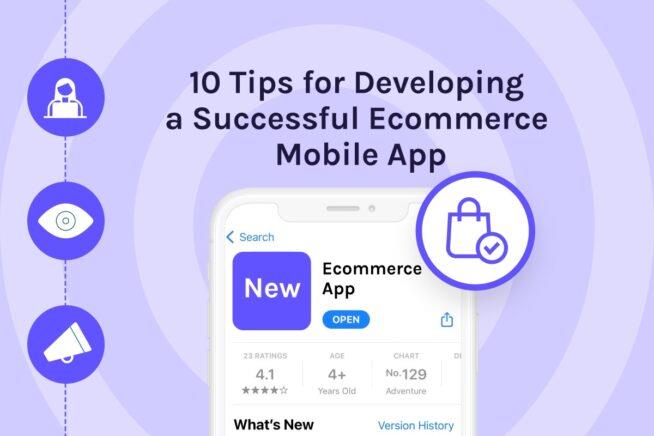 This is a guest post by Eliza Medley, an independent content marketing writer.
In a world that is increasingly driven by mobile commerce, it is more important than ever to have a successful ecommerce mobile app. Many users find it more convenient than the usual websites. But not every retail representative is ready to offer a mobile app to their target audience.
In this blog article, we've put together 10 tips for developing a successful e-commerce mobile app that every brand can implement.
Benefits of ecommerce mobile apps
Users want their experience, from product introduction to the completion of all stages of the purchase, to be exciting and unforgettable. The more technology you add to your business, the more chances your profit will increase. All e-commerce is aimed at improving the user experience. Therefore, if you can make it as pleasant and convenient as possible, customers will respond to you by increasing the number of purchases, increasing interest in your brand, and attracting new customers in the form of their friends, relatives, and colleagues.
10 tips for developing a successful ecommerce mobile app
#1 Create laconic and clear design
The user interface for an e-commerce app should be as convenient, simple, and straightforward as possible. To do this, you should consider choosing the path of minimalism, especially in the early stages of your brand journey. Make clear navigation on the first screen so everyone can understand how to get to the desired category. Exclude from your design:
piling up in the form of large texts and graphics
a large number of unnecessary icons in the main menu
too bright design with many colors
many fonts on one page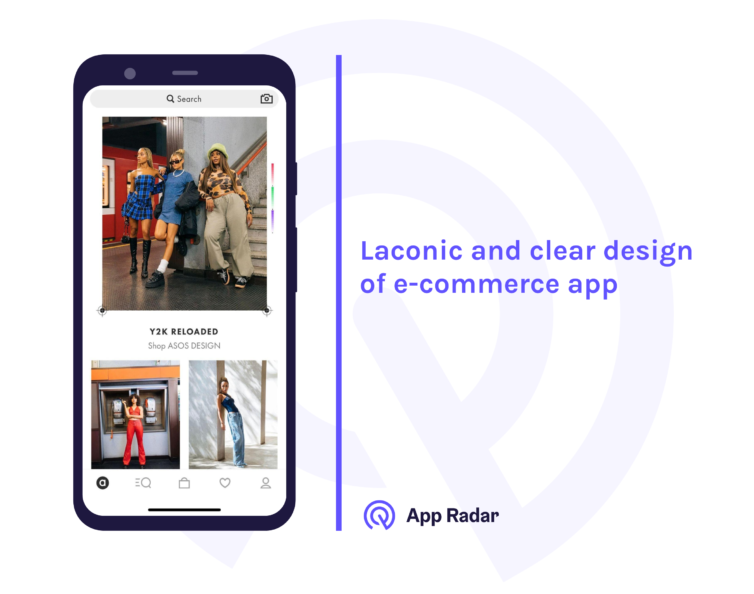 Remember that you need to direct your customers' gaze to the most crucial navigation sections.
#2 Ensure convenient registration and login
The longest and most tedious interaction processes with any mobile app are registration and authorization when entering and placing an order. It often requires entering the email address and password, and other data. Make these steps quick and convenient. Moreover, you can link accounts with clients' social networks, as they are used by about 88,5% of all Internet users. For example, the most popular are Facebook and Gmail. In addition, you will be able to encourage customers to share a link to your app in their accounts with just one button, which will not waste even 1 minute of their time.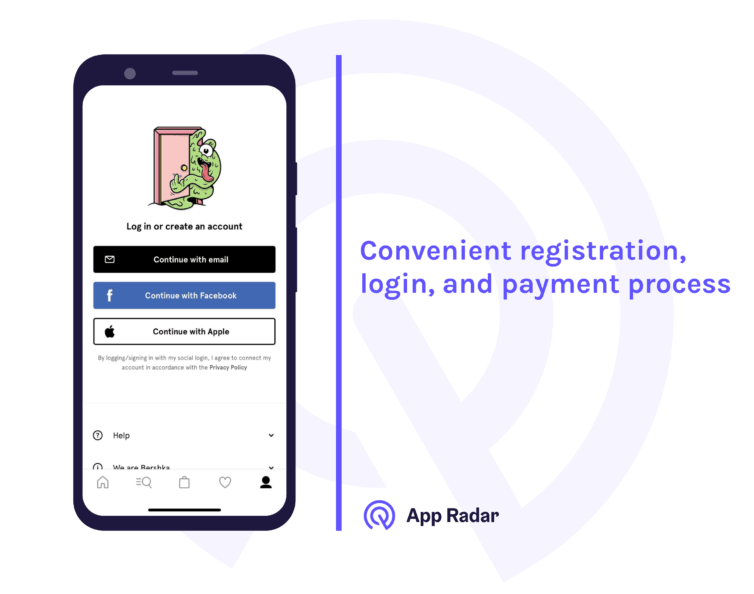 You can also store the user's information in a database and invite them to use autocomplete. However, remember that users don't like sharing their personal data. Therefore, make sure you request only the necessary information for completing an online purchase.
#3 High-loading speed is essential for ecommerce apps
Nobody wants to wait a long time for a new page in an app to load. 47% of users expect websites and mobile apps to open in 2 seconds or less. It is important to optimize them by making them 'lighter'. In other words, minimize the number of heavy graphics and ads that slow down the loading process or use a cache. Also, offer users an exciting or gamified wait indicator, so they don't get bored.
#4 App navigation should be easy and intuitive
All navigation should be intuitive for users of all ages in your ecommerce mobile app. If you have an additional menu, be sure to pave the way to it from the main screen. Consider the features of different devices and make navigation the same for each of them. All buttons should be consistent and have additional interaction to make the experience more fun.
#5 Add high-quality images to your e-commerce app
It doesn't matter if your ecommerce mobile app sells fashion products or something else, you should always aim to upload high-quality images. Each product must have high-resolution photos taken from different angles. You should also add the ability to zoom in with one touch so the user can appreciate all the product details. Keep in mind that low-quality photos might create a bad image of your brand. Therefore, better keep lass available products in your e-commerce app than upload photos that can harm your company's reputation.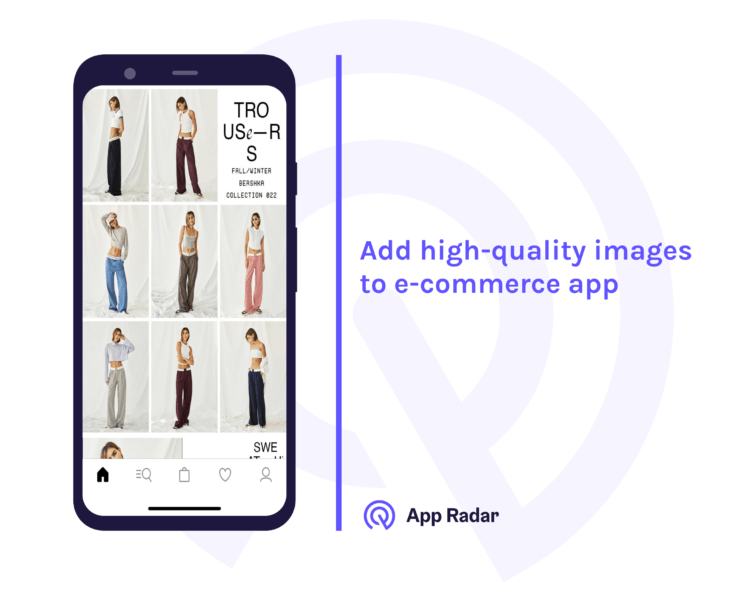 #6 Data security is crucial for e-commerce apps
Since your e-commerce app requires a money authorization process to complete a purchase, you need to ensure the safety of your customers. All personal data, from names to bank accounts, must be encrypted. Ensure you provide a secured money transaction for all possible payments in your app.
#7 Add maximum payment methods
There are many different payment gateways available for e-commerce apps. The more possibilities you provide to your users, the more chances they will finalize their purchase in your app. Consider different payment gateways, like electronic wallets, debit and credit cards, international transfer systems, etc. Remember that you don't want to lose the potential buyer on the last step of the funnel. Therefore, adding different payment methods will help to cover the maximum number of customers.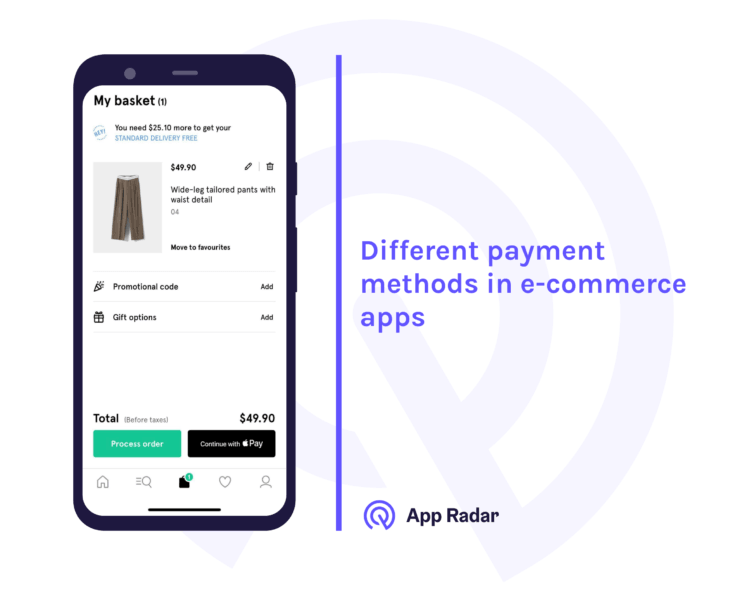 #8 Create a clear structure for your mobile e-commerce app
If your business sells products from different categories of goods, be sure to take care of the correct structure of the app. Separate product categories in the most intuitive way for users. Test different options and analyze the results. It might take some time until you find the most user-friendly structure. However, it will benefit the user experience of your app.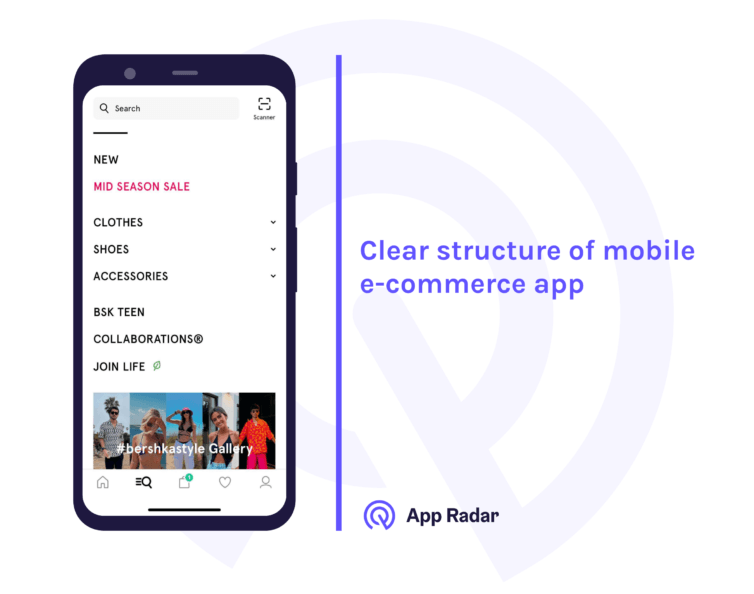 #9 Keep optimizing your e-commerce app
Stay up-to-date with new e-commerce trends and integrate them into your app. Always keep an eye on your competitors and the mobile ecommerce industry in general. Try to identify the winning patterns not only in the feature development but also in promoting your app. User acquisition tools like App Radar can quickly help you to monitor a current market situation and be aware of your competitor's app marketing strategies. 
Stay alert with market trends
Check out the download numbers of different apps with App Radar Market Intelligence.
Start 7-days free trial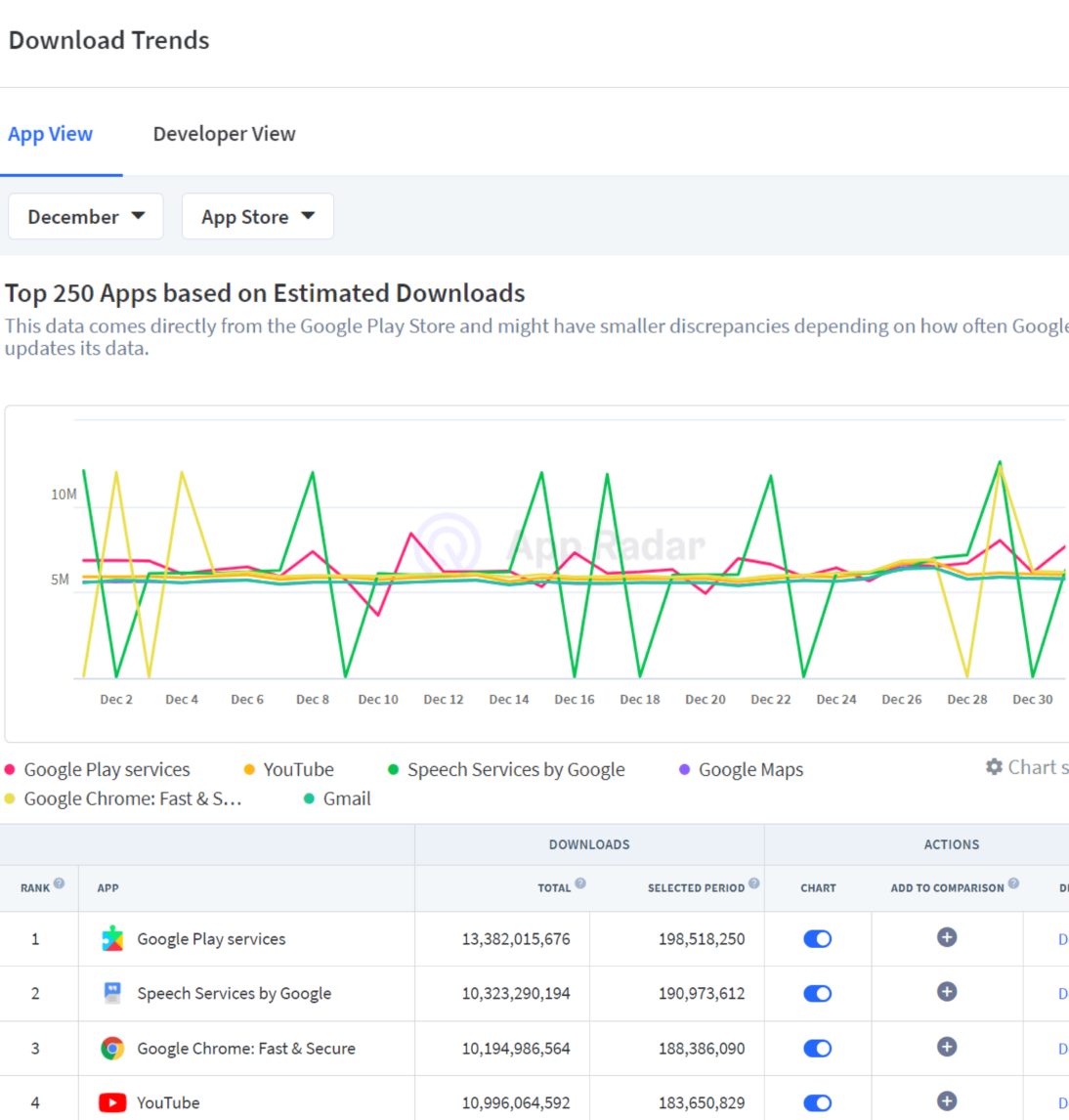 #10 Add possibility to add products to favourites
Customers often look at different products for familiarization to make a purchase not now but a little bit later. They also evaluate all options from the same group but want to give them a comparison in order to choose the best offer. To make their experience easier, provide them an opportunity to add the product to their favourites.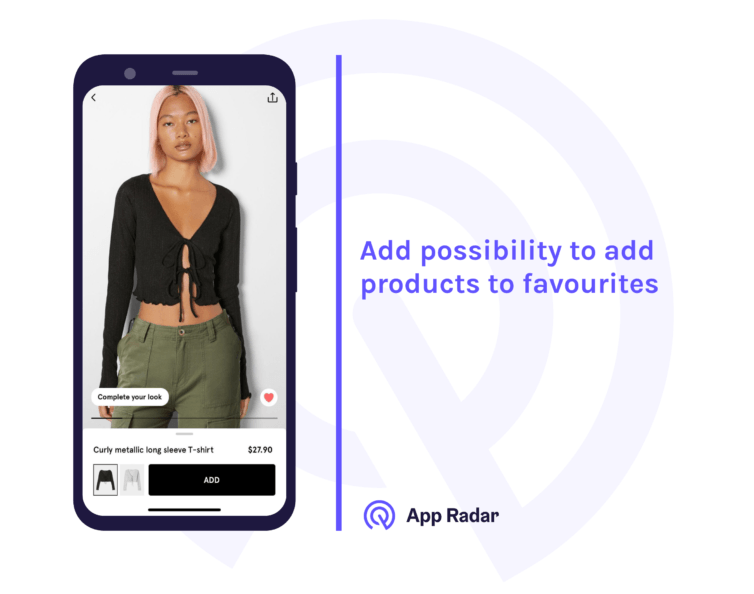 Best practices for building a mobile ecommerce app
E-commerce apps are not only apps where users can buy some physical goodies. Here are 3 of the most successful examples of mobile ecommerce apps with different services.
Binance
Binance (Cryptocurrency and NFT) has become one of the most reputable and sought-after cryptocurrency exchanges for a reason. Although it contains many categories, the app has convenient navigation and the correct structure, allowing users to navigate through its pages quickly. It is equipped with protection in the form of escrow services, which guarantees customers the security of their data. In addition, the exchange provides about 150 payment methods.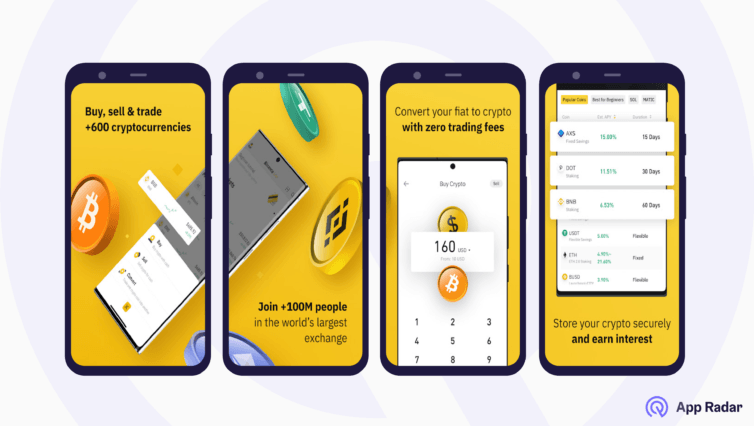 Uber
Uber is an excellent example of a mobile e-commerce platform for taxi ordering. It allows you to quickly register using your mobile phone, choose one of several payment methods depending on the region and order a car based on the trip's purpose and the car's class. The interface is intuitive, you can easily cancel a trip with a single button, as well as order a car in advance.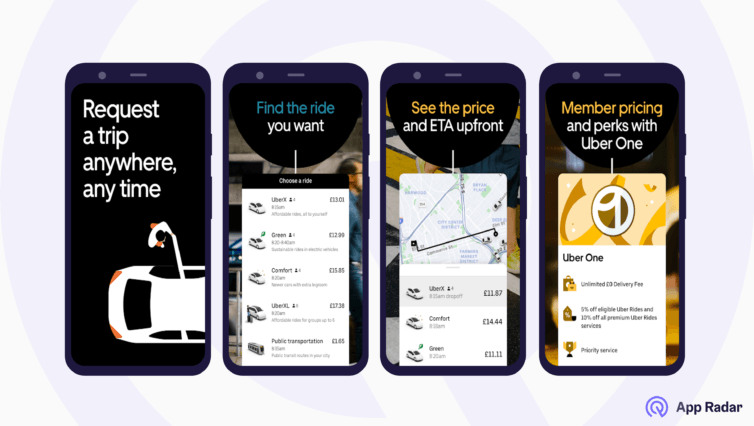 Netflix
Netflix is ​​an opportunity at any time to find something to watch with friends or family or brighten up the evening alone. Anyone can download Netflix on any device, and it works perfectly everywhere. It has a convenient search for movies depending on genre, duration, rating, and the ability to watch a film with subtitles in different languages.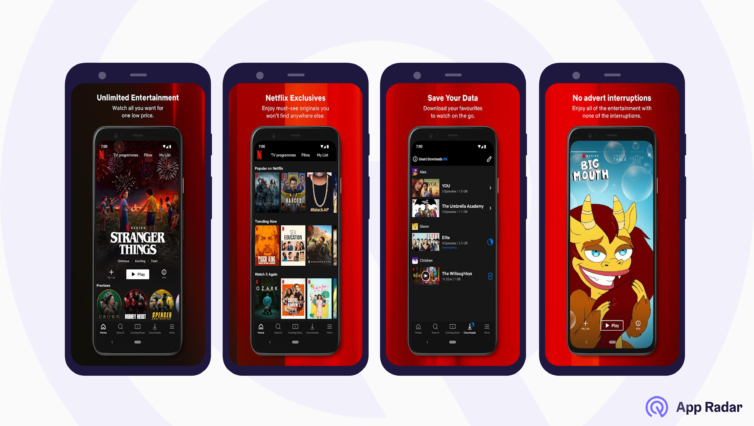 As you can see, different types of mobile apps use different e-commerce mechanisms, but they are all adapted to meet all the needs of the user in their primary niche.
Key takeaways
Developing an e-commerce app is not easy work. However, the well-designed and optimized e-commerce app will bring a lot of revenue. Consider the tips mentioned above while creating a convenient e-commerce app for your users. And make sure that your product has a unique scalable foundation for the right user experience.
---
About the author: Eliza Medley is an experienced writer and psychologist. She is actively interested in management, new technologies, and writing motivational articles. Eliza is also trying to be in time with modern trends to inspire people with her work.