We're going to Sweden
The App Radar team is flying to Malmö, Sweden in 2 weeks and depending on what industry you work in, it may or may not be for the reasons you're thinking.
Malmö is known for its vibrant blending of generations and cultures. People rave about the city's friendly smiles, a totally bikable cityscape, and the swirling culinary aromas arising from Nordic, Middle Eastern and even Italian fares.  The city springs to life with architecture marvels, both old and new. One of the newest being the Øresund Bridge, connecting Malmo to its Danish mermaid sister, Copenhagen.
It's most definitely no surprise that the App Radar team is beyond thrilled to travel to Malmö this May. No it's not what you're thinking. We're neither on vacation nor migrating north for the summer.
Nordic Games Conference 2019
We're getting our game on at Nordic Games Conference 2019, one of Europe's leading games conferences. Every year Nordic Games brings together the best of the best within gaming to share their knowledge with the entire gaming community.
The speaker line-up this year is already blowing our minds. We're about to meet gaming royalty, Warren Spector of OtherSide Entertainment and other industy megas such as, Mattias Engstrom, game director at Hitman developer IO Interactive, and Lili Ibrahim, art director at Chucklefish.
And here's a little surprise if you're going too. 
"Do Players Find Your Games?"
We're jumping out of our seats to announce that our very own App Radar Co-Founder and CEO, Thomas Kriebernegg will be joining the Nordic Games 2019 speaker line-up. Thomas will be sharing his mobile app marketing knowledge, gathered through years within the marketing industry as well as founding App Radar, an app growth agency, on the Nordic Games stage.
Join his talk "Do Players Find Your Games?" to dissect whether or not players are actually able to discover your games within the app stores. It's a can't miss for any mobile game developers, indies to the big name brands. He'll be answering questions like,
how to rank on Google Play and Apple App Store
how to boost organic traffic through app store ads
how important are visuals when marketing a mobile game? (hint: It's extremely important!)
There's no way players can play your mobile games if they can't even find it first. So discovery, especially directly through app store search, is a lot more important than you may think. 70% of Apple App Store visitors find new apps through search.
Thomas is stepping on the Room Reykjavik stage on Thursday May 23, 2019 from 16:00-16:25.
We hope to see you there.
Meet Us at Nordic Games
Attending the conference but unfortunately you can't make it to Thomas' talk?
Don't break a sweat just yet.
App Radar superstars Christian, Head of Product, and Maia, Sales Manager, are flying over to Nordic Games too. They'll be available throughout the entire conference to meet up for a quick coffee or longer lunch meeting to discuss mobile game growth strategies with you.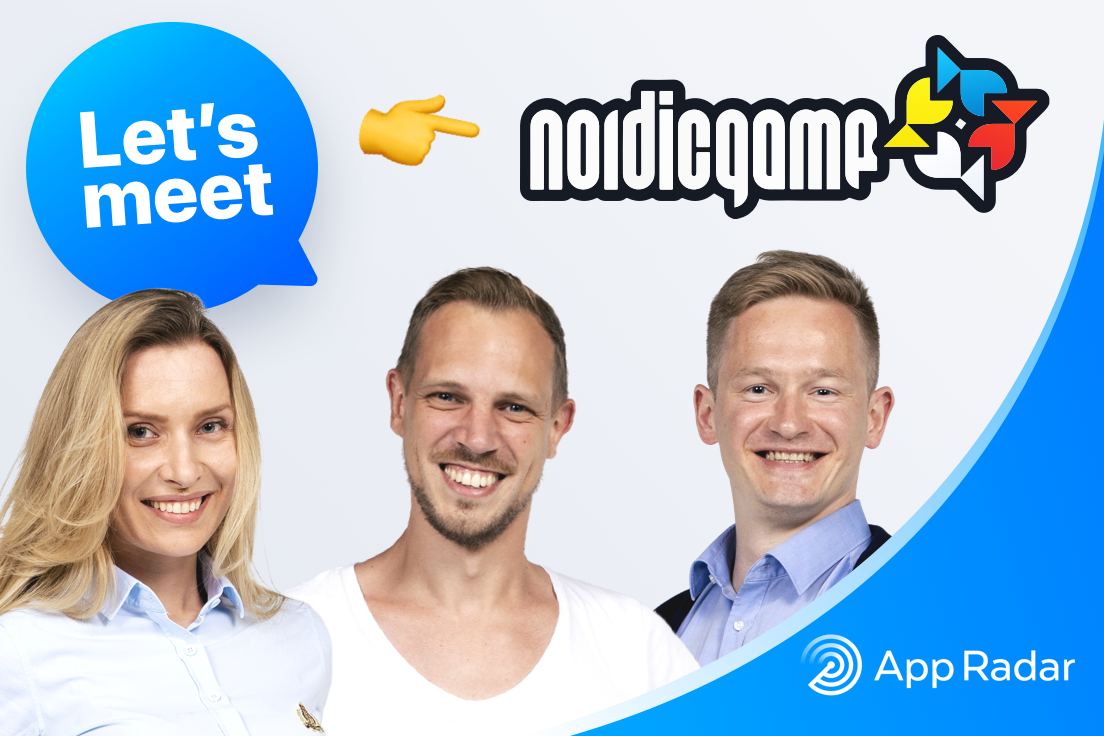 We'd Love to Meet You at Nordic Games
Chat with us about growing your mobile games, a cup of coffee may just be included. Go ahead and set up a Nordic Games meeting with Thomas, Christian or Maia. Send us a quick message using the form below and we'll be in touch.