How Apple Search Ads Works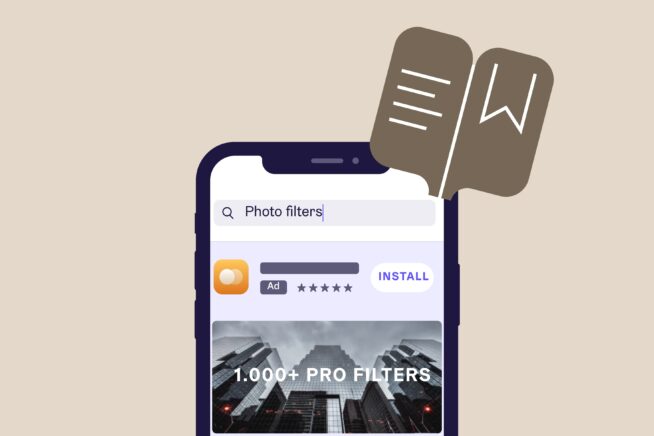 Apple Search Ads, what are they and how can they help you grow your app? Let's find out.
If you've ever searched for anything in the App Store, you've definitely seen an Apple Search Ad. They're App Store ads, the apps that show up on top in a light blue box labeled "ad".
Apple Search Ads are still relatively new. Apple launched this ad feature back in October 2016 to help app developers and marketers gain more visibility and installs for their apps. 2.5 years later, it's one of the best ways for app businesses to grow their apps, especially newer ones.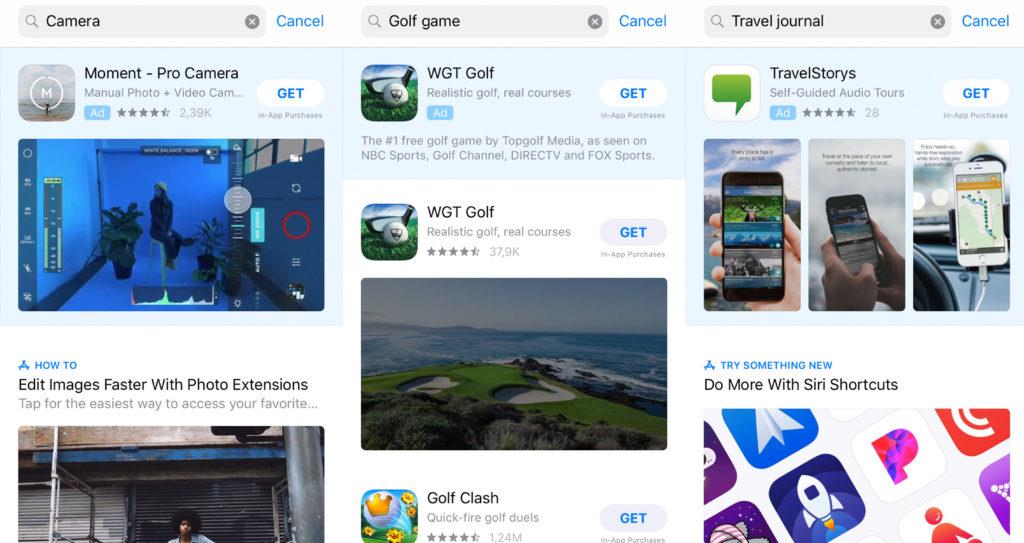 So how exactly do Apple Search Ads work?
How do Apple Search Ads Work?
Basic vs Advanced
Apple offers 2 different services for you to execute your App Store Ads. These are Apple Search Ads Basic and Advanced. We'll go in depth over the differences between these services in a later post. For now, keep in mind that Basic is a simpler way to output an App Store ad and uses a cost-per-install (CPI) model. Advanced is more elaborate and uses a cost-per-tap (CPT) model.
Keywords and Bids
Apple Search Ads depends heavily on nailing great keywords.
When running a campaign, your app will show up in the App Store ad spot - the first search result above all other results.
But there is a catch: it is shown only if you win the bid on that keyword or search term. There are 2 factors that majorly affect an app's chance of appearing in the ad spot.
The first is dependent on you. You bid on keywords to run ads on.
The second relies on Apple's algorithm.
Apple looks at how relevant your app. Because of this, it's crucial to have your App Store Optimization (ASO) on point. When your app's ASO is in good, you'll be able to transfer the keywords your app is already optimized for to an Apple Search Ads campaign. These keywords are relevant and your app is ranking for them, making securing that App Store Ad spot that much easier.
There are two factors that determine app appearance in Apple Search Ads: bid amount and app relevance to keywords you bid for
In order to reach the highest possible impressions, taps, and installs, you should be using a mixture of general and specific keywords for your Apple Search Ad campaigns. Apple gives the example of "camera app" as a general keyword, umbrella categorizing an app and then "photo editor" as a specific keyword, to a main function. Bidding for both types of keywords enlarges your potential App Store ad reach.
Search Match
Apple Search Ads Advanced includes a Search Match feature that helps you quickly decide on relevant app keywords. The Search Match feature enables you to set up an ad campaign without having to do all the time-consuming app keyword research. Apple automatically detects which search terms an app is fit for and places those as keywords to bid for.
When to Increase a Bid
In the Apple Search Ads manager, for both Basic and Advanced, you'll be able to see how strong your bid is for a keyword.
? A strong bid means your app is likely to land that ad spot for that keyword.
? A weak bid means your app is unlikely to land that ad spot.
There are a couple of instances where you should increase your bid. These are:
Search Match matched your App Store ad to relevant search terms and you're seeing an increase in installs.
You're not reaching your cost-per-acquisition (CPA) goals.
You're getting little results for popular keywords that are relevant to your app.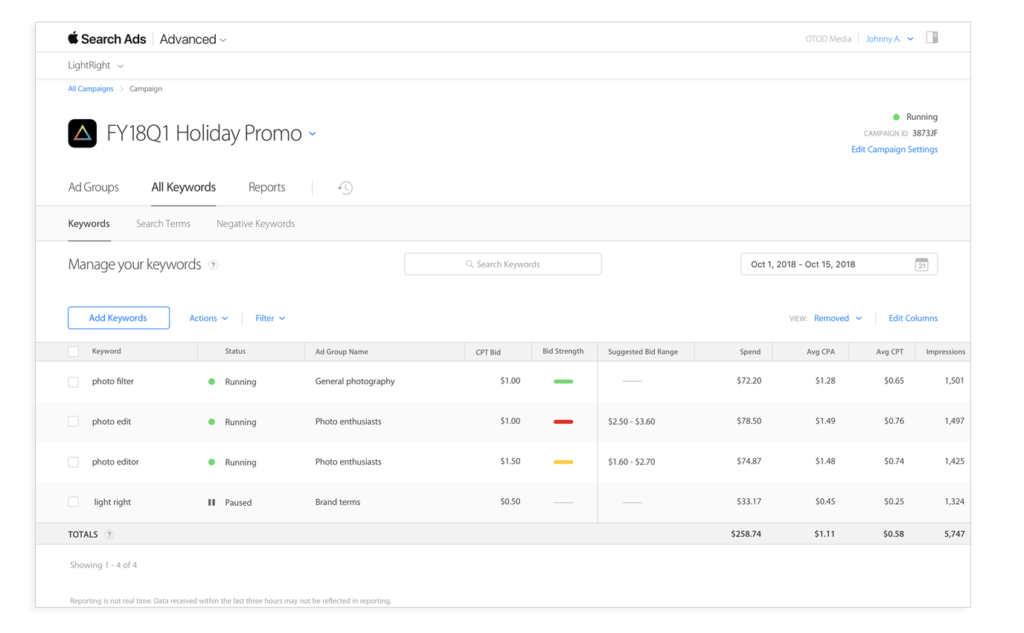 Remember there are two main factors. You have to bid high enough so that your bid is strong and also to bid on keywords relevant to your app.
Who does Apple Search Ads reach?
Just recently, Apple expanded their Search Ads availability from 13 countries to 59 countries. So now, you're able to execute an App Store ad campaign in any of your apps' localizations that fall in those 59 countries.
Basic Reach
With Apple Search Ads Basic, you're letting Apple take the driver's seat.
Their algorithm chooses which keywords are right for your app and all you have to do is offer up a bid on the keywords. They also decide the targeting group for you, that's audience age, gender, location, device etc. Many people choose Basic Reach, because it is a simple and fast way to start ads. Unfortunately, this also puts you out of control and can actually lead your app ranking for completely irrelevant keywords. Want proof for that?
Below you see apps currently ranking for a keyword: Triceratops Dinosaur Simulator3D.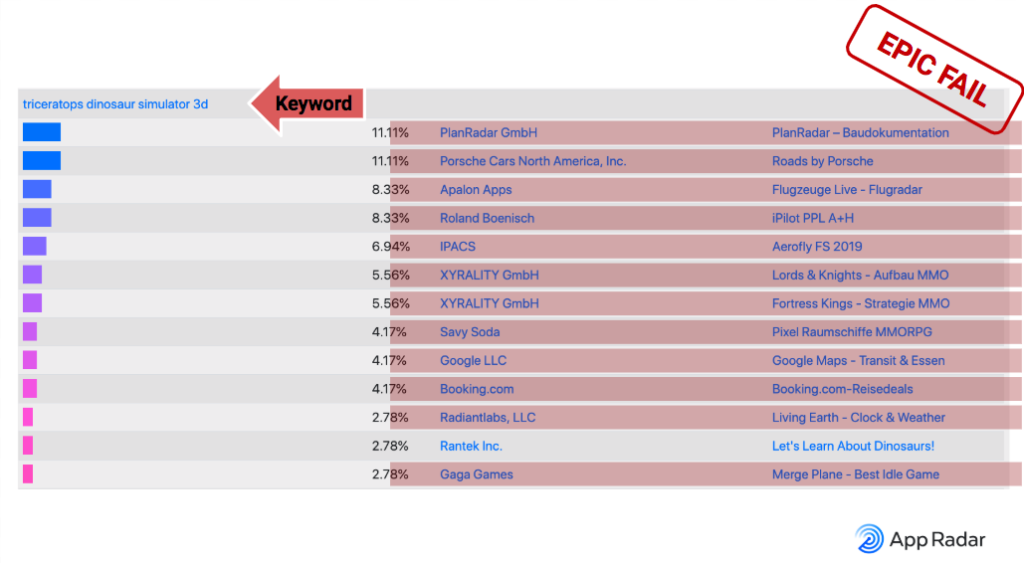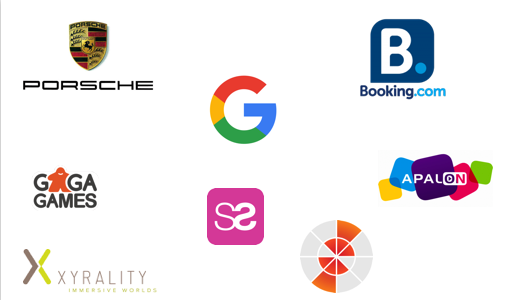 What do companies like Google, Booking, Porsche have to do with Dinosaurs? The answer is simple: nothing.
Make sure you are not making the same mistake and burning your money like that. Get in touch with us if you want a bigger ROI on your Apple Search Ads but simply don't have time or know-how for it.
Advanced Reach
On the other hand, Apple Search Ads Advanced gives you all of the controls and an option to put Apple in the driver seat if you would like to.
Keyword Match Type Determines Who Sees Your Ad.
Apple classifies a Broad Match as a more generalized interpretation of a keyword. Take "friend" for example. Apple says that their algorithm would consider "amigo" as a Broad Match for friend. Your ad would then be shown to anyone who searches the terms friend or amigo or any other related terms, when you beat out other advertisers vying for that same keyword.
An Exact Match narrows down your audience. Apple will only show your ad when your bid wins out for that exact keyword and its variants, including misspellings. Although, you'll probably reach less people this way, you'll be reaching a more specific audience. As a result you're likely to increase the chances of converting an impression to a tap to an install.
Apple Search Ads also involves the use of Ad Groups.
Ad Groups are groups of keywords that you'll use to run the App Store ad. Ad Groups allow you to execute campaigns for both more relevant and less relevant keywords with different budgets. That way you can focus more of your money on the relevant group but still earn impression and taps from the less relevant group. Other metrics targetable by Ad Groups are age, location, gender, time and device.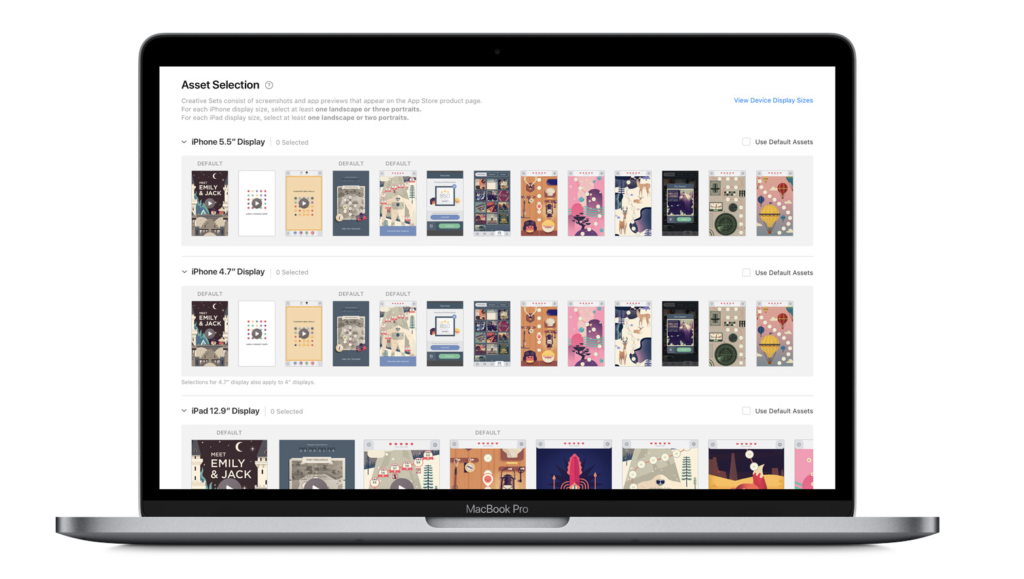 Why use Apple Search Ads?
Exposure and Conversion
Apple reports that more than 70% of iOS users find apps through App Store Search and because of that Apple Search Ads holds an impressive 50% conversion rate.
Apple Search Ads are incredibly beneficial when it comes to increasing app exposure.
New apps and unknown developers are able to get their apps in front of an audience quickly and easily, particularly with Apple Search Ads Basic. Ads receive high exposure because they are not integrated within the search results, instead they sit as the first search result for the won keyword. So everyone who's searched for that keyword is going to see the ad.
Organic Boost
Moreover, Apple Search Ads, though paid, help increase organic traffic. Apple's App Store algorithm takes into account the popularity of an app, its retention rate and reviews and ratings when ranking an app. By pushing installs through ads, you can get your app to move up in the App Store ranks, which in the end brings in more organic installs and lowers your user acquisition costs.
Basic or Advanced?
Based on our tests, we can honestly advise you against Basic search ads. (We see a lot of examples like the one above). You risk spending your money on irrelevant keywords that will surely not bring you high-quality users. Developers and marketers who want better control and thus better results are better off using Apple Search Ads Advanced.
Leave the Hard Work to Us
The App Radar team will manage your apps and grow them through organic and paid user acquisition methods. We work with you to build a strategy that suits not only your needs but also your budget.
Contact Us Today