Analyzing app conversion rates has never been easier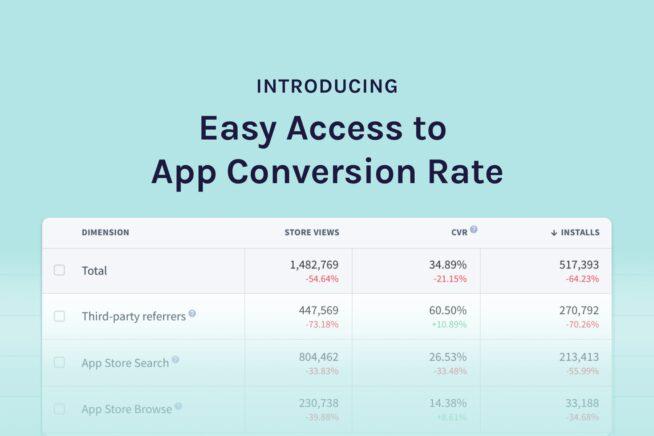 Conversion rate optimization is one of the essential pillars of App Store Optimization. By tracking your conversion rates with the right tools, you can ensure that your mobile app is getting seen by the right users and that more of them are downloading it.
That's why the Conversion Rate Feature in App Radar got easier to access! Moreover, now you can get even faster answers to questions, like:
Which impact did my latest ASO update have on my app conversion rate?
Did an app release increase or decrease the in-app conversion rate?
Which traffic source converts best?
In this blog article, you will learn why app conversion rates are an essential metric for any app business. We will also show you how App Radar can help to make your conversion rate analysis more efficient and identify areas for improvement faster.
Why do conversion rates matter?
For app marketers, the conversion rate is a crucial metric that shows the success or lack of their app store page. Conversion rates matter because they show how effectively your app persuades users to take the desired action. It shows the percentage of users who go from point A in the user journey to point B. In the context of the app store, a conversion rate can be the percentage of people who see your app and then go further to download it.
A high conversion rate proves that your app store page appeals to users. It is essential for two reasons:
It means more people will likely use your app and get value from it.
It makes your app more attractive to the app stores, and you are more likely to get improved visibility.
That's why conversion rate is an important metric to track as you work to improve the visibility of your app.
How to analyze app conversion rates?
To optimize your app conversion rates, you first need to be able to measure and analyze them accurately. There are a few different ways to do this. Let's take a look at each of the scenarios below!
First, get familiar with the different types of conversion rates and traffic sources.
For apps, the essential conversion rates are:
Impression to store views
Store views to installs
Impressions to installs
Installs to sales
Those conversion rates can be attributed across different traffic sources:
App Store Search
App Store Browse
Third-Party Referrers (App/Web Referrer Traffic)

Second, try to understand why your conversion rates decrease or increase. If you see a drop in your conversion rate, it's worth investigating why this might be and whether there's anything you can do to improve it. You might stumble over questions such as:
Which impact did my latest ASO update have on the conversion rate?
Did an app release lead to an increase or decrease in conversion rate?
Which traffic source converts best and which needs improvement?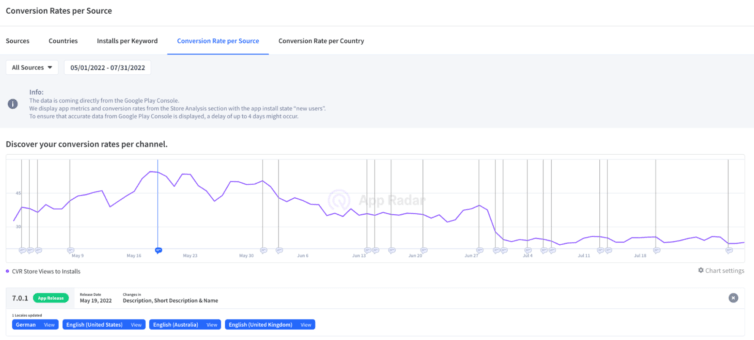 As we can see in the example above, some metadata changes happened on May 19th, and shortly after, the conversion rate started dropping. It leads us to conclude that the ASO update could have impacted the conversion rate. As a next step, you should try to confirm this hypothesis by checking the conversion rates of the countries where ASO changes happened. In our example, this would be Germany, the United States, Australia, and the United Kingdom.
Finally, make sure you're tracking your conversion rates over time. It will allow you to see if your optimization efforts positively impact your overall conversion rate. Additionally, you can also check if there are any trends. For example, you might notice that your conversion rate is higher during certain times of the year or when you offer a discount on your app.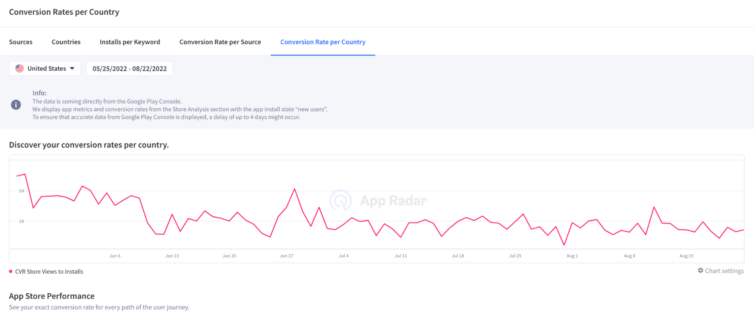 Following these simple tips ensures you're getting the most out of your ASO efforts and maximizing your app store conversion rates.
How to improve conversion rates?
If you're not already investing time into conversion rate optimization to improve your app store optimization strategy, you're missing out on a key opportunity to boost your visibility and downloads.
Several factors can influence conversion rates, including the quality of your app, its price, and how well it's been optimized for ASO (including metadata, creatives, and ratings). But no matter where you stand with your conversion rate, there are always ways to improve it. A good starting point can be to check if you can answer the following questions with a yes:
Am I using relevant keywords in my app store listing that best describe my app?
Do my creatives (app screenshots, preview video, icon) resonate with my target audience?
Is my app store listing properly localized, including metadata and creatives?
Does my app provide a high app quality/stability?
Does my app receive positive reviews and ratings from users?
If you want to improve your app store conversion rates, make sure to pay attention to how your app is presented. Make people want to download your app by showing them what they'll get out of it. Make sure your creatives (including screenshots, videos, and icons) are attention-grabbing and give users a clear idea of what your app does. And when it comes to your app's metadata, don't be afraid to sell yourself! Highlight the features and benefits of using your app convincingly.
It's also important to keep an eye on which keywords you are ranking on. Let's assume you are ranking in a high position for a keyword that is not relevant to your app. For example, imagine you have a fitness app and rank high for the keyword "photo editing". It will harm your conversion rate as the user had another search intent, and your app does not provide what users were looking for.
Additionally, if you have a paid app, ensure that you price your app competitively. No one wants to overpay for an app! So make sure you price your app competitively with similar apps on the market. However, keep in mind that sometimes offering a premium price can improve conversion rates by signaling quality and value to potential customers.
Last but not least, app stability plays a crucial role. A high crash rate will lead to a bad user experience and, in return, result in bad ratings. Other users will then see those bad ratings that land in your store listing and harm your conversion rates. As a result, the lowered conversion rate will be a bad sign for app stores and give your app less visibility.
Summary
By analyzing conversion rates and understanding the different impact factors, you can keep your finger on the pulse of your app's success and make sure that you're always moving in the right direction. If you're looking for ways to make your app conversion rate analysis more efficient and improve your conversion rates, App Radar is here to help you. Our user acquisition platform provides detailed conversion rate insights that allow you to identify areas for improvement faster.
Improve your app conversion rate today!
Sign up for App Radar
Create Free Account