Competitor's app metadata: how to unleash competitors' ASO strategies?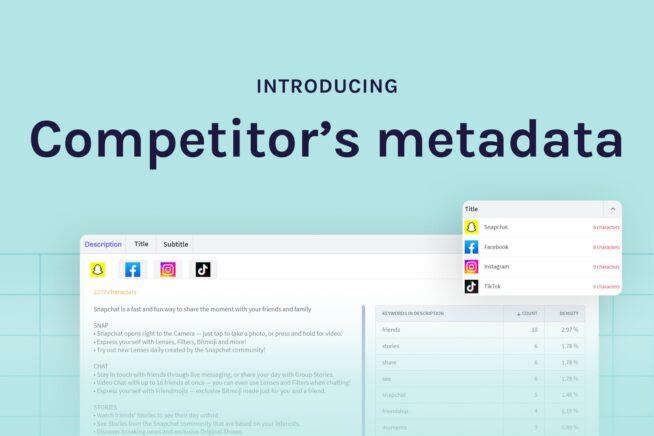 "Keep your friends close and your enemies closer."
The same goes for your mobile app competition. To beat your competitors, you need to understand their strategies and what they're doing to be successful. One way to do that is to spy on their keyword strategies. By understanding your competitors' ASO strategies, you can adapt and improve your App Store Optimization to ensure you're always ahead of the curve.
With App Radar, you can quickly uncover what keywords competitors are targeting, which ones they're ranking for, what kind of metadata they're using, and which metadata changes they've done over time. Our latest releases made it even easier to unleash competitors' ASO strategies and get faster answers to questions such as:
Which keywords are my competitors ranking on the top 10 or 30 positions?
Which keywords are my competitors using across their metadata?
Which metadata changes have my competitors done recently?
Let us guide you through this easy process of unleashing your app competitors' App Store Optimization strategies.
Understand which keywords competitors rank on
First, you should check which keywords your competitors are ranking for organically across different countries. Once you identify keywords that are also interesting for your app, you can add them to your keyword tracking list to regularly monitor the performance.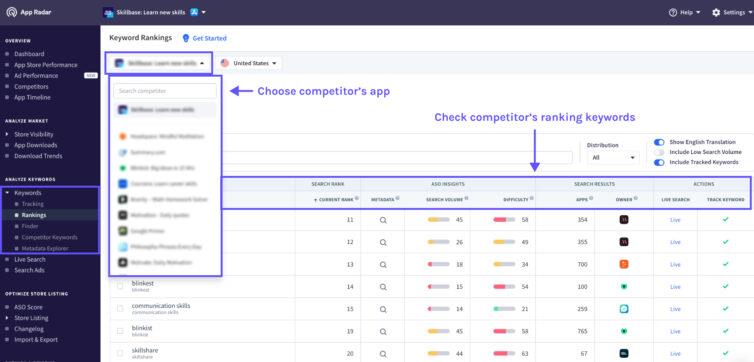 As a next step, we recommend looking at the keyword performance of your app in comparison with competitors and asking yourself:
How is my app ranking on specific keywords in comparison to competitors?
Which keywords do only my app rank for and none of my competitors?
Which keywords are unique keywords my competitors use?
Which keywords none of my competitors is ranking for and might be a chance for me to target?
In App Radar's Competitor Keywords section, you can compare your tracked keywords' ranking performance against your competitors to see who is ahead in the race. Thereby, you can quickly spot which competitor is most aggressive on specific keywords or detect your or competitors' unique keywords.
Let's dive deeper with an example!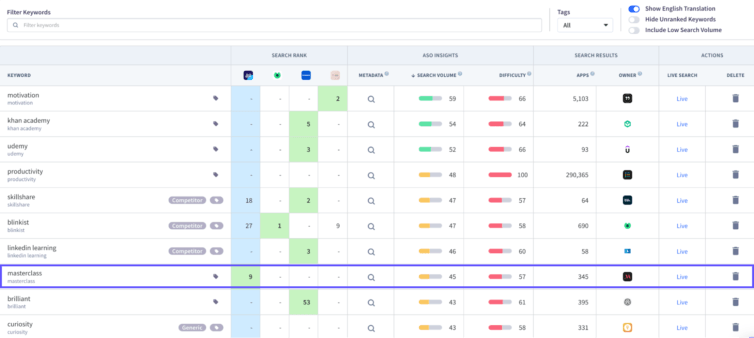 As you can see from the example above, the keyword "masterclass" is a unique keyword that Skillbase App ranks on, as none of the selected competitors is ranking on it. At the same time, the keyword "motivation" is currently a unique keyword of the selected competitor I Am - Daily Affirmations app. Interestingly, none of the selected apps is ranking for the keyword "curiosity". Including this keyword in your ASO strategy might be worth a try.
Identify keyword rankings of you and your competitors faster
Now it's time to dive into more details and get an idea of the top 1, top 10, top 30, top 50, and top 100 keyword rankings of your app and your competitors. With App Radar's new keyword distribution filter, you will be able to get faster answers to questions such as:
Which top 10 keywords did increase or decreased since my last ASO update?
Which top 30 keywords should I focus on in my next ASO update?
Which keywords are my competitors ranking in the top 10 or 30 positions?
So if you're wondering which keywords to prioritize, the answer is simple: all the keywords that are ranking in the top 30 positions.
As we all know, people are lazy scrollers; they usually decide which apps to download in just a few seconds. So the apps and games that appear on top of the search results will win the game.
Ideally, these keywords also have a decent (medium to high) search volume so that people are also looking for those keywords in the stores, and you can expect enough traffic from them.
The end goal should be to get those top 30 keywords into the top 10 rankings and, ideally, even to the top 1.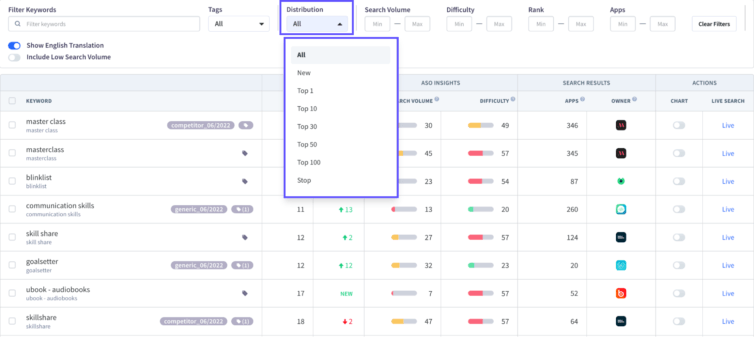 Analyze competitor's metadata and get inspiration for your App Store Optimization
Now that you know which keywords competitors are ranking on organically, it will be interesting to understand how they achieved those keyword rankings. Remember that keywords placed in the store listing's metadata will significantly influence the keyword ranking. Hence, you should regularly take a look at your competitor's app title, short description (Google Play), subtitle (Apple App Store), and description.
Looking at your competitor's app metadata can give you a good idea of what keywords they are targeting and how they're positioning their app:
What keywords are competitors using in their metadata? Are they targeting high-traffic keywords or keywords with low competition?
Which keywords are competitors using most frequently in their metadata descriptions? Is the description keyword rich?
What kind of language are they using?
See what works for competitors and try to adjust it to your listing. For example, if your competitor is using a specific keyword that you're not, consider adding that keyword to your app's description.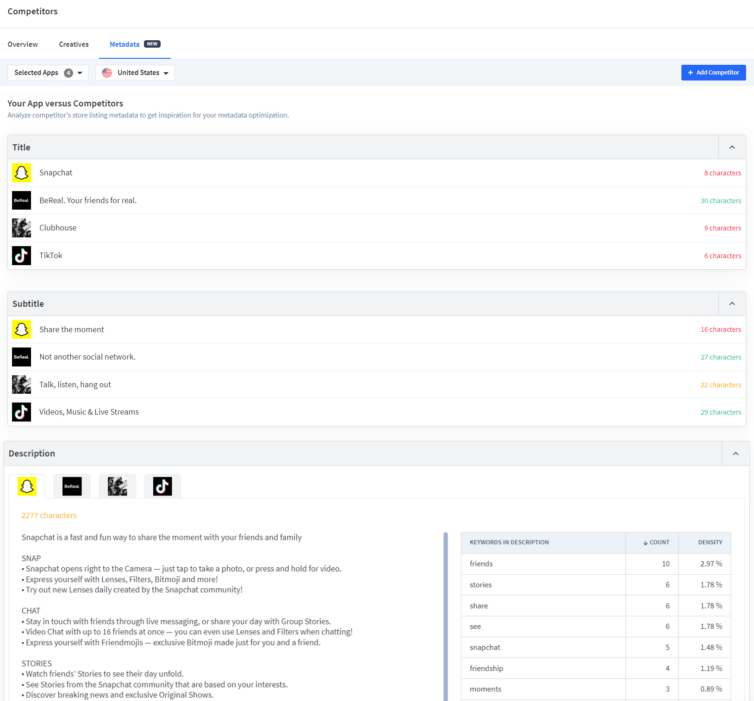 Identify new competitors' metadata changes
If you want to stay ahead of your app competitors, it is essential to be aware of changes to their strategies. Keep track of what metadata changes competitors are making:
Did competitors change their app title, subtitle/short description, or long description?
How often do competitors change their metadata?
How often do competitors release new app versions?
If your competitor changes their title, monitor how it impacts their keyword ranking on those keywords and potentially yours. If it's successful, consider making a similar change to your app store listing. Or if you see that it actually hurt the performance, you can take it as a learning to not target this keyword.

You can also filter it by the updates you are most interested in so that you can have all the changes that matter to your business in one overview. In the example below, we were interested to see which changes competitors made to their app title.
On September 12, the selected app changed its app title in the US and included "career" as a new keyword. It indicates that they focus within their ASO strategy on the keyword "career" or a keyword combination of it. In other words, the selected app tries to improve its ranking by including it to their app name.

Summary
With our latest release of competitor's metadata and keyword distribution filter, you have an easier time unleashing competitor's ASO strategies and getting inspiration for your own. Stay ahead of the game by constantly monitoring competitor's organic progress and making sure your app is always up-to-date:
Monitor which keywords competitors are ranking on
Identify the top 1, top 10, or top 30 keyword rankings of your competitors
Check which keywords competitors are using in their metadata
Your competitors are not sleeping, and neither should you. Take action today, unleash competitors' ASO strategies with App Radar, and beat your competitors!