Apple Search Ads: How to Optimize Keywords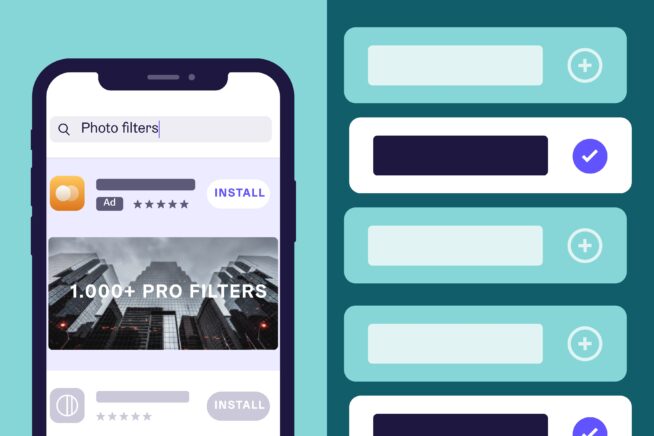 Apple Search Ads are the only ads allowed to show up directly in the App Store. They appear in the first search result spot in order to push both brand awareness and app installs. The success of an Apple Search Ads campaign relies heavily on selecting the right keywords.
Keyword optimization can really make or break an entire campaign. That's because Search Ads operates on a bidding system. App developers and marketers place bids to run ads for certain keywords. Then Apple puts all relevant bids into an auction. The auction's winner or winners receive the ad placement for that specific search term.
To get the best bang for your buck, here are the Apple Search Ads keyword strategies you need to put into use.
App Store Search Ads Keyword Match Type
Search Ads involves 3 different types of keyword match.
They're your way of telling Apple whether you want bids to be placed on keywords exactly as you entered them or more broadly. This is influenced by the campaign goals and will ultimately be decisive in campaign results. So naturally, you first have to understand the different keyword match types Apple offers.
Broad Match
Broad Match is the default keyword match type. By selecting Broad Match you're telling Apple that you want to place bids for your selected keyword and other keywords that are broadly related to it.
Misspellings, plurals, closely related words, synonyms, related searches, related phrases, and translations are included in Broad Match.
For example, when you enter "Friends" Apple will also consider "Friend", "Amigo", "Freind" and other variants.
Exact Match
Exact Match helps you to narrow your ad bid spread. By selecting Exact Match you're telling Apple that you want to place bids for your selected keyword exactly as it is typed in.
Common misspellings and plurals will also be taken into account.
For example, when you enter "Friends" Apple will consider "Friends" and "Friend".
Search Match
Search Match is best used for keyword discovery. By selecting Search Match you're allowing Apple to automatically match your app, using its metadata, to relevant keywords and search terms.
For Search Match to be effective your app's metadata needs to be up-to-date and optimized. That means App Store Optimization has already been done and recently updated. This way Apple is able to easily pull information about your app and produce the best and most relevant keywords.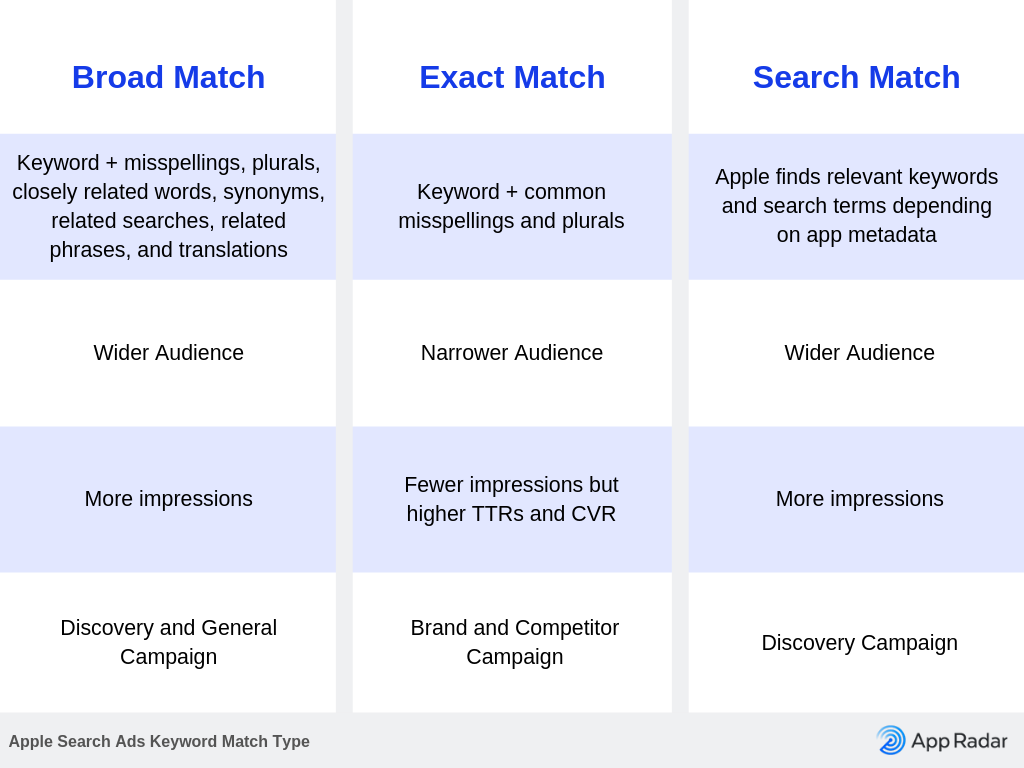 App Store Search Ads Campaign Types
The most effective method to categorize keywords is to separate them and their match types by campaign goals.
Discovery Campaigns
Discovery Campaigns are executed with Search Match and Broad Match keywords. The goal is to find new useful keywords and target popular search terms that your app is relevant too. You'll be reaching a much wider audience and as a result, you'll likely see high impressions.
General Campaigns
General Campaigns are executed with Broad Match keywords. The goal here is to reach a relevant audience who is already searching for your app or an app similar to yours. You'll still be pushing ads out to a wide audience and because of that, there's likely to be high impressions.
Brand Campaigns
Brand Campaigns are executed with Exact Match keywords. The goal is to protect your brand and to target App Store visitors who are already searching for your brand and app. These are high-intent visitors, meaning they've come to the App Store knowing exactly what they're looking for instead of browsing. So, you may see lower impressions but higher TTRs and conversions rates (CVR).
Competitor Campaigns
Competitor Campaigns are also executed with Exact Match keywords. The goal here is to be on offense. You're trying to get App Store visitors who are searching for your competitors to switch it up and install your app instead. When you suspect that your competitors are running these types of campaigns against you, use Brand Campaigns to protect yourself.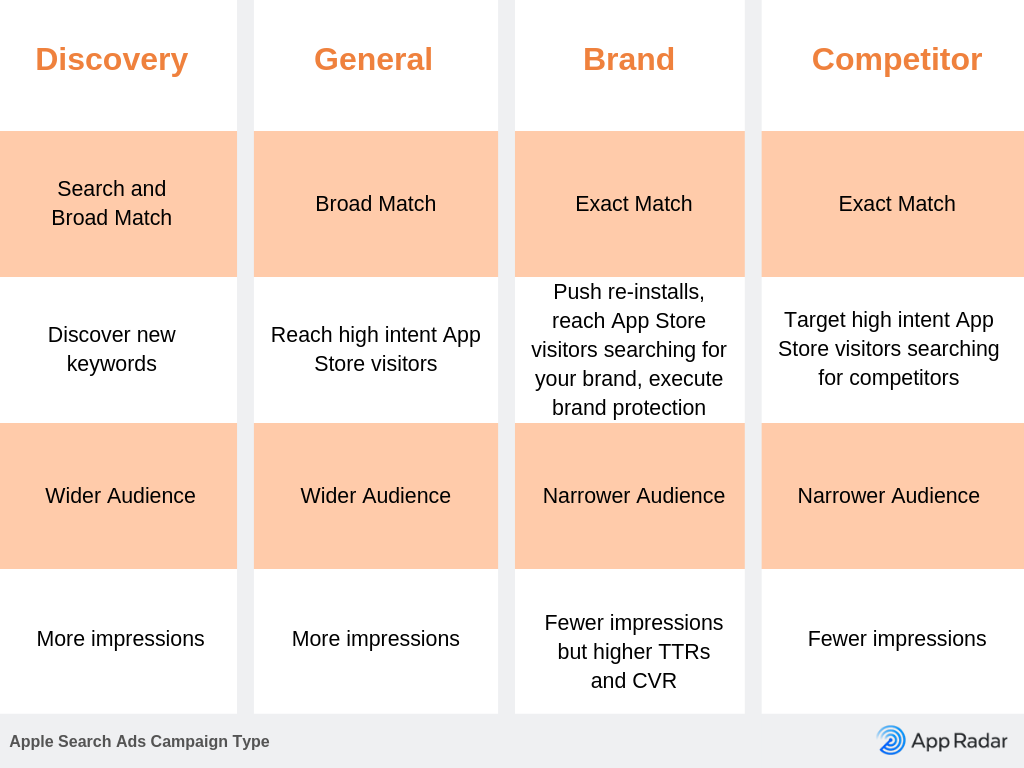 How to Find Keywords
Now that you understand how to set up Apple Search Ads Keyword Match and Campaign Types you're probably wondering where and how to find these keywords.
And that's exactly what we're about to dive into.
Manual Search
You can simply find keywords by typing search terms into the App Store. Choose terms and phrases that you think are relevant to your app. Think about what App Store visitors would use to search for an app like yours. Select words that describe the functions or in-app purchases that your app offers.
Then see what other apps come up in the results. Also, make note of which keywords your app is organically ranking for. When the apps in the search results are similar to yours and relevant to your app's type then add those to your keyword list.
App Radar ASO Tool
App Radar's ASO Tool includes a keyword finder that is both advantageous and free. Our AI does the work for you. All you have to do is connect your developer account to your App Radar account and go to the keyword finder. There you'll be able to see keywords your competitor apps are organically ranking for as well as which keywords you are ranking for. You'll also get keyword recommendations relevant to your app and its niche.
Find New Keywords with App Radar
Sign Up For Free
In addition to our ASO Tool, we offer Apple Search Ad services where we handle every aspect from start to finish for your paid user acquisition channels. Let our experts save you both time and money. Our immense app database allows us to make smart and informed app growth decisions that always get the results you need.
Search Match
Apple's Search Match will do the work for you as well. Their AI reads through the metadata that exists in your app's App Store listing and utilizes that to produce keywords.
After you've run an Apple Search Ads discovery campaign for at least a couple days to a couple of weeks, you'll be able to pinpoint which new keywords are performing well and which are not. Those that are bringing in good cost-per-acquisition (CPA) and TTR should be moved over to broad match or exact match in general and brand campaigns. Then pause low-performing keywords.
Don't Forget…
Apple Search Ad campaign keywords need to, and I mean it, they NEED to be relevant to your app.
Apple will absolutely not enter your bid into an auction if they see that the keywords you used are totally unrelated to your app's niche or functions.
That also means, the more relevant you can get, the more ad placements and impressions you'll get. Winning bids for relevant keywords is of utmost importance in terms of app retention rate as well. Ad placements matched with on-topic keywords will bring in new users that had existing intentions on downloading your app. This means they'll continue using your app for longer, which increases your app retention rate and in the end gets your app ranking higher organically.
And one last point for today.
Once you assign a match type to a keyword it cannot be changed. If you see that your selected keyword and match type are producing unsatisfactory results, you have the option of pausing that keyword.
Get the Most out of Apple Search Ads
Contact our App Growth Experts Today