5 Apple Search Ads Best Practices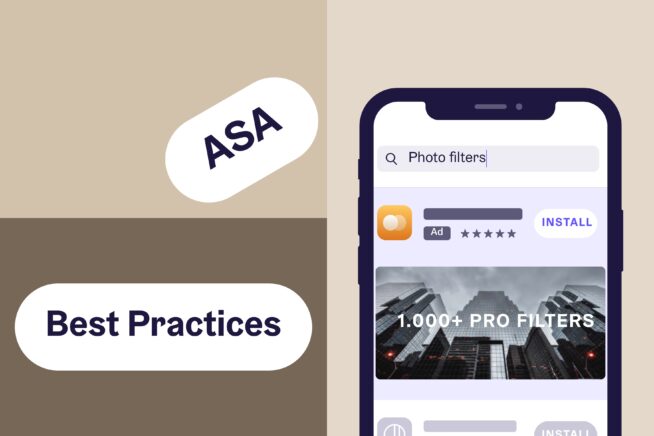 Apple Search Ads is one of the best ways to bring in new users for your apps and mobile games. Aside from being a paid user acquisition channel, Search Ads is also a great way to protect your brand and fight against competitors directly inside the App Store. However, running a campaign without prior Search Ads knowledge is a dangerous path to go down. You put yourself at risk of wasting both valuable time and money. In addition, you're losing potentially great users.
There are a few tactics you should put into action to ensure the best possible Search Ads results. That's why we're going to talk about the top 5 Apple Search Ads best practices.
1. Definitely Choose Apple Search Ads Advanced
The first step to starting a Search Ads campaign is deciding whether to run a Basic or an Advanced campaign.
Basic or Advanced, it's a tough question.
Well actually not really.
Here's the answer: always choose Apple Search Ads Advanced. There's a stark difference between Apple Search Ads Basic and Advanced.
Apple Search Ads Basic
Apple Search Ads Basic will not give you the return on ad sales (ROAS) that you want. That's because Basic has extremely limited features. As an app developer or marketer, the single management task you are able to perform with Basic is setting your max cost-per-install (CPI). After that, you're putting the power into Apple's hands. Apple does everything else for you, including choosing the target Keywords and Ad Groups.
Apple's AI pulls information from your app's existing metadata to decide which keywords and ad groups your app is best suited for. That means for Basic to even be a slightly successful venture, your App Store Optimization (ASO) has to be so on point that the AI doesn't make a single mistake when automating keyword and ad group choices. Nobody's perfect, not even Apple's AI. Mistakes are bound to happen and they are completely out of your control.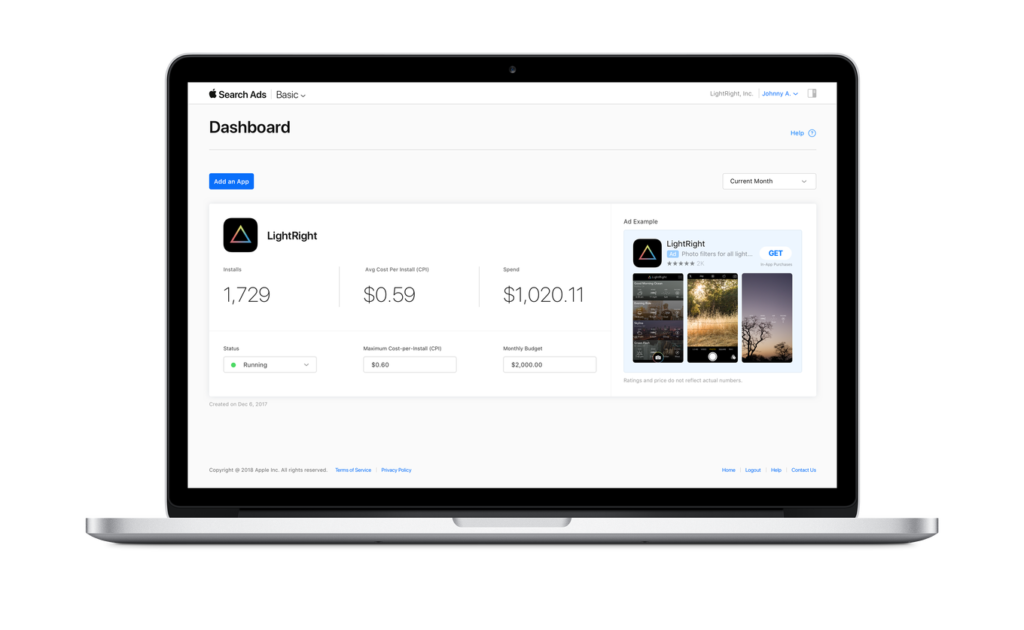 Apple Search Ads Advanced
My advice? Stay in control.
Don't allow your Search Ad campaigns to go to waste and always choose Apple Search Ads Advanced. You'll be able to choose Target Keywords, define Ad Groups, run multiple Creative Sets, receive in-depth reporting, full access to Apple's Search Ads API and more.
In addition, there's no minimum spend for neither Basic nor Advanced. The single difference pricing wise is that Basic is CPI and Advanced is cost-per-tap (CPT). You're only losing out when executing an ASA Basic campaign. So cut the losses and go with Advanced.
Alright, so now that we've gotten that out of the way we can really dive into ASA best practices. The following pointers will apply exclusively to ASA Advanced campaigns.
2. Segment Your Search Ads Campaigns According to Target Keywords
It's important that you segment your Apple Search Ads campaigns. The best way to do that is through keyword type.
There are 4 main keyword categories that you should split your campaign up into:
Discovery Campaign: Run a discovery campaign when you're looking for keyword inspiration. A discovery campaign helps you find popular search terms that are relevant to your app. Use Search Match and Broad Match keywords to widen the reach of your campaign, which also increases the chances that you'll find new effective keywords.

Search Match allows Apple to find keywords for you. Your Broad Match Discovery Campaign keywords should be high volume search terms and general terms relating to your app's niche and features, "travel deals" or "photo editor" for example.

General Campaign: Run a general campaign when you're looking to reach a wide audience and increase brand awareness. You'll reach App Store visitors that are interested in your app's features or category. Use Broad Match keywords to ensure that your ad is in the auction for variations of your target keywords.

Your Broad Match General Campaign keywords should be search terms relating to your app's niche and features, "travel deals" or "photo editor" for example.

Brand Campaign: Run a brand campaign for brand protection. This is to make sure that competitors aren't running ads on your brand and app names. A brand campaign also ensures that App Store visitors who are looking specifically for your app find it easily. Use Exact Match keywords for this type of campaign.

Exact Match Brand Campaign keywords are any terms that are directly related to your app and brand, your brand's name for example.

Competitor Campaign: Run a competitor campaign to beat out your competition. Using Exact Match keywords, you can run ads for searches that your competitors have high organic rank for.

Exact Match Competitor Campaign keywords are any terms that are directly related to your competitor apps and brands, a competitor's brand name for example.
Negative Keywords
Beyond choosing Search, Broad and Exact Match keywords, you have the option of adding negative keywords for every campaign. A negative keyword tells the Search Ad system to take this specific keyword out of the set of target keywords you want to be bidding for. You can use negative keywords to further narrow down your ad targets.
Make sure you're not bidding against yourself by listing keywords you've used for broad match as negative keywords for exact match and vise versa. In addition, add all the keywords you've chosen for your general, brand and competitor campaign as negative keywords for your discovery campaign. This ensures that you discover new keywords rather than redundant ones.
3. Utilize Creative Sets to Cater Ad Visuals to different Ad Groups
Creative Sets are an amazing advantage of Apple Search Ads Advanced. They allow you to target specific audiences through different visuals. Each Creative Set is matched with an ad group that you created. There are several ways to determine ad groups. We've already tackled ad groups by keywords (discover, general, brand and competitor) above. You can also create ad groups dependent on age, gender, device, etc. Apple lets you create a maximum of 10 Creative Sets on top of the default ad visual.
The first note to keep in mind here is to not repeat the default ad visual. Apple will run the default Creative Set regardless of anything that you do. Thus, making a Creative Set that mirrors the default is absolutely useless.
The second is that you can only choose designs that are already integrated into your app's product page. In order to generate completely new Creative Sets, you'll have to update the product page and then wait for that update to be pushed through by Apple before implementing the new visuals in your Search Ads.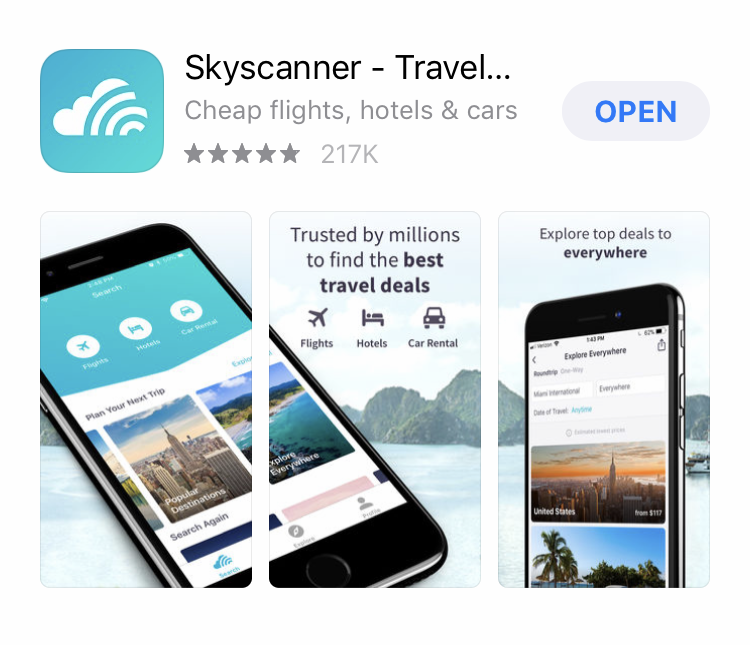 The third regards the order of your Creative Set App Store screenshots. The screenshots will appear in the same order as they are on your app's product page and this cannot be changed. Furthermore, only 3 screenshots are shown at a time. So design accordingly. For example, Skyscanner's app screenshots allow them to create 4 different Creative Sets when they want to use the first two paired screenshots. Skyscanner does not have an app preview video on their regular product page. If they wanted to add one to a Creative Set they would have to first update the product page with an app preview.
Aside from these few caveats, Creative Sets is a critical feature of Search Ads and should certainly be taken advantage of. It's a fact that visuals are a highly influential app marketing factor, affecting both tap-through-rate (TTR) and conversion rate (CVR). Moreover, the higher these metrics get, the more Search Ad auctions you'll win. Thus, you want your app preview and screenshots to be looking good.
4. Knowing When to Increase or Decrease a Search Ads Bid
Money matters, especially in Search Ads. Your bid is going to be one of your greatest weapons. The game is, beat out competitor bids. The problem is, how do you know how your competitors are bidding.
ASA functions as an auction system. So each and every bid influences the CPT price. The more app publishers are willing to bid for a keyword, the higher the average bid for that keyword will be. Apple gives you a recommended bid amount and indication of whether your bid is weak, moderate or strong. You should use Apple's baseline suggestion to start off with.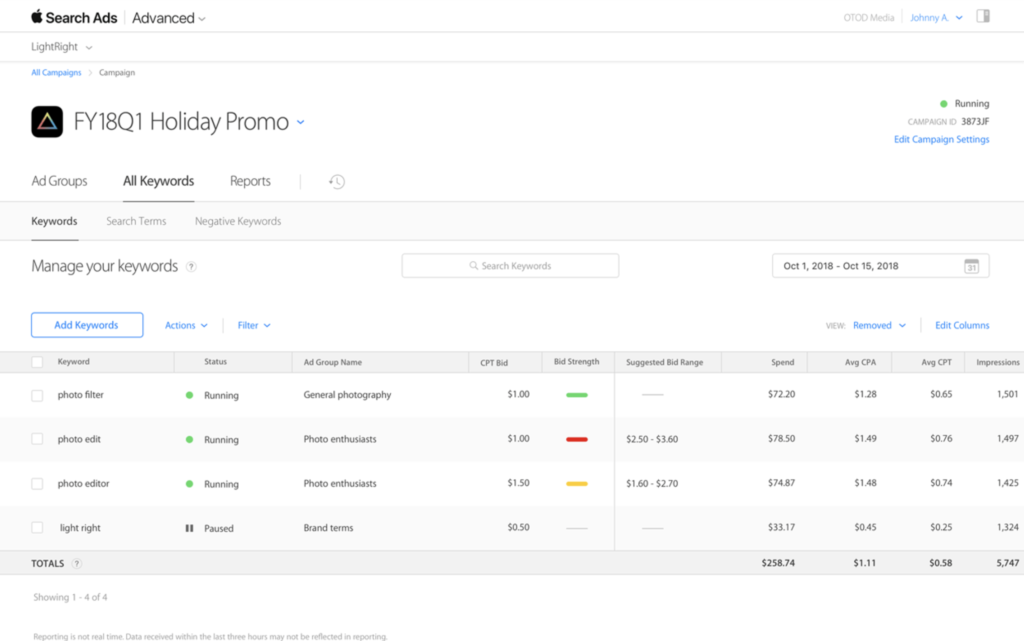 After that, knowing when to increase or decrease a bid amount comes from analyzing Search Ads metrics.
Relevancy
The first data point to look at, which is qualitative rather than quantitative, is how relevant your Search Ad keywords are to your app. Apple prides itself as one of the biggest and best curators of content. They only want to bring the best to their users. Meaning, Apple won't be running your recipe app ad on the keyword, "glasses". Now that's an extreme example but I think you get the point.
If you're not seeing the impressions that you want, go back and make sure that the keywords you've placed a bid on are relevant to your app. Also double-check your app's metadata, which are also your app's App Store ranking factors. Apple uses this information to determine whether or not your app is relevant to the target Search Ad keywords.
TTR, CVR and CPA for Bid Adjustment
Okay, now you've figured out that relevancy isn't that problem.
What else can you look at?
The other data points to analyze are TTR, CVR and CPA. These are going to fluctuate from one type of campaign to the other. Brand campaigns will see a lower TTR but higher CVR. General campaigns will see higher TTR but lower CVR. Because of this, you'll have to analyze each of your Search Ads campaigns separately. That being said, here are a couple situations where you should adjust your Search Ads bid amount.
Increase your CPT bid when:
Your ads are matching to relevant keywords and you're seeing high CVR
You have keywords delivering CVR below your CPA goal
You see low TTR, CVR and impressions for high volume keywords that are relevant to your app
Decrease your CPT bid when:
You see a keyword that has high TTR but low CVR, which are above your CPA goal
In addition to adjusting CPT bids, you can also adjust your CPA goal within the Search Ads system. Apple recommends raising CPA when your ads are experiencing low impressions since low CPAs can result in losing auctions.
5. Keeping Your App Up-To-Date and Relevant with ASO
And finally you've reached the 5th Search Ads best practice, ASO. It will always play a role in successful app marketing. Love it or hate it, you're going to have to do it. This is especially true when running Search Ads campaigns.
Why is ASO so important to Apple Search Ads? Aren't they separate entities?
Absolutely not. ASO and Apple Search Ads are intertwined. If anything, ASA success relies heavily on great ASO. I mentioned previously that the screenshots you're able to select from for Creative Sets are the ones already uploaded onto your app's product page. Screenshots are a huge part of ASO. I also mentioned above that Apple is heavily motivated by app and keyword relevancy. This is achieved through ASO as well. Let's break this ASO and Search Ads relationship down further.
Apple Pulls from Existing App and Product Page Metadata
Starting with Search Match. Apple's Search Match option automatically finds new keywords that are relevant to your app and popular with App Store visitors. To produce these keywords, Apple uses the existing metadata of your app, aka your ASO efforts. It's the keywords you've used to get your app to rank high within organic App Store searches. When your metadata is out of line with the features and niche of your app, then Search Match will no longer work as intended. Using ASO, you can ensure that your app is properly optimized for its relevant feature, genre, and category. Then Search Match will be much more effective for your discovery campaigns.
Visuals Matter and Apple's Design Guidelines Do Too
Now, we've already established that visuals are a big deal and that they're a part of ASO and Apple Search Ads by default. Apple dictates at least 1 app screenshot per product page and uses a default Creative Set for Search Ads whether or not you've added more.
Having the right screenshots and app previews can make or break TTR and CVR. Before setting up any Search Ads campaign, make sure that your app preview video and screenshots are ready to go. Apple also likes it when you comply to their rules and regulations. It's good practice to always be updating your app screenshots and app previews so that they fit to all available iOS screen dimensions and follow Apple Design Guidelines. There are also further guidelines for app preview videos.
For example, app previews may only show content within an app. A video showcasing an actual person holding a phone is not acceptable. iTranslate does a great job highlighting its essential features within the 30s video limit. Following Apples rules increases the chance that Apple will first, approve the app preview and product page update and second, place your ad bid into the auction.
Stay Current
Lastly, Apple loves apps that are up-to-date. Frequent app updates lets Apple know that there is an active team working on improving an app. Just make sure to get your reviews and ratings back up after each release. Negative ratings strongly dissuade App Store visitors from tapping and installing. Positive ratings will help not only your app's organic App Store rank but also the chances that your ad will show for relevant keywords.
Apple Search Ads Best Practices Summary
We've gone through many ways you can get the most out of your Search Ads campaigns. From keyword research to app screenshot designs, a lot of work goes into running a successful Search Ads campaign. Even with Apple's automation through features such as Search Match, there's still a number of design, budgeting, data analysis tasks and more to do. Also, don't overlook that just like ASO, Apple Search Ads has to be done separately for each localization. Want faster and better Apple Search Ads results with less effort? Contact us today.
Get the Most out of Apple Search Ads
Contact our App Growth Experts Today