As the new year began with full effect, it is time to recap 2022 and give an outlook on 2023.
In the past year, the team from App Radar rolled out 34 customer-facing releases that extended the platform with key app marketing data points and functionalities. I am proud to say that App Radar has made great strides in becoming the leading app marketing platform for user acquisition.
In 2023, we will double our efforts to provide our users with an even more holistic view of user acquisition and thereby hit the Zeitgeist of modern app marketing. This year, it will be more important than ever to understand which channels drive user acquisition and how app store optimization and paid advertising play together and support each other.

App Radar's all-in-one app marketing platform
For years, App Radar was known as an App Store Optimization tool that helped ASO managers increase their organic presence in the app stores. However, after listening to the bright minds of our in-house agency that work with mobile apps and games worldwide and getting valuable feedback from our customers, we decided to broaden the possibility of our tool in the most convincing way for app marketers. We believe paid user acquisition is necessary for taking mobile apps to the next level.
In 2022, we reached a significant milestone by introducing Google App Campaigns and Apple Search Ads connections in the App Radar platform. In other words, App Radar became an all-in-one app marketing platform that serves the needs of different app marketing purposes. Our customers can now connect their app store advertising channels to analyze ad performance and see the correlation between paid and organic user acquisition.
Let's look at how app marketers can benefit from new ad features.
Introducing Ads Tool - A facelift for our ad performance features
We've listened to your feedback and given our ad performance features a fresh look. We created a more modern and user-friendly interface to help you scale and track your ad performance globally. You can monitor the ad performance of your entire app portfolio in one dashboard and save time when analyzing ad performance with global filters.
Moreover, the Ads Tool is optimized for mobile, allowing you to track your ad performance on the go!
Additionally, we introduced the possibility of working with dark and light modes, which help you conveniently track your ad performance.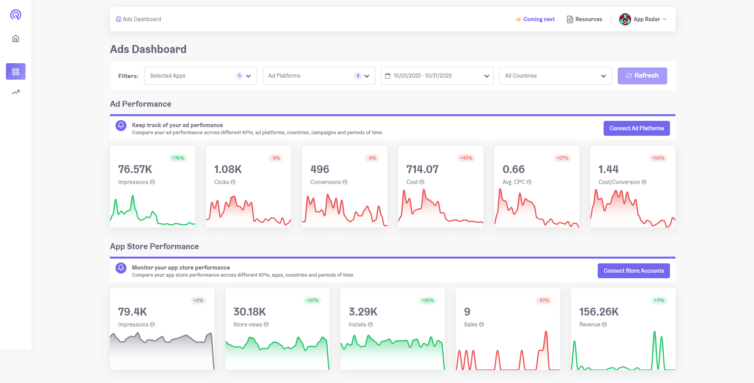 Unite ASO, Google App Campaigns & Apple Search Ads with App Radar
In the middle of 2022, Google App Campaigns and later Apple Search Ads connections became available for App Radar users. It opened up a bigger picture of user acquisition from one place. Moreover, it allows analyzing and optimizing organic and paid user acquisition together!
Paid user acquisition widgets
Launching the Ads tool inside App Radar in 2022 came together with useful widgets for analyzing paid user acquisition. Let's quickly have an overview of all of them!
Ad Performance widget
The Ad Performance widget allows app marketers to compare ad performance across different KPIs:
Ad impressions
Clicks
Conversions
Cost
Avg. CPC
Cost/Conversions

Cost per Conversion
We know how important to identify the best-performing paid channel. Therefore, we have released the Cost per Conversion widget to help app marketers to identify an ad platform that performs best in terms of efficiency. Additionally, with this widget, you can analyze if your app gets a better cost per conversion with Google App Campaigns or Apple Search Ads.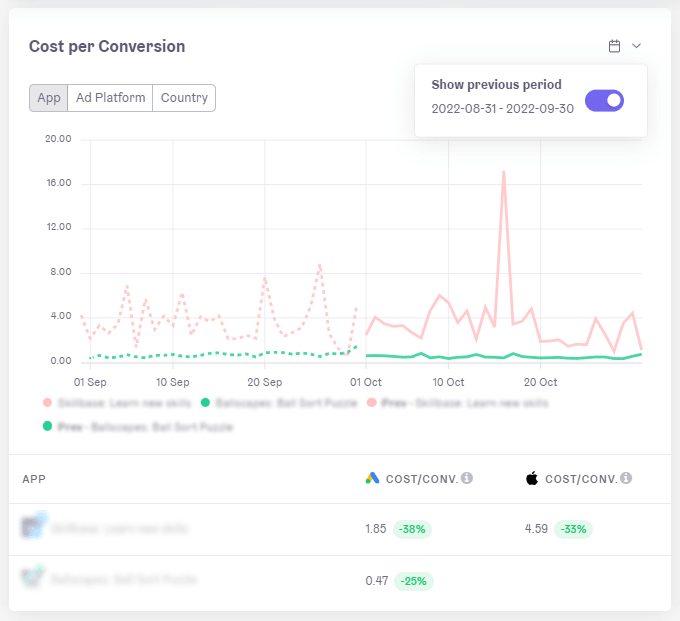 Conversion Rate
With the new Conversion Rate widget, app marketers can easily identify at which step of the conversion funnel users drop off.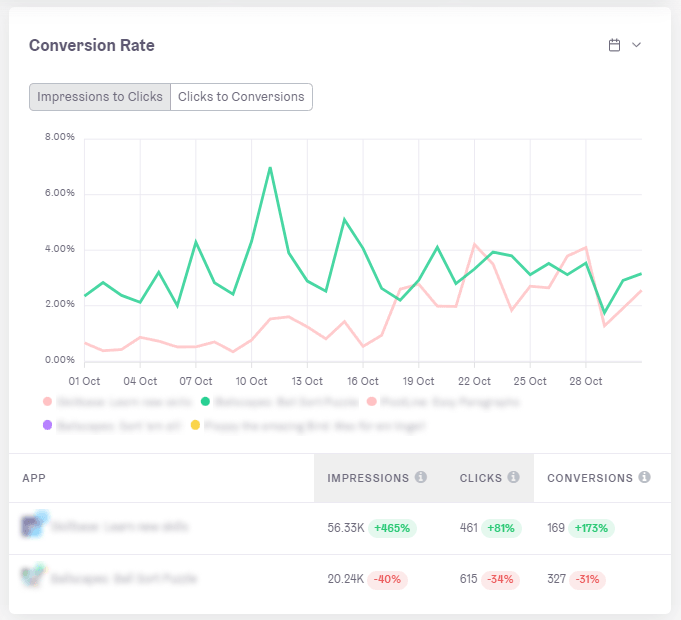 User Acquisition Correlation
UA Correlation widget was designed to help to monitor the share of traffic that comes organically and through Apple Search Ads Advanced and Google App Campaigns. In other words, app marketers can better analyze the correlation between ASO and paid user acquisition. Moreover, this widget helps analyze which UA channel contributes the most to your app growth.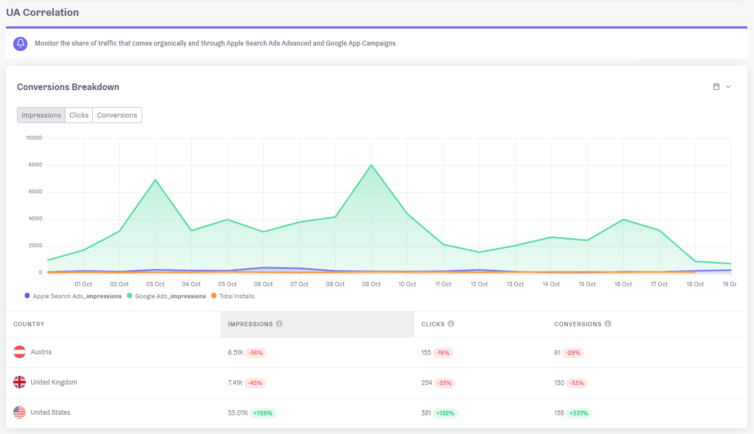 Ad performance at one glance
This additional feature of the Ads tool helps UA managers dive deeper into analyzing ad campaign performance. It allows the possibility to compare the performance of specific ad campaigns in Google App Campaign and Apple Search Ads in one dashboard. Moreover, you can easily identify growth potential per country and campaign based on important ad performance metrics.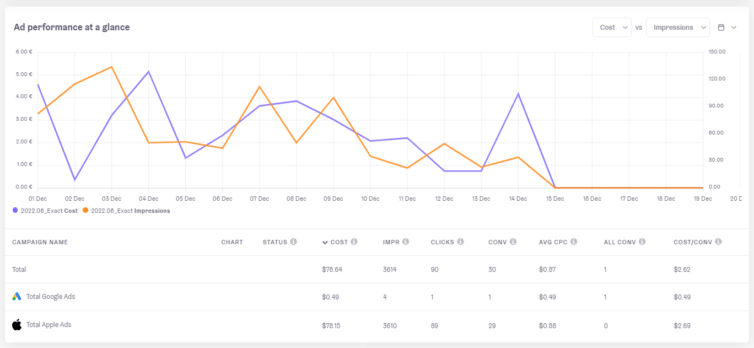 Strengthening ASO features in 2022
In 2022, we also released new features to strengthen the ASO-related features and introduced new possibilities for user acquisition managers.
Search Visibility Score
With the introduction of the Search Visibility Score in 2022, our team supports all ASO experts in the struggle to see the effects of their organic UA efforts. Search Visibility Score in App Radar helps find the answer to the following questions:
How much app visibility do I get through organic user acquisition compared to competitors?
Did my app localization efforts pay off?
Was my ASO update a success?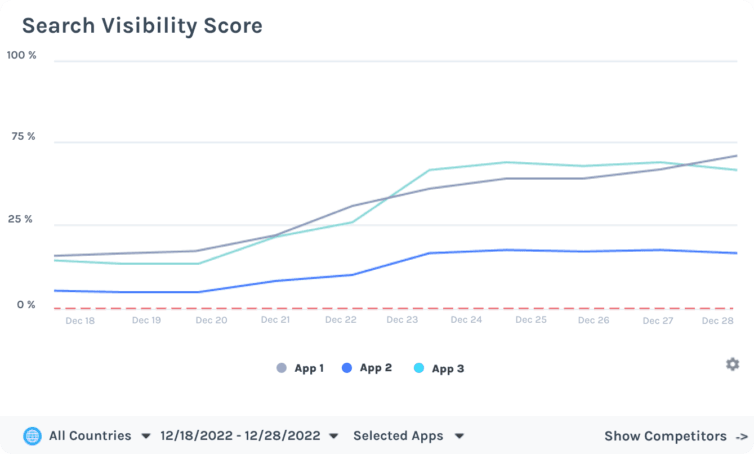 Historical Search Volume
A new Historical Search Volume feature was developed to help marketers analyze how search volumes evolve for specific keywords in particular markets over time. In other words, it helps better to understand changes in the organic visibility of apps. It also helps to identify if lower visibility in the app stores occurs due to lower brand popularity or less visibility from generic keywords.

Conversion Rate Analysis
Analyzing app conversion rates has always been challenging! With the upgraded Conversion rate feature, you can get faster answers to questions like:
What impact did my latest ASO update have on my app conversion rate?
Did an app release increase or decrease the in-app conversion rate?
Which traffic source converts best?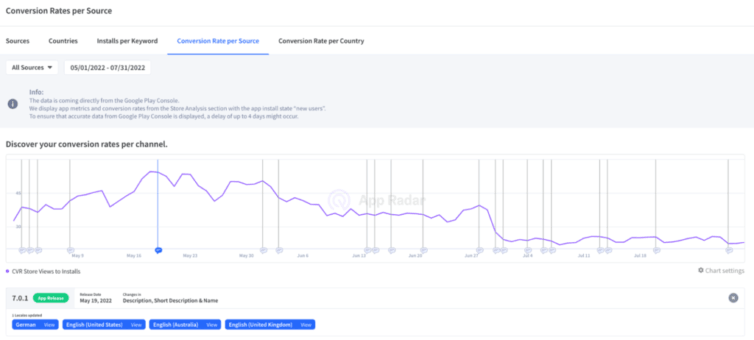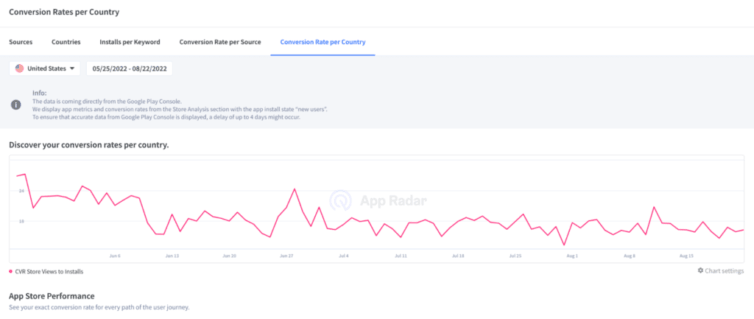 Keywords auto-translation
App Radar always aims to make app marketers work more efficiently! That's why in 2022, we introduced a new magic button that auto-translates keywords from any language to English. It speeds up keyword research and analysis for different locales and helps save the translation budget. This feature is available over all keyword-related widgets!

Comprehensive mobile app competitor analysis
Competitor analysis is an essential part of any app growth strategy. By understanding the strengths and weaknesses of your mobile competitors, you can develop winning tactics for your ASO and paid user acquisition strategies.
Competitors creatives
At the beginning of 2022, we strengthened our app competitor analysis features by adding competitor creatives to App Radar's tool. This feature improved app marketers' efficiency and provided valuable insights for competitors' app store aesthetics analysis.
With further improvements, by the middle of 2022, App Radar's users could see the whole picture of competitor's app store aesthetic:
App icon
App Screenshots
App preview or promo video (newly added)
Featuring graphic (newly added)
We also released bulk downloads of competitors' creatives to assist app marketing creative teams with optimizing their app store listings' aesthetics. This utility revolutionizes the speed of obtaining creative ideas, enabling ASO managers to amplify their conversion rates.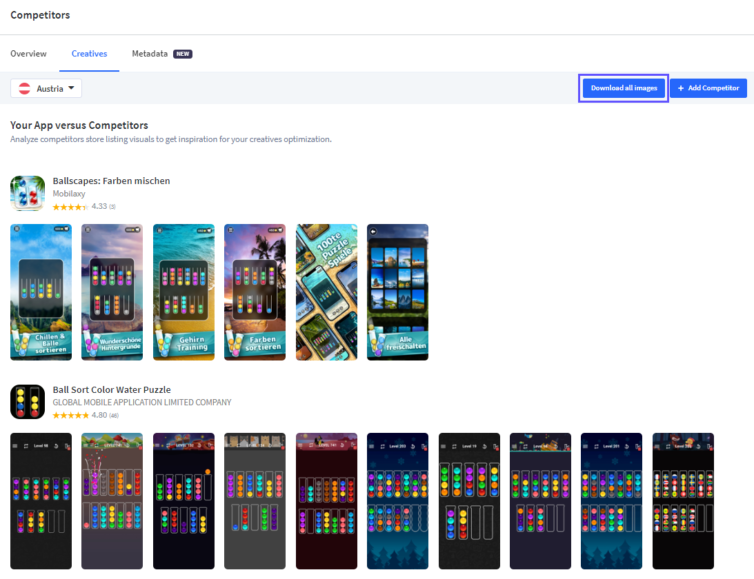 Overview of competitors' metadata in one dashboard
In November 2022, we introduced one of the most popular competitors' features. Competitor metadata was developed to help users easily discover their competitors' ASO strategies. This powerful feature helps identify competitors' keywords and density in the app store listing across different countries on one page.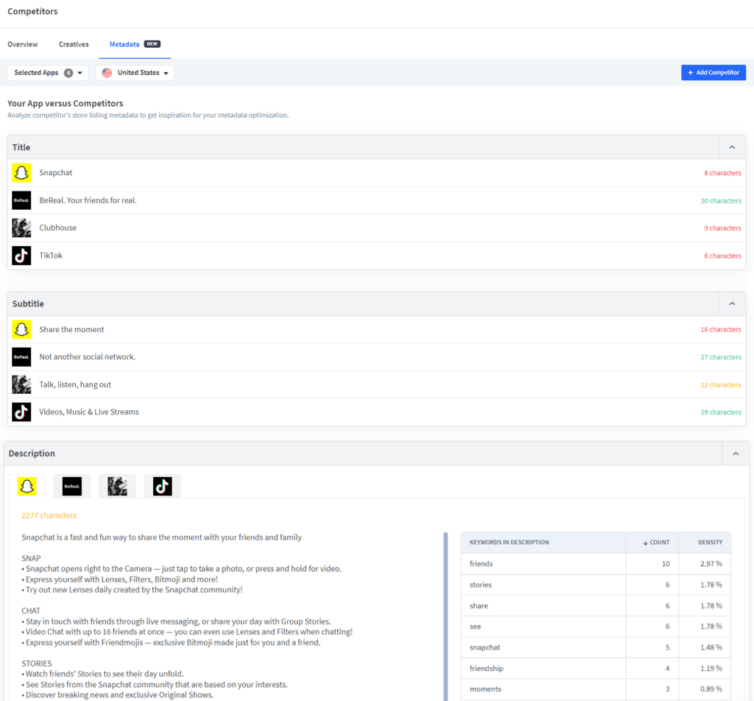 Faster search for competitors' apps
Our team also improved the competitor's search functionality to help app marketers save time researching new competitors. Moreover, we have significantly leveled up the competitor's suggestion field functionality. In other words, now our AI serves with quick and relevant competitors' app suggestions that speed up marketers' work.
Distribution filter for competitor's keyword ranking
Another competitor-related feature introduced a distribution filter across the keyword sections. In other words, we have reworked the filter functionality for keywords rankings to help you identify faster top 1, top 10, top 30, top 50 and top 100 keyword rankings of you and your competitors. With the distribution filter for app keywords rankings, you can easily get answers to questions such as:
Which top 10 keywords did increase or decrease since my last ASO update?
Which top 30 keywords should I focus on in my update?
Which keywords are my competitors ranking in the top 30 positions?
Efficient review management for mobile app
Review management is crucial for boosting mobile app ratings and gaining users' trust. Therefore, it is also an important part of App Radar's all-in-one app marketing tool. In 2022, we haven't left aside review management features but also upgraded its functionality.
Categorize user feedback with review tags
In September 2022, we enhanced our app review features, so app marketers can use tags to categorize user feedback. Analyzing reviews and reacting to user feedback and market trends became much faster with this tagging functionality.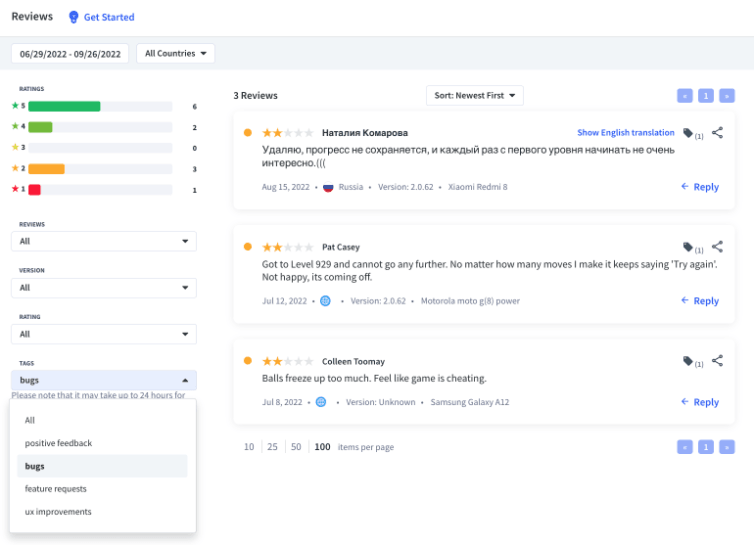 Analyze Google Play ratings per country
Google Play Store used to show app ratings globally. Now, the average rating for an app gets displayed on a country level. Therefore, we have introduced country-specific ratings for Google Play. So, ASO managers can get faster answers to the questions such as:
Which country has the best and worst average star rating?
Do I get a better average US rating than the UK?
Which countries should I focus on improving my average star rating?
Save your favourite review templates
If you were looking for ways to streamline your review management workflow and save time? Then you will definitely like this 2022 release of review templates! This new functionality allows you to mark your favourite templates for quick access later. It helps you save time and complete your review management work more efficiently.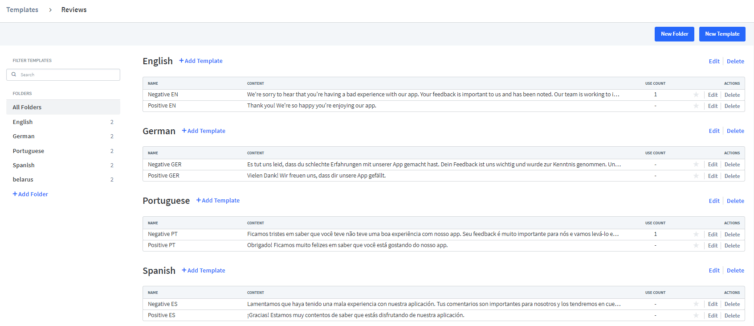 What to expect from App Radar in 2023?
As you can see, 2022 was an intense year for our team. However, we are still energized, especially after receiving so much positive customer feedback. We are excited to keep pushing the boundaries of our all-in-one app marketing platform and look forward to delivering even more value in 2023. Our team is working hard to develop innovative features to make our product easier and more efficient for all users. We can't wait for you to experience what App Radar can do for you in 2023!
You can stay tuned with upcoming features and improvements by checking out our Release Notes during the year! Prepare to be excited!