Mobile apps fight for users' limited attention and loyalty. The more people own smartphones, the more they download and use mobile apps. Moreover, our current situation due to Covid-19 has pushed many businesses and private persons to adopt digital tools and resources. The world may never be the same. However, it's a great time to leverage the move towards digital and earn more users for your mobile app. We're going to talk about how you gain more users by pairing a great App Store Optimization (ASO) strategy with powerful app store ads.
App Store Ads Rely on Keywords, Just like App Store Optimization Does
Combining ASO and paid user acquisition is a winning strategy for boosting your app growth. However, you need to be careful with approaching keywords for ASO and paid UA. Similar to App Store Optimization, app store ads also use keywords. The two major platforms for app store ads are Apple Search Ads and Google App Campaign. If you're not familiar with how Apple Search Ads and Google App Campaign work or need a quick refresher, check out these articles:
Keywords work differently in Apple Search Ads and Google App Campaign. Let's tackle Apple Search Ads first.
Keywords in Apple Search Ads
Apple Search Ads appear in the Apple App Store organic search results. They sit before the 1st organic result and thus, easily capture the attention of anyone looking for an app to download. You get the ad to show by choosing which keywords you'd like it to appear for. If other advertisers are bidding on the same keyword, you'll share a portion of the ad impressions with them. This is called Share of Voice or SOV.
Already running Apple Search Ads? Check out your SOV and ensure you're beating out competitors with App Radar's Search Ads Intelligence.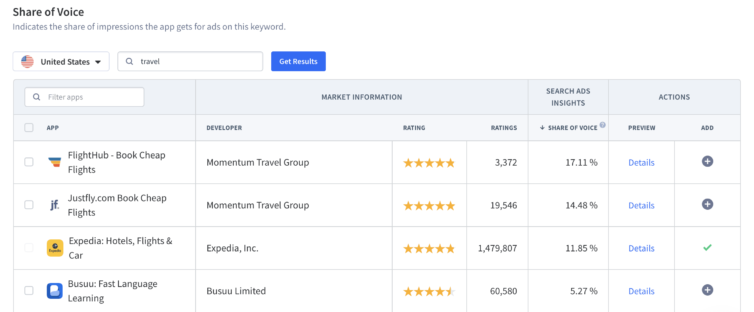 Choosing relevant keywords is crucial to getting max ROAS (return on ad sales). Comparable to App Store Optimization, you want to pick keywords that your target audience would use to search for an app like yours. Doing otherwise would be harmful to your ad strategy. You'll reach the wrong audience who have no interest in your app and they'll end up not downloading. As a result, you lose money and the opportunity to acquire high quality users.
Let's move onto how keywords affect Google App Campaign.
Keywords in Google App Campaign
Instead of determining keywords, you'll set up Google App Campaigns based on audience demographics and goals. However, keywords still play an important role. You need to have relevant keywords in your ad copy. These are terms that appeal to your target audience and push them to download your app.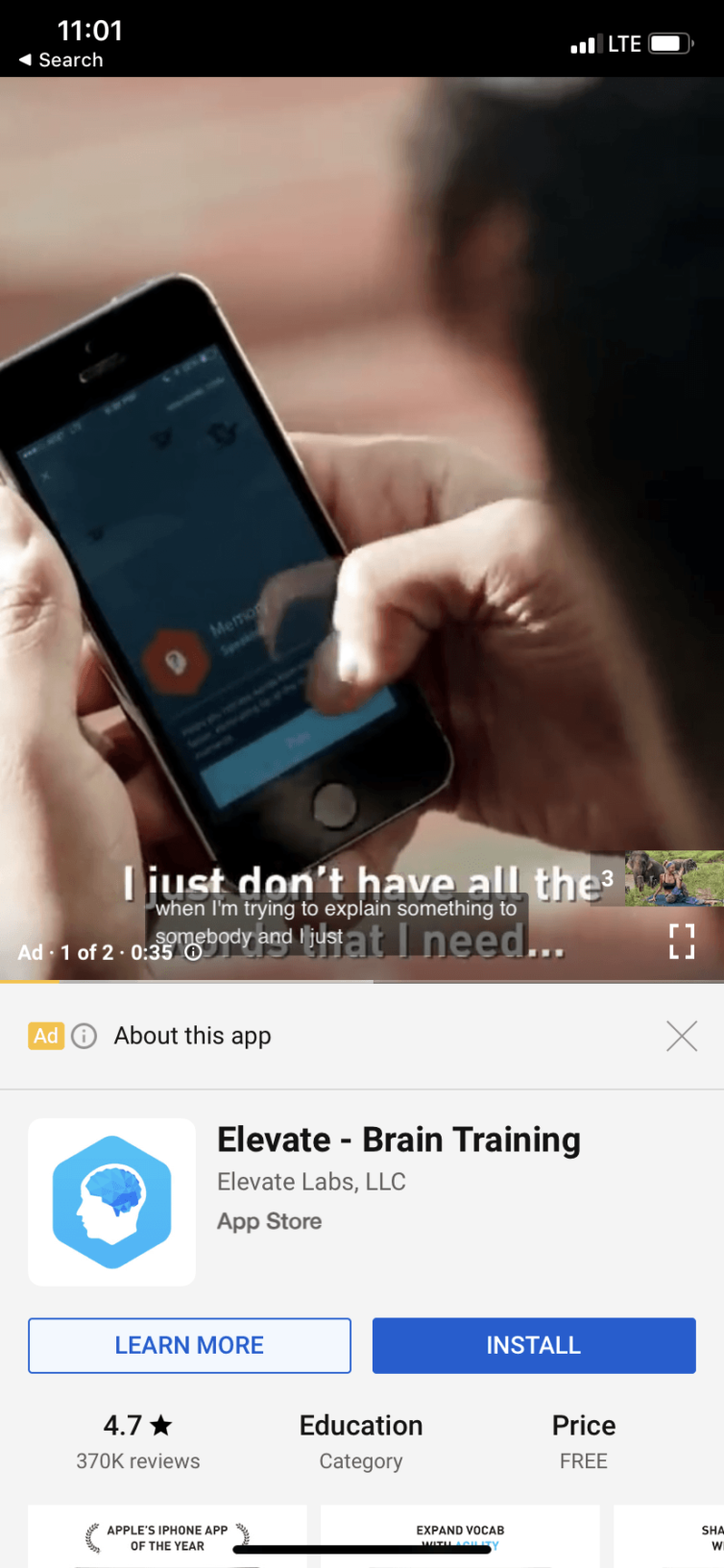 A good way to decide which keywords to include in your ad copy is to create a list with the ones that drive the most downloads and the ones your app currently ranks high on. You can check your Google Play Store downloads and rankings with an App Store Optimization tool like App Radar.
Using an App Store Optimization Tool to Find Keywords for App Store Ads
The best way to build a keyword list for your Apple Search Ads and Google App campaign is to use an App Store Optimization tool. There's a high chance that the keywords you've already collected for your App Store Optimization keyword strategy are also going to be effective for app store ads.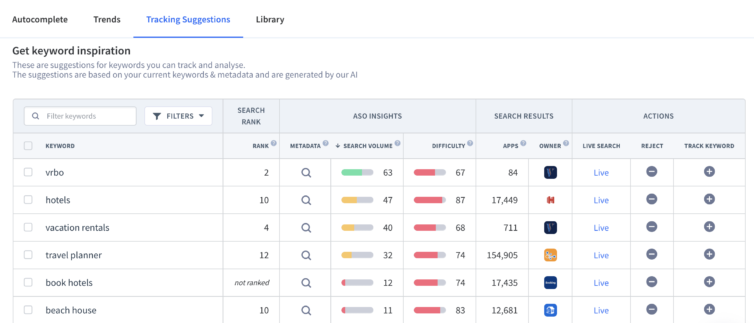 This is how App Store Optimization directly correlates with successful app store ads and max ROAS. However, it's not the only way.
Boost the Effectiveness of App Store Ads
Optimize your app store listing by using the right keywords, designing appealing visuals, and replying to user reviews. Do it all with App Radar.
Create Free Account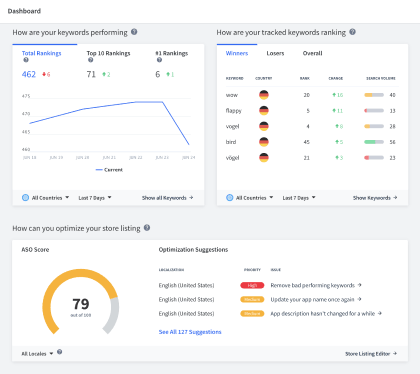 Conversion Rate Optimization in Relation to App Store Ads
App Store Optimization is basically the last step in running successful app store ads. It pushes ad viewers to click through and download, closing the deal. How?
App Store Optimization includes a process called Conversion Rate Optimization. Conversion Rate Optimization or CRO involves creating appealing app store listings that will convince people to download your apps. Every app store ad uses elements of your app store listing and ultimately leads ad viewers to your app store listing. Thus, Conversion Rate Optimization is essential to your paid UA strategy.
App Store Listing Visuals and Creative Sets
Effective App Store Optimization and Conversion Rate Optimization never ignore the aesthetics of your app store listing. The app icon, app screenshots, app preview video, and accompanying text all affect the download decision of a potential user and ad viewer. In addition, these elements will be used in your app store ads' creative sets.
Creative sets are the groups of visual graphics that appear in the app store ad. They include the app icon, app screenshots, and ad video when available. Both Apple Search Ads and Google App Campaign offer built-in functionalities to A/B test these visuals.
For Apple Search Ads, you are able to build multiple creative sets with differing app screenshots. Apple will show the variants to random groups of people. The variant that brings in the most users for the least cost, so low CPA (cost-per-acquisition), is your winner.
Don't lose out on the opportunity to reach people who will love your app. Ensure that all of your app store listing visuals and ad creative sets are designed to appeal to your target audience. Need an extra boost with App Store Optimization and Conversion Rate Optimization? Learn more about how our app growth experts can help!
How Ratings and Reviews Affect App Store Ads
Another factor that affects the success of your app store ads is ratings and reviews. People won't even consider downloading apps with a 3-star average or lower. You actually want to aim for 4-stars or higher. And again, we're back with how App Store Optimization plays into maxing out ROAS. Ratings and reviews are also optimized through App Store Optimization.
The entire user journey starts from the second a person sees your app store listing. Because of this, you must ensure that your app store listing is neither overpromising nor underpromising. You have to find that perfect middle.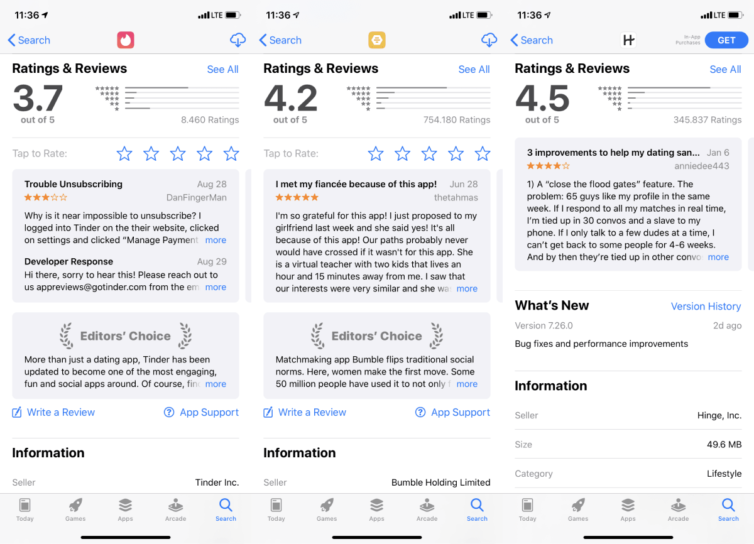 Overpromising builds up expectations that are too high. Users will download your app and probably become disappointed or frustrated. As a result, they'll uninstall your app or leave a negative rating and review. Underpromising will push users away from your app. They'll think your app can't solve their problems or is not what they're looking for. Avoid making these two detrimental mistakes by having a solid App Store Optimization plan.
You are also able to keep your ratings high and reviews positive through these Conversion Rate Optimization practices.
Reply to every review, good or bad
Ask users to leave a rating or review at the right time
Speak in a consistent brand voice
Remember, having low ratings and bad reviews lead to high acquisition costs. Since people will ignore ads for apps who have a 3-star or lower rating, your CPA will increase. Achieve better CPAs and ROAS for your app store ads by improving app ratings and replying to app reviews.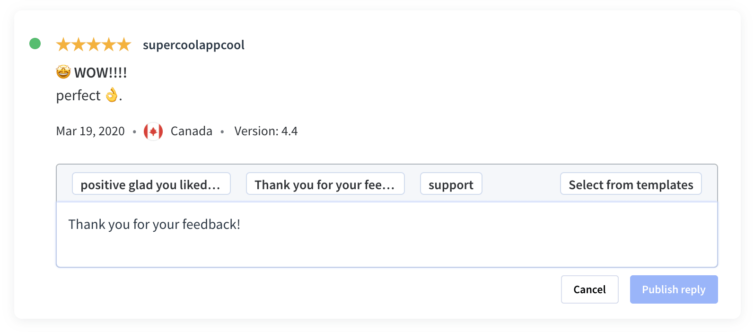 App Store Optimization is Inseparable from App Store Ads
App Store Optimization is integral to running successful app store ads. It is involved in almost every step of paid UA. From designing great app store listing visuals to ensuring ad conversion, App Store Optimization plays a role.
Need Help Running App Store Ads?
Our app growth expert team works with you to create an effective strategy tailored to your goals.
Learn More