Super Bowl LIV pushes Madden NFL Mobile Football into App Store Top Charts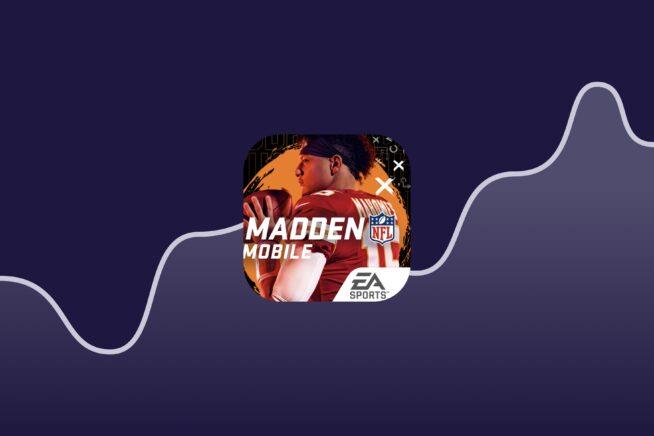 The Super Bowl is considered a national holiday by most American Football fans. Some gather around their TV screens to cheer on or scream down the competing teams. Others join in for the entertainment waiting to point out the best commercials or to dance along with the halftime extravaganza. Every year the Super Bowl reels in the big bucks, even for mobile apps. EA's Madden NFL Mobile Football app went from nonexistent in the App Store Top Charts to #20 Grossing by the time Super Bowl LIV rolled around.

Madden NFL Mobile Football Steps it Up For Super Bowl LIV
This year, the Chiefs weren't the only ones who brought home a win during the Super Bowl. EA's mobile game, Madden NFL Mobile Football, finally made it to the App Store Top Charts. They are currently #20 in Top Grossing Apps, which means the mobile football game is also making money. However, the success of the mobile game was absent the year before.
Lack of App Store Impressions During the 2018-2019 Football Season
From Nov 2018 to Feb 2019, Madden NFL Mobile Football was nowhere in the App Store Top Charts. They were also not ranking for the keyword Super Bowl until 1 week before the game was played.

On top of that, they were not featured in the App Store from Nov 2018 to Feb 2019. The mobile game was nonexistent during last year's football season. So what changed?

A Huge Improvement in App Store Impressions for the 2019-2020 Football Season
For the 2019-2020 NFL season, EA applied App Store Optimization best practices and made sure that the right users found their app store listing for Madden NFL Mobile Football. They were ready to tackle the upcoming season and take advantage of all the attention the Super Bowl gets.
The mobile game's description mentions the Super Bowl multiple times. The first screenshot also clearly mentions the Super Bowl to draw football lovers in.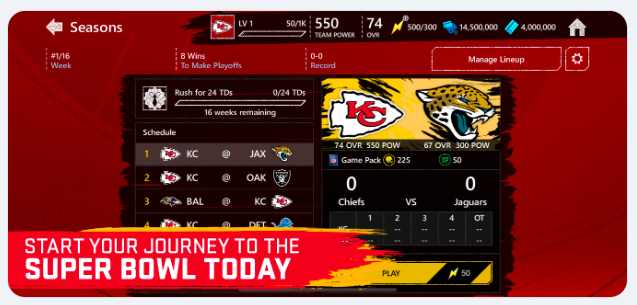 In App Radar's ASO Tool, we also see that Madden NFL Mobile Football held a top 10 rank for the keyword Super Bowl in the months leading up to Superbowl LIV. EA inputted the combination keyword, Super Bowl, into their iOS keyword field. The keyword is relevant to the app and, as a result, drives the right audiences to download it. By ranking Madden NFL Mobile Football for the keyword, Super Bowl, Apple also recognizes its relevancy and power to drive conversion rates.

According to Variety, there were 109 million viewers for this year's game. With football on every American's mind, it's not surprising that Superbowl became a popular keyword in the US App Store as well.

EA made another crucial move to get Madden NFL Mobile Football into the Top Grossing Apps: getting featured. Luck has nothing to do with getting featured in the App Store. You have to let Apple know that you want to be featured. But first, you have to weave together a great editorial story that Apple will want to put on its App Store Today tab.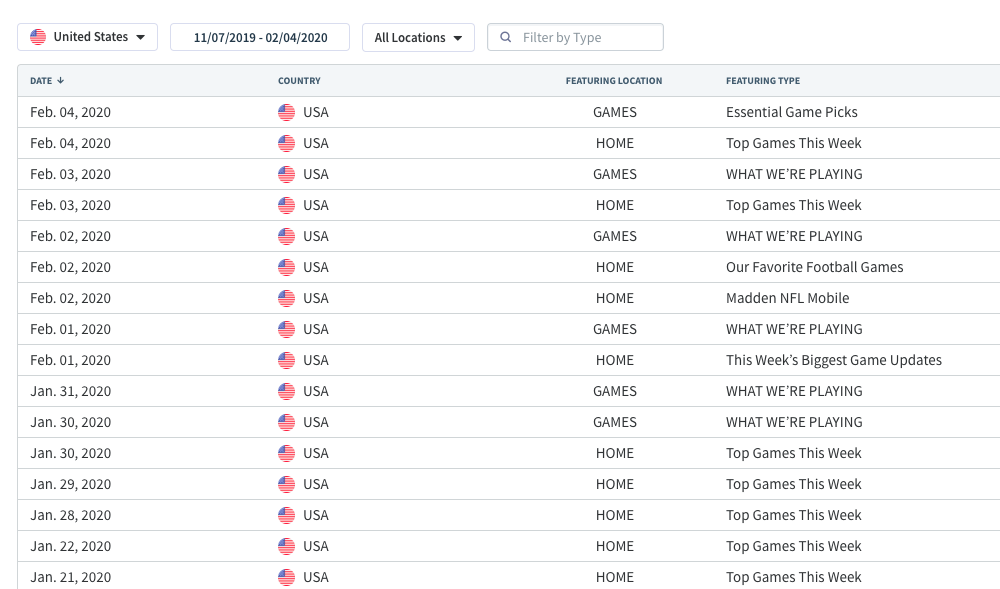 EA did a great job promoting the mobile game by highlighting the improvements in gameplay, a substantial deciding factor for many gamers. Glitches and lags in gameplay will turn any passionate player away. The featured story mentions new modes, better graphics, and smoother functions. Madden NFL Mobile Football stayed in at least one featured spot in the US App Store in the weeks leading up to Super Bowl LIV. Every feature exponentially increased its App Store impressions and, thus, downloads.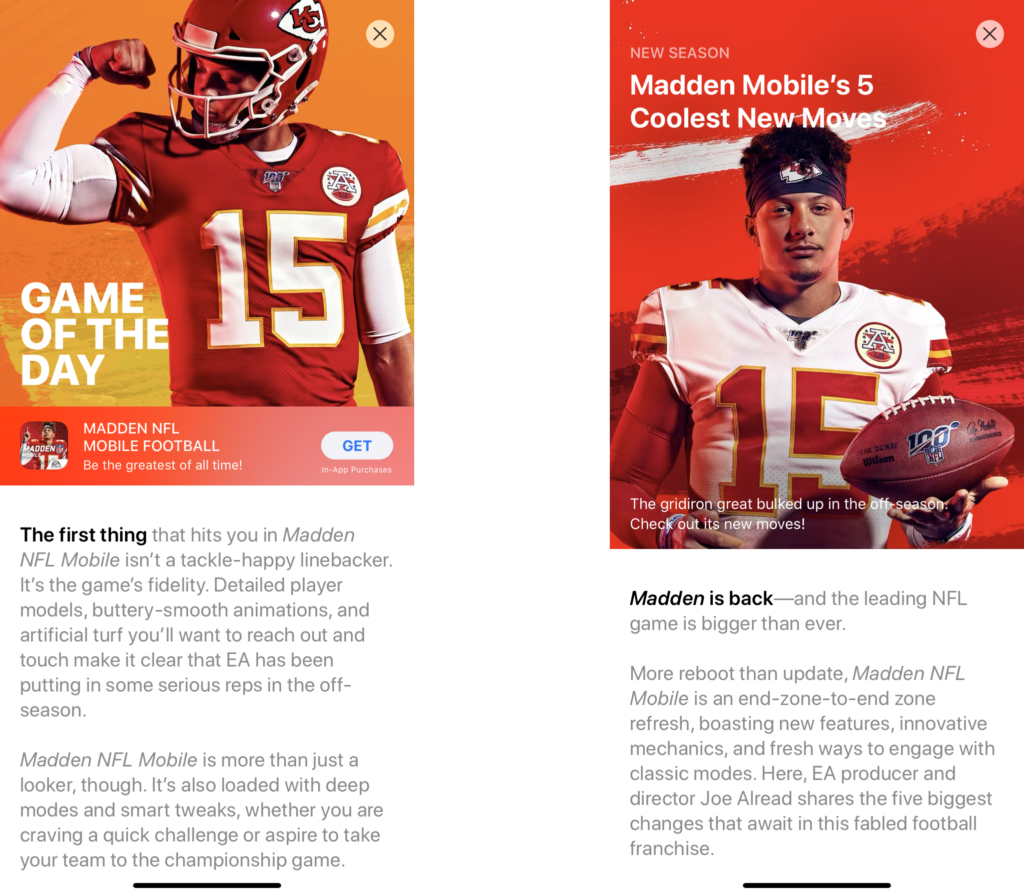 App Marketing Lessons Learned from Madden NFL Mobile Football Success for Super Bowl LIV
When you have an app or mobile game that can be profoundly affected by seasonality, preparation is vital. You don't want to create exclusive screenshots for a holiday or an event like the Super Bowl only to release it hours before. App Store Optimization, increasing App Store rank and getting feature takes time. Sometimes it can even take weeks. This is clear in Madden NFL Mobile Football's case.
In 2019, the mobile game only started ranking for the app keyword Super Bowl after Super Bowl LIII already began and ended. As a result, the game fell into the App Store abyss. It was not featured, and it didn't make any top charts.
In 2020, the story is entirely different. EA prepped, knowing that the Super Bowl was coming up. They made sure that the lucrative keyword was implemented in their App Store Optimization strategy and that their creatives appealed to football lovers. They submitted a captivating story to Apple to get featured, not only during the Super Bowl but also in the weeks before. These are App Store Optimization best practices that every app or mobile game needs to put into action.
Furthermore, Madden NFL Mobile Football's players are reacting positively to the updates that were made to the game. Their 4- and 5-star app ratings have increased over the last 90 days.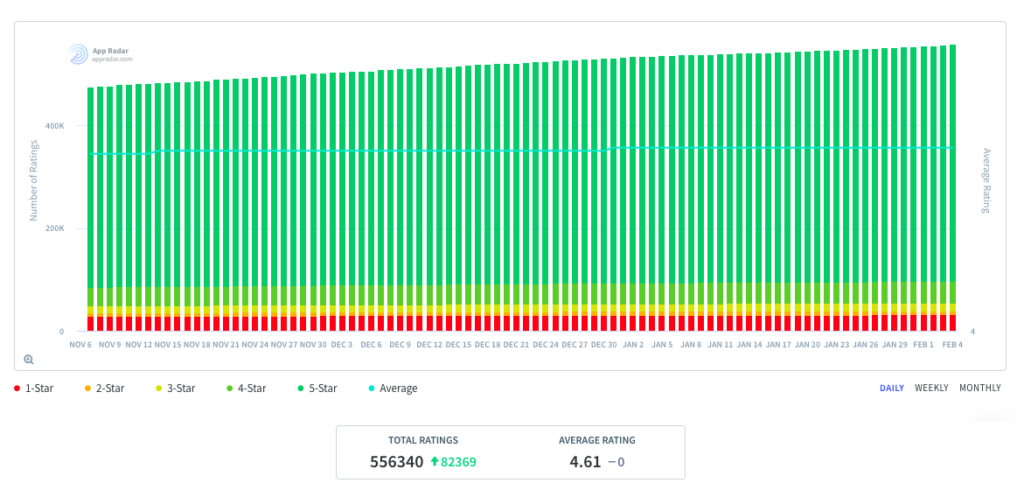 They are also currently featured in not just the US but 51 other countries according to the quick app detail view in App Radar.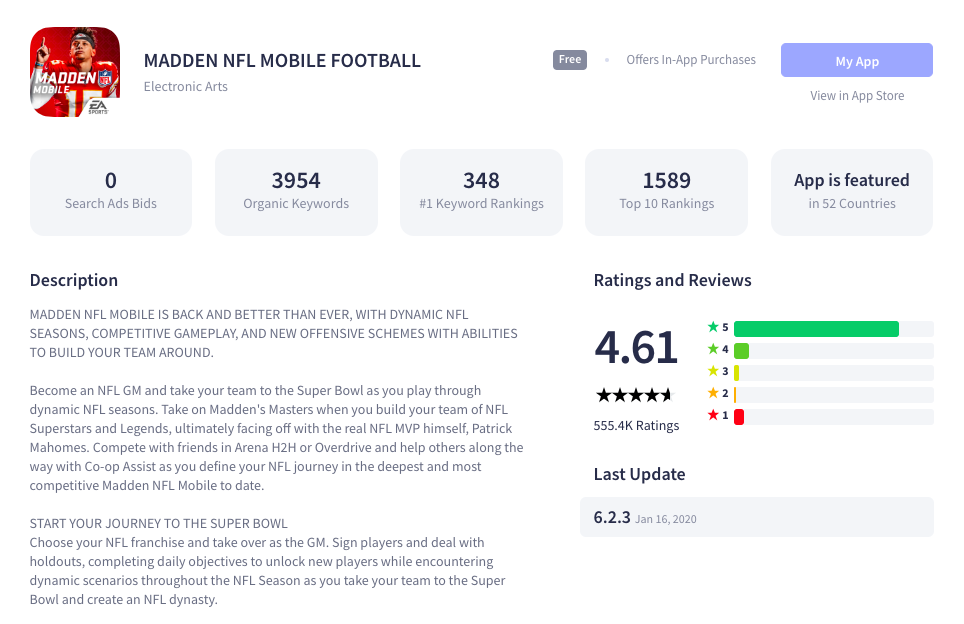 EA's success this year proves that pushing a mobile game into the App Store Top Charts takes the perfectly executed pairing of timing and a well thought out App Store Optimization strategy.
Grow Your Apps with Less Effort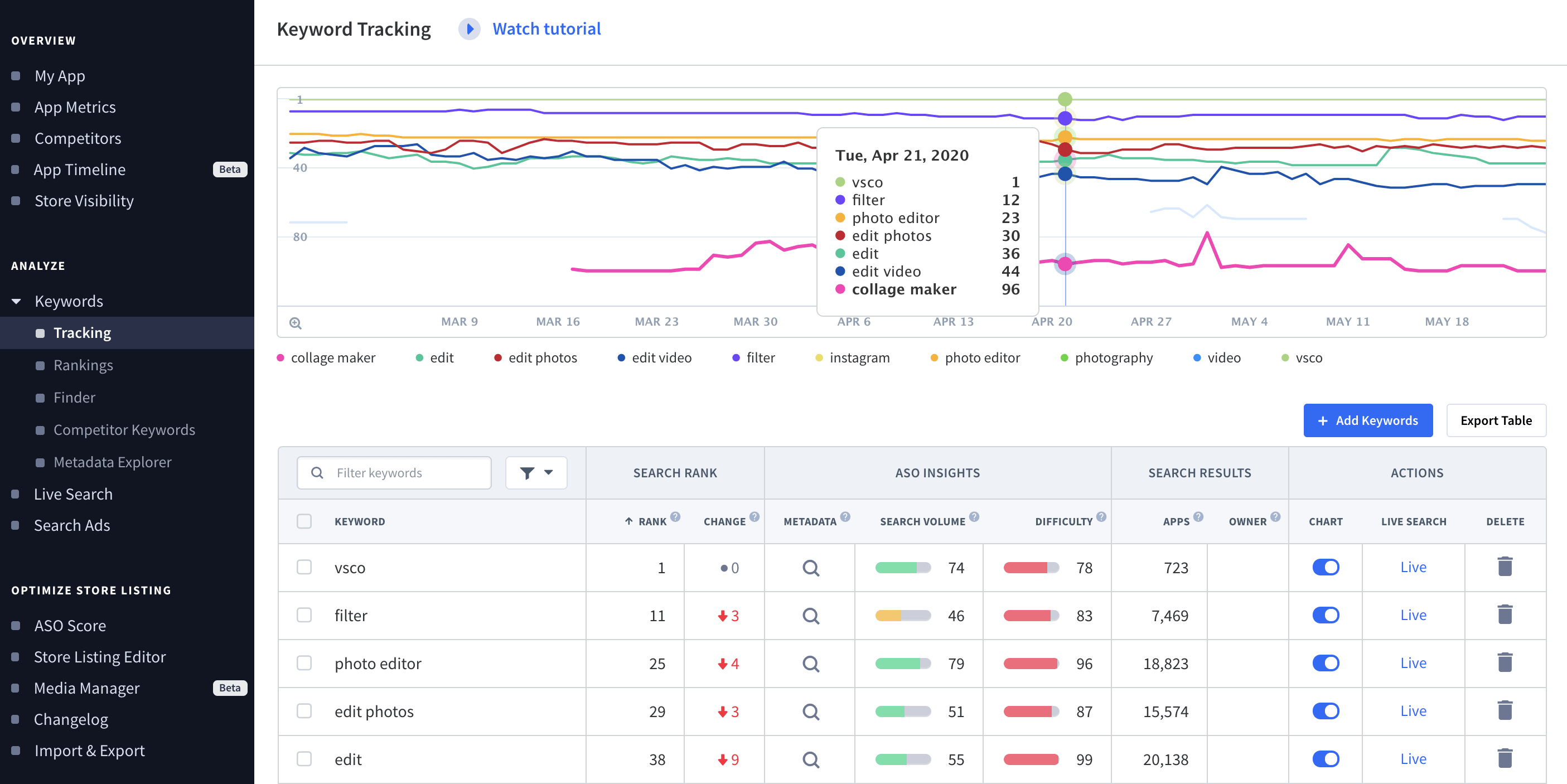 Find new keywords. Optimize all localizations. Spy on competitors. Track ASO changes.
Create a Free Account