December 2019 introduced the world to a new threat. 2019-nCoV better known as the Coronavirus, has the entire globe holding its breath. Photos of masked city dwellers and blaring travel bans continue to spread in viral form, passed from one news outlet to the next. BBC, Time, CNBC, The Guardian, CNN, and other notable reporting platforms have all had their eyes on this virus. There's no doubt that a journalist's job is to share the truth and inform the public. But there is a darker or shall I say greener side to this story.
Mobile Game's Rise During Coronavirus Epidemic
With searches for keywords like flu, pandemic, and plague up, news channels are cashing in on the unfortunate and ongoing tragedy.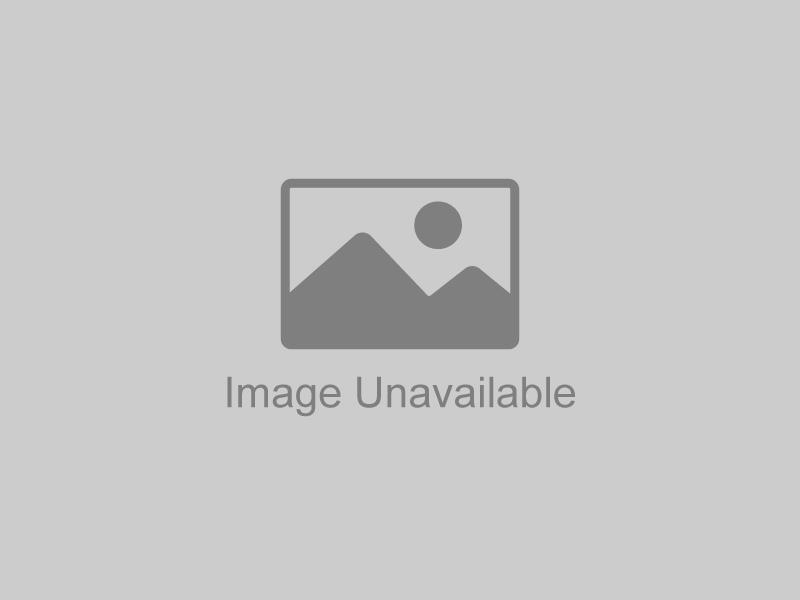 In a world filled by constant media coverage, we are no strangers to the cash flow that newsrooms cultivate from disastrous events. Now here is something more unexpected. Mobile games and other entertainment companies are also profiting from the Coronavirus, but doing so unintentionally.
A mobile game by the name of Plague Inc. emerged in 2011. Developed and distributed by Ndemic Creations LTD, Plague Inc. hands its players the god-like power to create a virus and spread the pandemic chaos we've seen in movies such as I Am Legend and Contagion.
Plague Inc. Lands Number 1 in Google Play and App Store Top Charts
Since the end of December 2019, Plague Inc has climbed to the top of Google Play and App Store charts in the US and China, 2 of the largest app markets. Being a paid app, there's no question that the mobile game's revenue has risen.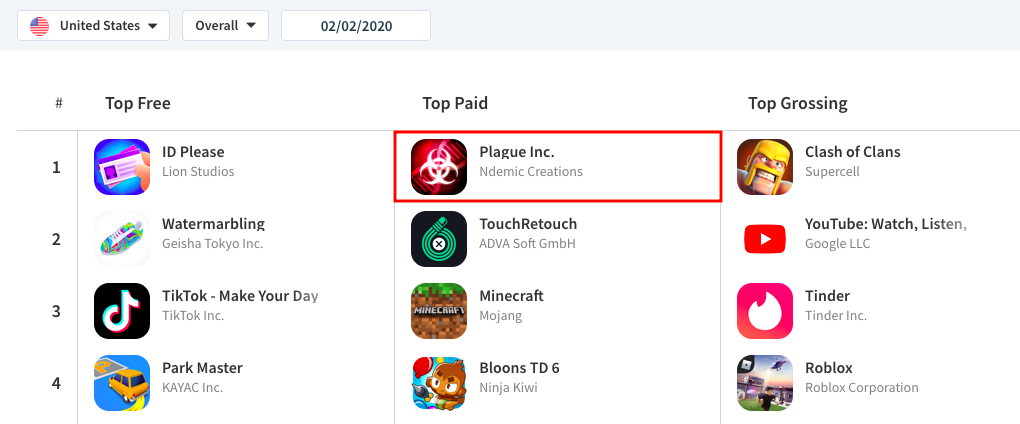 Furthermore, App Radar's ASO Tool is showing that Plague Inc. has secured the number 1 spot in the App Store Ranks for these epidemic related keywords:
Disease
Virus
Plague
Pandemic
Infection (#2)

Moreso, these app store keywords are showing high popularity values, meaning many people are searching for them in Google Play and App Store. Being first in the search results for these keywords, Plague Inc. goes unchallenged when capturing mobile gamers who want games with pandemic based storylines.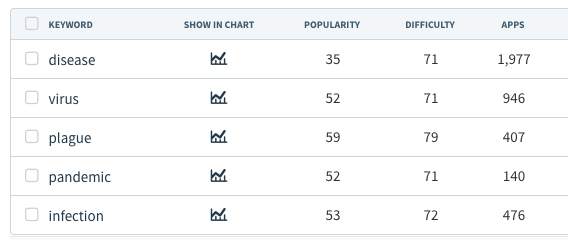 Also, the number of app ratings the mobile game has on Google Play and App Store has soared since the Coronavirus has been stealing headlines. More evidence that the outbreak caused people to flood Plague Inc. with downloads and gameplay.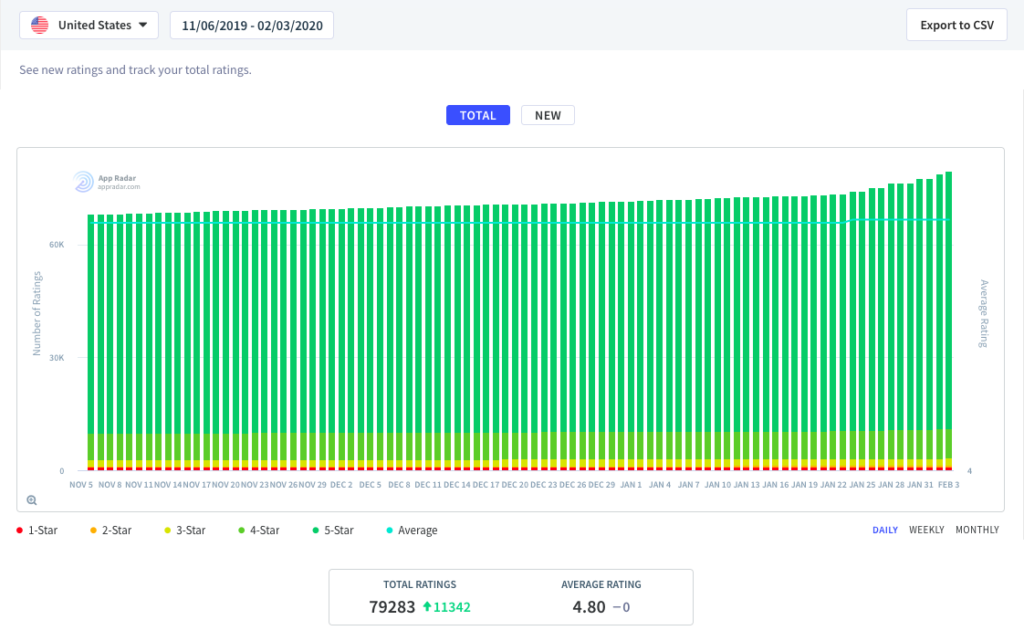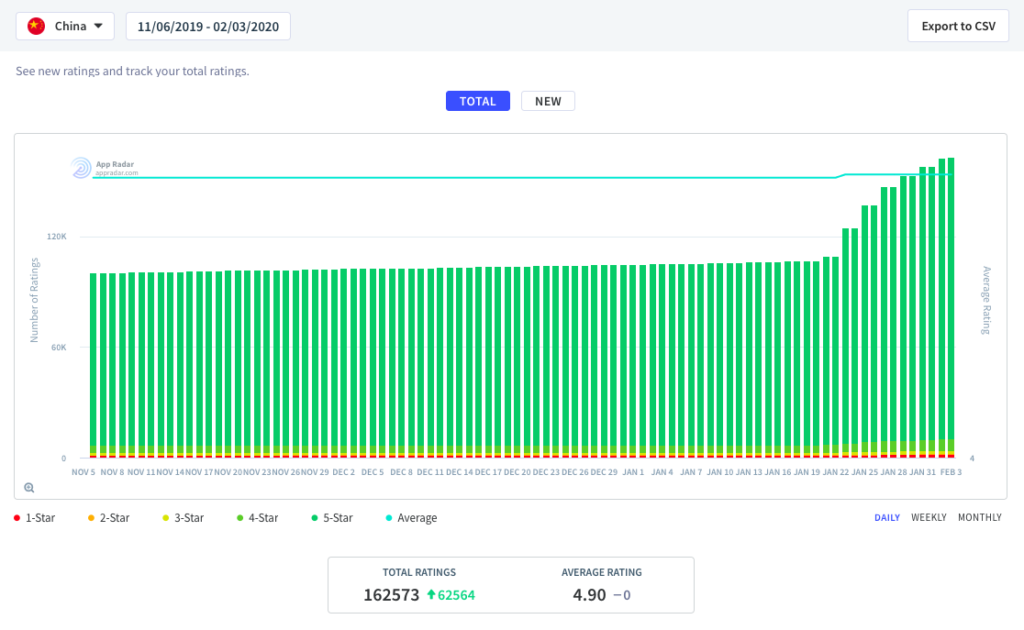 In the reviews, users even boldly mention the Coronavirus as the IRL force that has them playing a simulated game. It's clear what brought them to Plague Inc.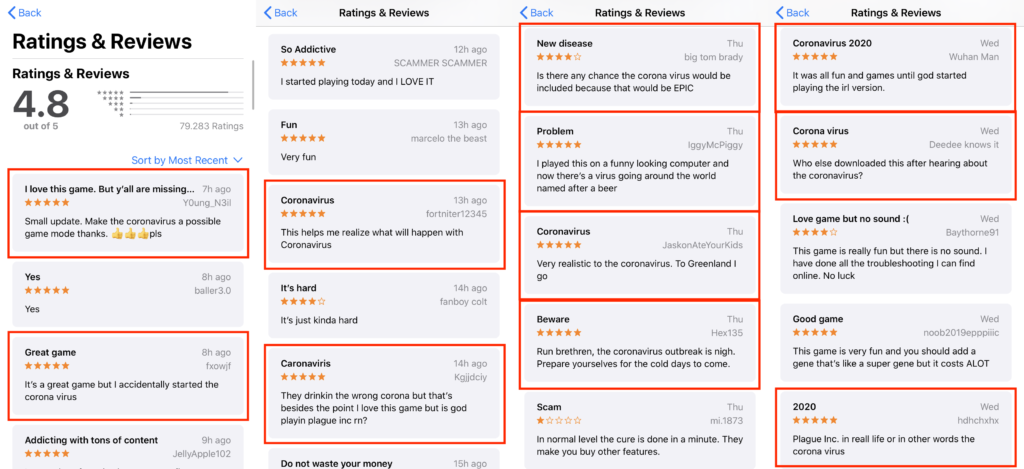 It's also apparent that other mobile game companies are noticing the increase in popularity Plague Inc. has recently acquired. Other publishers are running Apple Search Ads on the keyword "plague" in attempts to ride the media wave and boost their own app downloads.

The editors at Apple's App Store also included Plague Inc. in their daily list under the headline Survive the Apocalypse.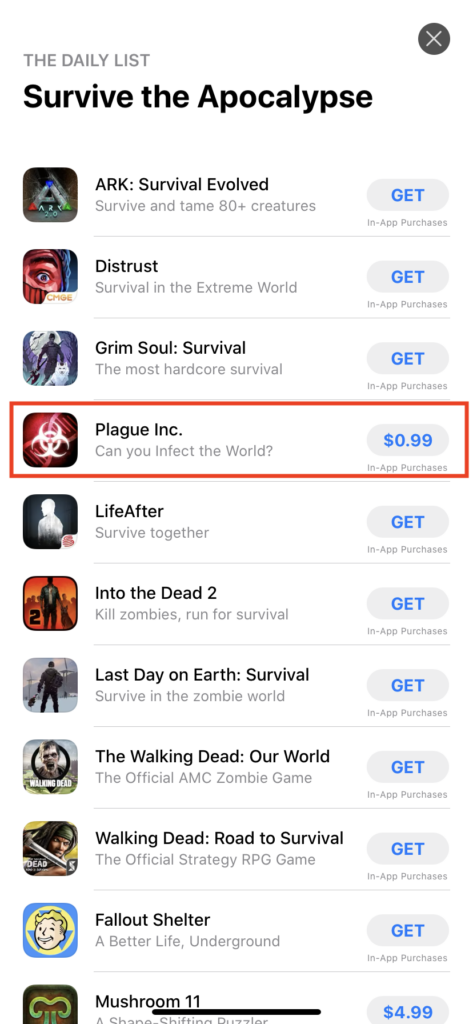 Mobile Game Fiction as a Tool to Understand Reality
Brian Lowry of CNN reports that the movie, Contagion, has also been rising in the iTunes rental charts as of late. Lowry adds that the increased interest reflects "how people often use fiction as a means to process reality."
Lowry's statement perfectly explains the sudden burst of success that Plague Inc. is currently experiencing. People are looking for ways to, on the one hand, understand the bleak situation and paradoxically, on the other, distract themselves from it.
The mobile game, being almost a decade old, has been relatively popular within the mobile gaming community leading up to January 2020. But once the Coronavirus suddenly expanded its reach, so did Plague Inc. And the more people play it, the more it spreads, just like the virus.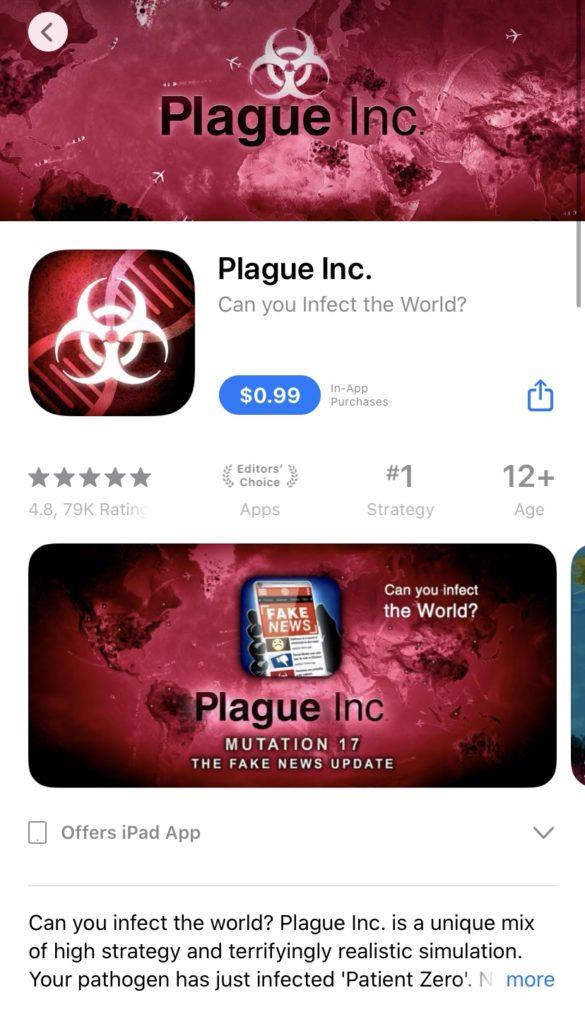 Plague Inc. Responds to Increased Worldwide Attention
Ndemic Creations has taken notice of the worldwide attention its pandemic simulation game has recently drawn. They've released a short statement, which reminds players that the game commonly sees spikes in downloads whenever there is a virus outbreak and that Plague Inc. is mere "a game, not a scientific model."

What's more, as Ndemic Creations stated, this instant success from the viral outbreak is not an isolated event for the mobile game publisher. During the Ebola crisis in 2014, they also experienced a boost in downloads. In light of the grave events, Ndemic Creations called on its players to help those affected by the spread of Ebola. They raised $76,000 to aid in the fight against the deadly disease.

What Ndemic Creations and their viral Plague Inc. mobile game experienced back in 2014 and is now experiencing in 2020 lays testament to the fact that real-world events have real-world effects in places that we least expect it to be so.
For more information and resources regarding the Coronavirus:
---
Follow how current events affect the mobile app and game top charts: Create a free App Radar account.