How to Get Your App Ready for Christmas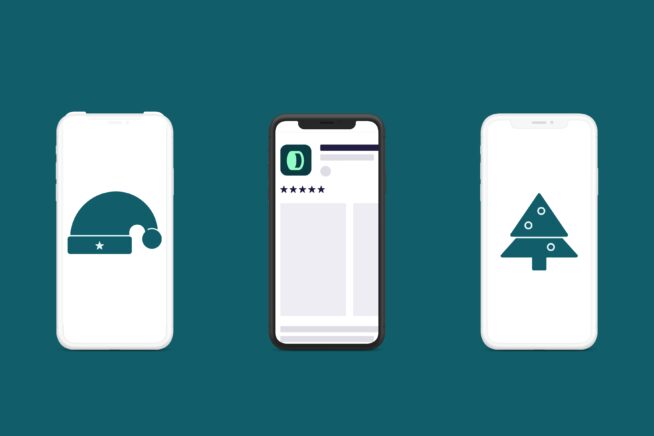 2020 was a crazy year due to COVID-19 spreading worldwide. The world became more digital. Christmas season is usually a popular time for consumer-spending, but this year, due to the pandemic, the trend is online shopping, which is not restricted to retail. It also applies to mobile apps and games!
People are getting new phones as gifts and sharing games to play during the mandatory social distancing. Research already shows that from Black Friday to after the Christmas season, app downloads experience a spike, and this year, the trend will be even stronger.
To ensure that you get a slice of that app growth pie, you need to make sure your app is ranked high in the app stores and converting well. That way, consumers can easily find your app as they are searching for that fun game or new shopping app while cozying up fireside with their friends and family.
So, how to make the most out of this holiday season?
1. Add Seasonal Keywords
During this time of the year, people search for holiday-related keywords (seasonal keywords). Depending on what kind of app you have, you can take advantage of that and place them in your listing.
If you are still relatively new to the app stores, don't go for highly popular keywords like "Christmas gifts" straight away. Rather focus on keywords with less competition and lower difficulty score – you are far more likely to rank for those. Online tools like App Radar can provide such insights and help you with your choice.
Grow Your Apps with Less Effort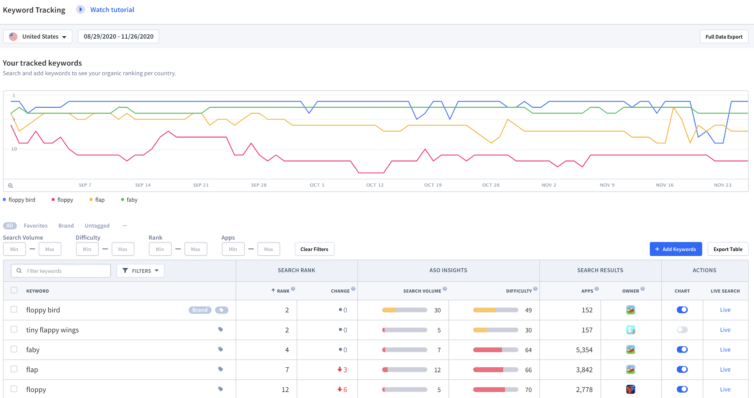 Shopping apps and mobile games are known to profit a lot from seasonal keywords. If you have a game targeting long-tail keywords such as "holiday game for children," it can be a good idea to target it in your app store listing. Think about the functionalities of your app and try to get creative.
In addition to that, some topics get really trendy by the end of the year, such as "weight loss." Due to New Year's resolution, there is a high search for this type of app. So, it's definitely a season for you to boost your app downloads. Use the holiday season to understand people's behavior and see if your main keywords get more trending. If so, it's time to do keyword research and work on your app's metadata.
2. Seasonal App Campaigns
As it was stated before, Christmas is a great season for app downloads. This also means that your Cost Per Install (CPI) will also get higher around the holidays if you are running app campaigns. So, if you don't have a budget for holiday campaigns, you should focus all your assets on your App Store Optimization efforts. However, if you can and want to run app campaigns, here are some tips.
Don't think that Christmas campaigns are only for retail apps; there is space for everybody. You don't need to run campaigns focused on installs but also on in-app purchases. This is a great chance to advertise your seasonal offers and holiday features.
To guarantee your Christmas campaign's success, you have to know your conversion goal and stick to the festive themes to improve your Click Through Rate (CTR). Besides that, you have to prepare a great campaign that matches your app store listing. Your holiday campaign creatives have to match your app store listing, which also has to match your in-app content.
When running your campaigns, your keyword research will be the perfect asset to decide on which holiday keywords you should run ads. When it comes to Apple Search Ads, choosing relevant keywords will help you achieve max ROAS (return on ad sales). Like in App Store Optimization, choose trending keywords for the season and keywords that your potential audience would use to search for an app like yours. For Google UAC, the selected keywords are going to be extremely important for your ad copy.
Discover if you are the top bidder for your Christmas Campaigns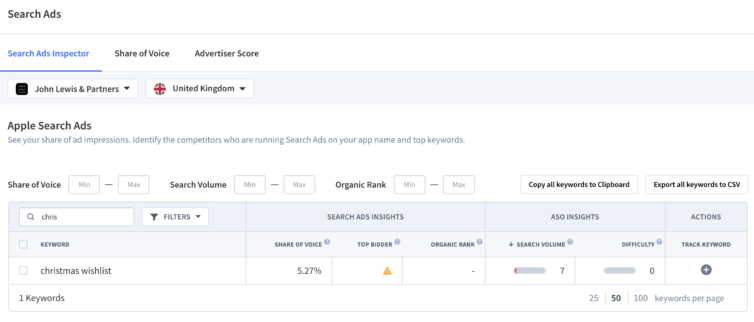 Within App Radar, you can find out who is the top bidder for the keywords you are running ads on. For example, John Lewis & Partners are running ads on the keyword "Christmas Wishlist," but they are not the top bidder. As we can see in the screenshot below, the app with the most Share of Voice for this keyword is Majegg, which is a gift lists app.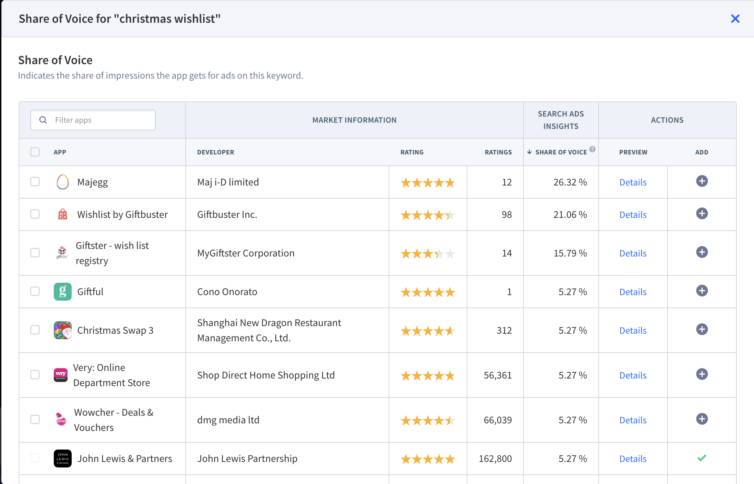 Create your free account and try out the Search Ads feature to track your holiday campaigns.
3. Adapt your visuals to the Holiday season
During this time of the year, people are usually feeling festive. Your app store visuals can help you get some extra attention if they reflect that. Splitmetrics research shows that adding Christmas and seasonal decorations to your app icon can increase your app installs up to 40%. Besides, it is also a great way to get your app featured in the app stores!
So, think about adding a temporary Christmas theme to your store listing. That is, updating not only your icon but also screenshots or videos. You don't need to go fancy. You can go simple by just adding a few snowflakes and Christmas tree emojis to your app title. This is also a great way to show your potential users that your app is up to date and that you are an active developer.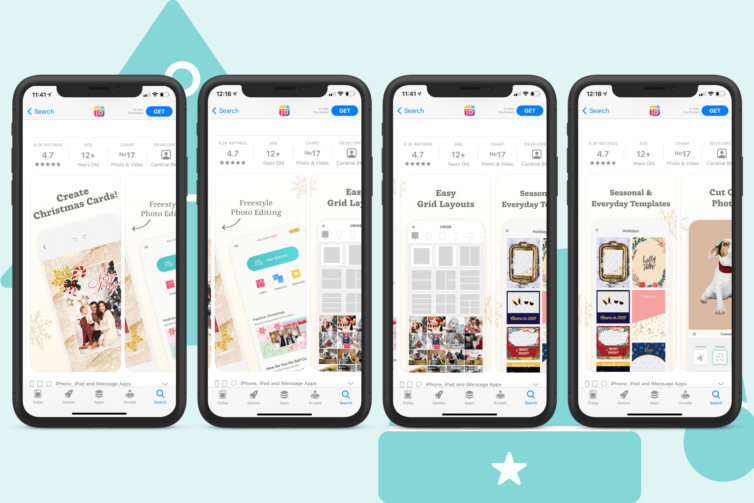 Changing your app icon will also impact your current users. That's a smart strategy to bring back inactive users. Changing the icon is a great way to call their attention. Moreover, the seasonal theme might arouse their curiosity to explore your app once more.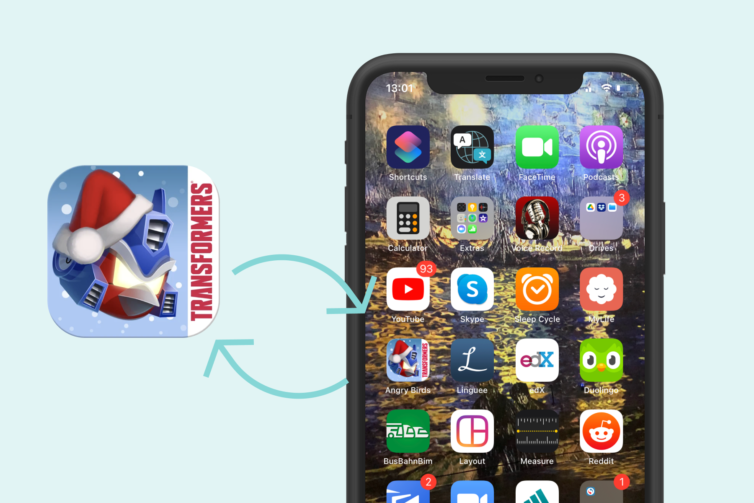 Christmas videos are a great way to bring up emotion to people. Hubspot research showed that people like to see videos from brands. In addition to that, most people watch videos on their mobiles, so it's even easier to direct them to the Apple App Store or Google Play Store. Use your creativity to create a video with your offer, and it should have the Christmas spirit. You can post it all over your social media channels as well as create ad campaigns with it.
4. Special Offers & Notifications
The holidays are also a perfect time to share the love with your already loyal users.
You can treat them by adding a special promo code that unlocks more functionalities of your app or by offering discounts for your in-app purchases. The more personal the offer, the better.
In-app purchases are a great way to increase sales during the Christmas season. You can create offers that will appeal not only to your current users but also to potential ones because, in the Apple App Store, in-app purchases show up in the search results. Here are some ideas for In-app purchases:
Special filters or stickers related to Christmas
Special price for gifts
Special subscription price for the new year
Special workout plan or diet menu to start the new year
Theme-based games are a big topic, but you can offer special levels with Christmas theme or time-limited characters like Santa Claus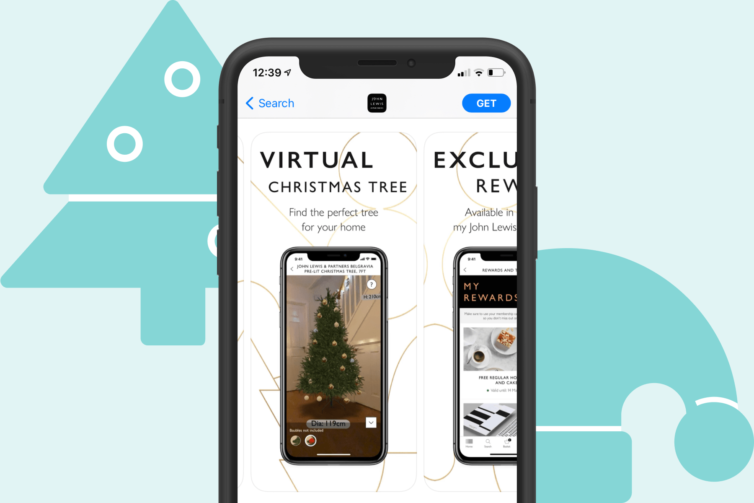 A great way to inform existing users about your holiday promotion is through in-app messages or push notifications. If you are not a fan of special offers, you can still connect with your users by simply wishing them happy holidays. Just remember that less is more when it comes to push notifications. So, don't overdo it.
Bear in mind that this is the season of the year when mobile gamers spend their most money. So, if you have a game, this is the time for you to profit from your in-app purchases. However, this also means high competition. So make sure you have really eye-catching visuals, as we mentioned in item 2.
5. Make sure to submit your app & updates in time
If your app is available in the Apple App Store, you should ensure that all your releases are submitted, approved, and scheduled before the annual holiday shutdown. This year the store is closed from Dec 23 to Dec 27.
That means that you will be able to use the App Store Connect functionalities as usual, but any app updates and new apps will not go live during this time.
That is why you should also avoid scheduling any price changes or go-lives for your app during this period. Otherwise, your app will not even be available for users, which means you will have missed the holiday app download rush completely!
Looking Ahead for Christmas 2020
It is predicted that app spendings will exceed last year's and reach an all-time high this Christmas. Now you have all the information you need to make the most out of it this profitable time for app marketers & developers.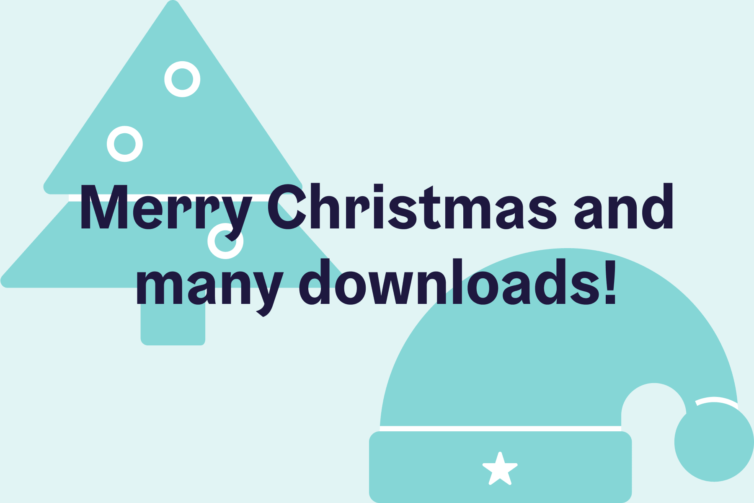 Start your New Year with more Installs
Sign up for the App Radar ASO Tool
Create Free Account