Google Play was originally released on October 22, 2008 as Android Market. In March 2012, Google made a bold move and re-branded the Android Market to Google Play.
Google Play Store business insights
The Google Play Store turns 12 this year. The number of apps available in the store has significantly grown during this time period (see graph below). And, the offering of a marketplace for app publishers to distribute their apps has paid off: Google Play Store has achieved more than 300+ billion app downloads, which will get them to $10+ billion revenue from commission in the year 2020.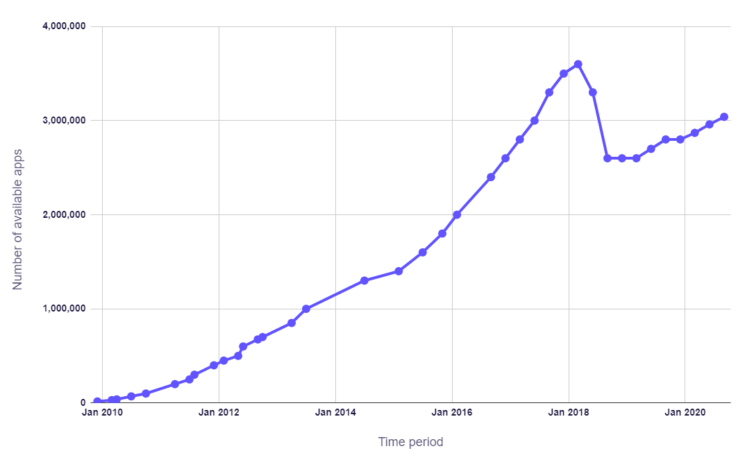 The Google Play Store is a very solid business and, additionally, an empire for its own. If we look at the most downloaded apps on the Google Play Store, we will identify a trend about who is the main publisher.
There are only 13 apps that have crossed the 5 billion downloads mark until today. And 11 of them are owned by Google and come preinstalled. So what did Google do amazingly well? They built an ecosystem for themselves.
If you are interested in digging into more statistics about the Google Play Store and in creating a comparison to the Apple App Store, I can highly recommend this article of Business of Apps: App Download & Usage statistics 2020.
How to get the most out of the Google Play Store as an app developer
The Google Play team aims to be as accessible as possible for its community. Besides their YouTube channel, they also invest in various tools to make the life of app developers and app publishers easier.
Dive Deeper:
App Radar Academy: Google Play Store Optimization
Getting Featured in Google Play Store
App Title for Google Play
In 2020, one of their most significant achievements in this regard was the release of the new Google Play Console. For example, you can now control releases of new app versions easier. Also, the user acquisition reports got cleaned up, which makes it more convenient to analyze your numbers.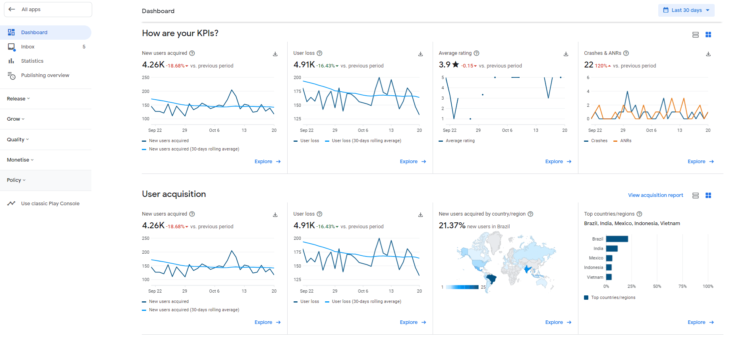 Naturally, there are also limitations. Therefore, be sure to sign up for an App Radar account to analyze and optimize your Google Play Store as well as Apple App Store listings in one standardized view.

Google Play Store vs. alternative Android app stores
Google Play Store is focused on its own operating system Android. In the beginning, it was the perfect monopoly for Google - like the App Store still is for Apple today. But it didn't take long until the first smartphone manufacturer with an Android operating system started building its own app store as well.
Besides Google Play, there are nowadays 2 Android app stores that you, as an app publisher, should consider for your distribution strategy. Why? Simply because they both gained quite some momentum and became in some countries already a true alternative to the Google Play Store.
Huawei App Gallery
Huawei claims that its app store, the Huawei App Gallery, is already the 3rd biggest globally. With more than 400 million monthly users, there is definitely some traction going on. If you want to find out more about how to publish your app on the Huawei App Gallery, check out this link.
Amazon App Store
The Amazon App Store covers 600k+ apps. When having a closer look at which apps are the most popular ones within the Amazon App Store, you will find out that one third (around 200k apps) are mobile games. So you can really see that the Amazon App Store is trying hard to support indie game developers as good as possible to (also) launch their games on the Amazon App Store. If you want to learn more about how to launch your games there, check out this link.
How to rank high on Google Play Store?
Here's a 5-minute YouTube video we've made about this topic. Now, although Google Play Store and Apple App Store don't really say exactly how their algorithm works, there are ranking factors that have the most weight on the visibility of your app store listing. The components you should most focus on for Google Play Store are: App Title, App Description, In-App Purchases, Rating and Reviews, Update Cycle, Downloads, and Engagement.
Furthermore, keyword count and density are very important for Google Play Store as well. Therefore when doing an app store update, you should always keep track of this. You can easily do that with the App Radar Store Listing Editor, where you can compare the metadata of your new version with your currently live one.
Thanks to little tricks like this, you can save up to 60 minutes per app store update. If not convinced about App Radar yet, here's a couple of more reasons how to optimize your Google Play Store listing for more organic traffic within our tool:
Find out rankings on specific keywords
Optimize your store listing in a bulk for multiple countries
Handy text editor with built-in keyword density checker
You can try Store Listing Editor for 7-days for free when signing up for an Advanced or Expert plan!