App Store Optimization and Apple Search Ads Insights have Never Looked Better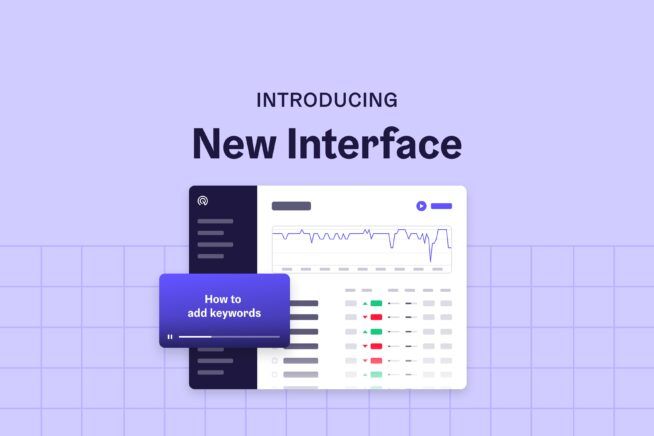 We all need a touch up every now and then. Our team decided it was time to give App Radar a bit of sprucing up. So in the words of Cher, let's do a makeover. Our App Store Optimization and soon to also be App Store Advertising tool now has a whole new look and feel. We can't wait for you to try it out, so we're going to jump right into what's new with App Radar.
App Store Optimization Tool: What's New?
A Sidebar Navigation built for a perfect ASO workflow
First things first, we improved the sidebar navigation so that you're able to sail smoothly through the entire ASO workflow and quickly identify the features you need.
The Sidebar Navigation is more intuitive and initiates focus on what you're working on rather than pulling your focus in various directions. We've introduced an accordion-style menu so that you can close features you are not currently working on to clean up your sidebar.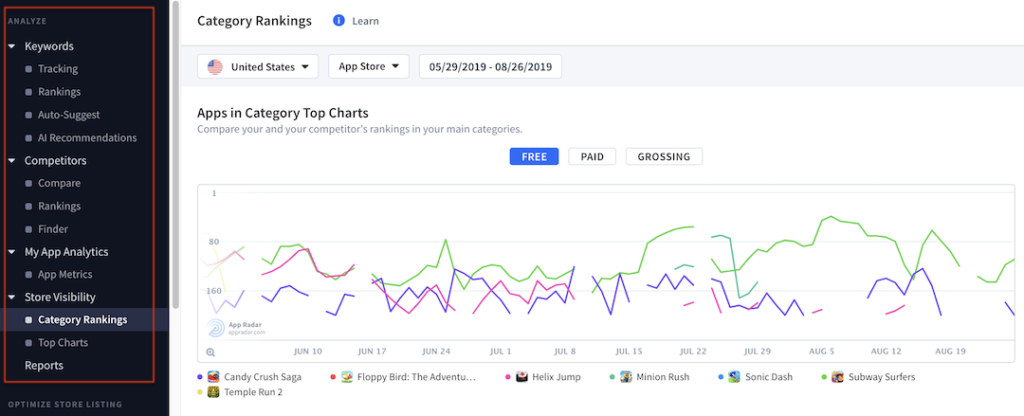 Analyze your App for Opportunities to improve ASO
Under Analyze you now have the following dropdown options:
Keywords

Tracking
Rankings
Auto-Suggest
AI Recommendations

Competitors
My app analytics

App Metrics
Installs per Keyword (Google Play only)

Store visibility

Category Rankings
Top Charts

Reports
All of the features in Analyze enable you to:
find new app store keywords that are relevant to your app,
spy on your competitors to identify their ASO strategy,
see how your ASO updates affect your app metrics,
watch app store trends to recognize how mobile app and game interests differ among countries.
We've also renamed some features to make their functionalities and benefits easier to identify. For example, in Keyword Tracking, you can keep track of your app store rankings for specific keywords.

Here's another example of a more understandable naming change. In Competitor Finder, you can find competitors in two ways. The first involves manually finding new competitors by typing in their name, app store ID, or URL. The second way is using the Competitor Smart Finder, which employs our in-house AI. The AI recognizes your app's niche, functionalities, and significant keywords, then uses this to find your most relevant competitors in the specified storefront.
Optimize your app store listing to get more app installs
After the Analyze section, we've placed the Optimize Store Listing section.
Here live all the features that allow you to:
quickly optimize your store listing and manage localizations
get AI-powered ASO recommendations tailored to your app
make ASO changes and save them in App Radar
push all ASO changes directly from App Radar to App Store Connect and Google Play.
The ability to make app metadata updates within App Radar and then push them to the app stores is exclusive to our ASO Tool.
Under Optimize Store Listing you have:
Optimization score
Localizations editor
Localizations bulk editor
Changelog
Store Data
Import & Export
Again, we've labeled each feature more literally to represent their functionalities for quick and easy identification.
Let's take Localizations Bulk Editor as our example. I'm sure you're wondering what the difference between Localizations Editor and Localizations Bulk Editor is.
Localizations Editor enables you to edit your app locales and add new ones. Here you are editing your app's metadata by locale or country. You'll see every metadata field, the character count for each field, and quick ASO recommendations for each locale.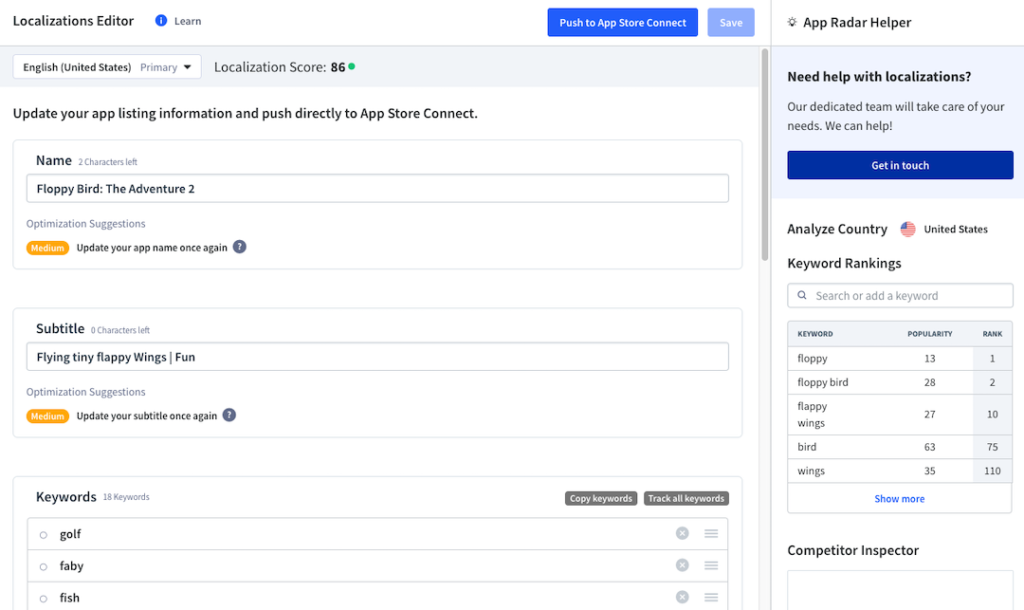 The Localizations Bulk Editor lets you edit all your locales in an extremely fast way, which is going to save you a lot of working hours. In the Bulk Editor, you don't edit your locales by country but instead by metadata field. So you can choose "App Name" and then edit the App Name field for every country your app is available in, on a single page. No more switching back and forth between your localizations. Cheers to that ?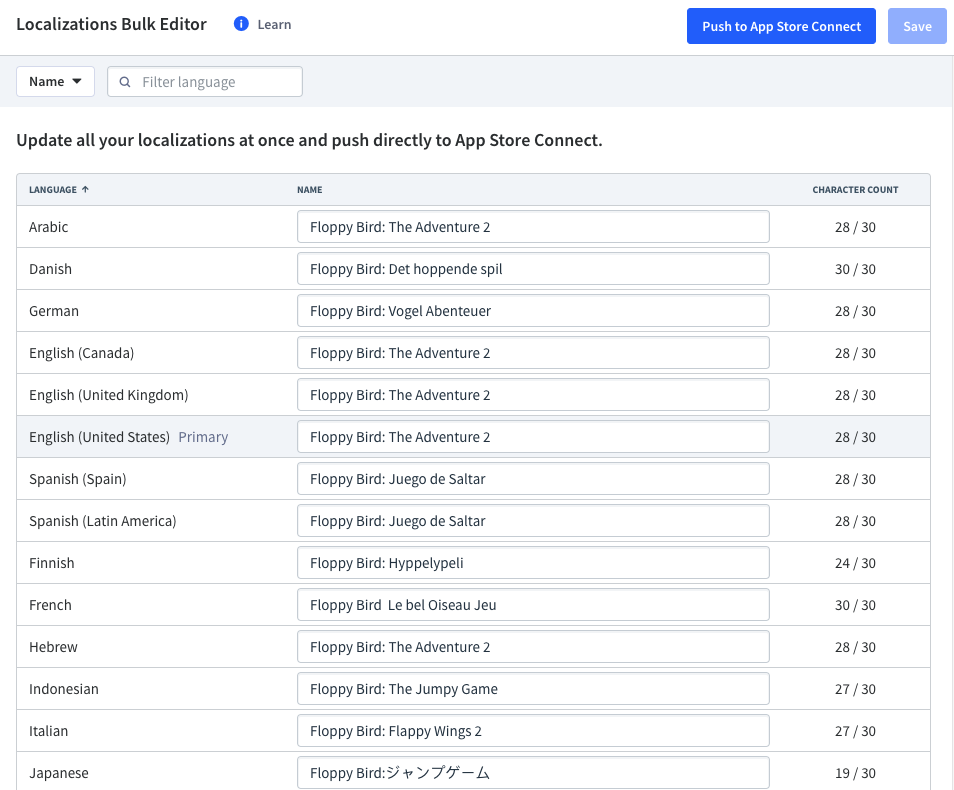 Our goal is to save you even more time and cure all your manual ASO induced headaches. Our platform allows you to make all app metadata changes and save them within App Radar. Then when you're ready, simply click the "Push to App Store Connect" or "Push to Google Play" button to make your updates live on app stores.
That's hours of work saved. Kolibri Games, our client, who recently reached 100 million installs, saves time on their weekly ASO updates with App Radar.
Find out more: App Radar ASO Tool
Search Ads Intelligence: What's New?
The first feature of our Search Ads Intelligence lays under the Analyze and Optimize Store Listing sections if you're working on an iOS app.
The Search Ads Inspector is a necessity not only for running Apple Search Ads but also for ASO efforts in general. It equips you with the capability to see which keywords you've won ad bids on and also the keywords your competitors are running Apple Search Ads on.
To learn more about the Search Ads Inspector, click here.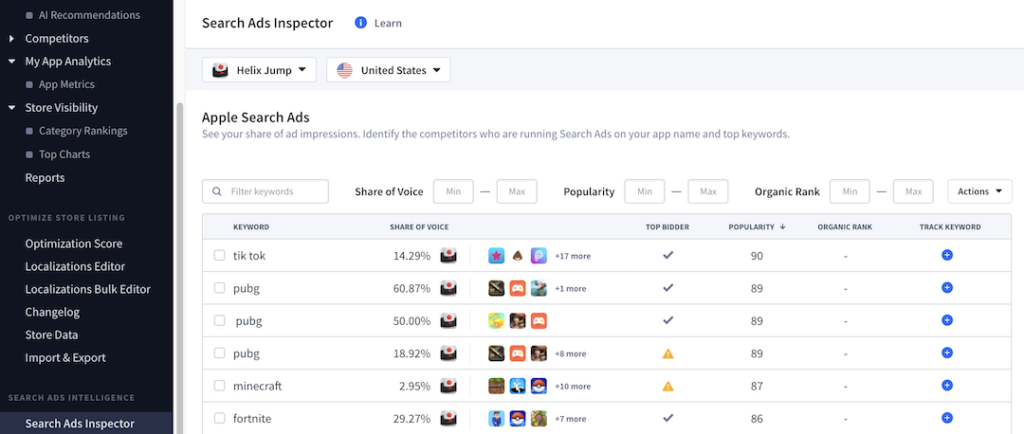 We have many more Search Ads Intelligence features in the works. For more information, head over to our App Store Advertising Tool page.
Do you want to see a specific feature implemented in our Search Ads Intelligence? Let us know by sending an email to [email protected]. We take your feedback seriously, and your opinions directly affect what features we build.
That's because we are 100% client-oriented and always work to improve App Radar for you.
Your App Radar Overview Dashboard: What's New?
Your apps home has moved ever so slightly. You can now change between all your apps in a dropdown that lives at the top of your screen.

By pressing on "My Apps Overview", you'll be directed to your App Radar Overview Dashboard where you can add more apps or manage your current ones.

Your Account Settings: What's New?
Your account settings now live on the top right for easy access. We've also made this a dropdown style menu so that you can quickly navigate to the account setting tab that you need.
The logout option can also be found here.

We hope you enjoy the Newly Madeover App Radar
Our hopes with the redesign of App Radar is that you, as our client, have a more seamless experience with our app growth tools. Again, feedback is always welcome. You can email us at [email protected] or leave us feedback by taking this quick 1 min survey here. For those of you who have access to chat support, we are available for you there.
Not yet growing your apps while saving precious time and money with App Radar? Then create a free account today!
Grow Your Apps with Less Effort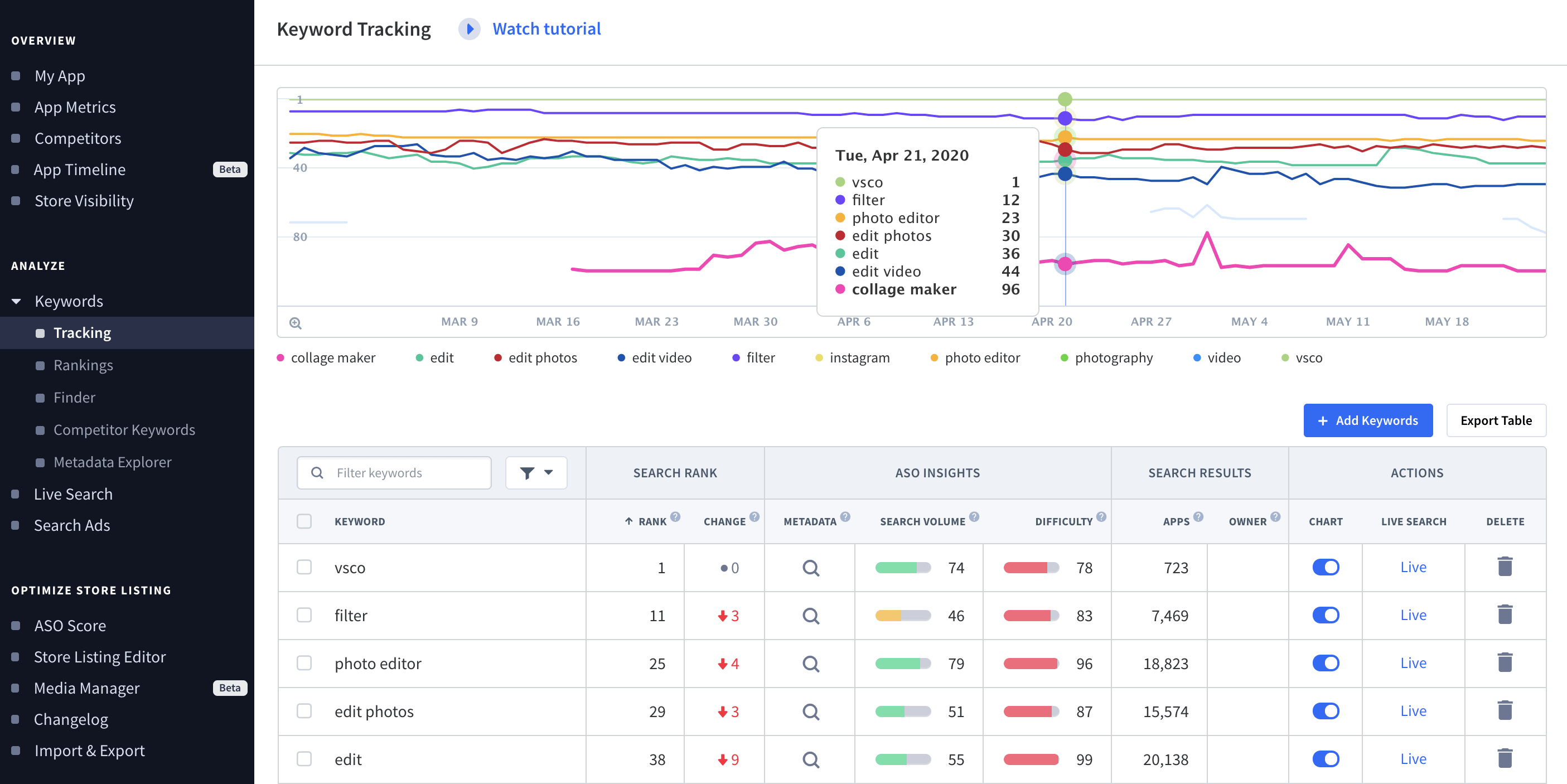 Find new keywords. Optimize all localizations. Spy on competitors. Track ASO changes.
Create a Free Account