Clubhouse app, published in beta in April 2020 by Alpha Exploration Co, has been rallying the Apple App Store, and it surely seems to be only getting started.
The following article analyzes its growth in app stores worldwide. We'll be covering what the Clubhouse app is all about, why does it have viral app growth, how has it grown in app stores worldwide (incl. category rankings, keyword rankings, Top Charts, Featurings) and explore its app store listing.
PS: Just as I'm writing this article, TechCrunch announces that Clubhouse has raised Series B and is evaluated at $1 billion less than one year after its beta launch! And from one day to the other, also their website has changed and doesn't include "private beta" but says it's open for everyone with an invitation!
What is the Clubhouse app?
Clubhouse is an audio-only social media app that was started in April 2020 and was since then available only as a beta version until 26th of January. It positions itself as a "new type of network based on voice." When opening the app, you can access various "rooms" where people are having discussions. These chats can be organized for professional reasons or just between friends. By default, you enter each room as an audience member, and the moderators will let you "raise your hand" to be able to talk as well.
PS! Don't confuse it with the similarly named Clubhouse.io.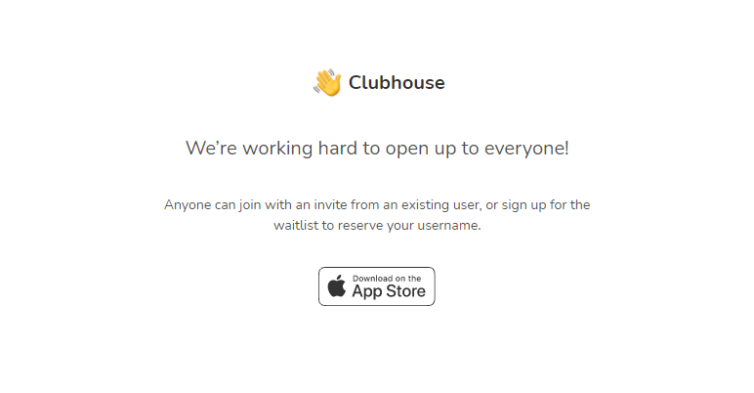 Why does Clubhouse have viral app growth?
When evaluating the app growth, we can say that the team of Clubhouse has brought together several important aspects for creating a viral growth engine:
Using word of mouth marketing as the app is invite-only. The early users were celebrities and tech entrepreneurs creating mystery but also the desirability of this new type of audio-only social app.
"Claim your username" teaser.
Network effects via social connections. When someone you know joins, Clubhouse sends you a push to join an audio room with them.
Creating FOMO: invite-only access
The timing of Clubhouse couldn't have been better. With conferences and networking events not being allowed, the social app of "meaningful conversations" gained fast traction to connect people in times of social distancing. The cherry on the top - unlike most other social networking apps, you need an invitation to get into this one. And an Apple smartphone.
Fear not, fellow Android users - the Clubhouse team has clearly stated that the app will not remain exclusive and is being built for everyone. It's only said to be not ready to be launched for general use just yet.
Using Hollywood and Silicon Valley to create buzz
Clubhouse is also known for its celebrity users. Much of the buzz in the US was created because influencers and high-profile venture capitalists were promoting it. The same tactic seemed to work in Germany. Especially during the social distancing, the invite-only app fitted perfectly for connecting exclusively within the Hollywood and Silicon Valley communities.
From a more practical side, the reason why Clubhouse is such a good fit for celebrities is its ease of use and engagement. Artists can create a room and instantly pull in their fans for a live performance, e.g., for stand up comedy or music.
Fresh perspective next to video streaming apps and podcasts
Video streaming apps have been booming during the COVID-19 times. But instead of "going with the flow," Clubhouse offers a solution to join events without showing yourself. "Nobody has to worry about how they look" is one of the arguments that convinces people to choose Clubhouse next to Zoom meetings. As the co-founders Paul and Rohan put it themselves:
With no camera on, you don't have to worry about eye contact, what you're wearing, or where you are. You can talk on Clubhouse while you're folding laundry, breastfeeding, commuting, working on your couch in the basement, or going for a run.
Clubhouse is also referred to as a combination of listening to podcasts, attending an online event, or scrolling through social media for interesting discussions. The chat app has no limits on the topics people can discuss about. Users are free to talk about anything they want on Clubhouse — and that can lead to some interesting rooms. Although there's already criticism about uncontrolled hate speech and racism, most people still spend hours on the app for being part of fireside chats, book clubs, passionate debates, and comedy shows.
And yes - app marketers are also there! Follow our CEO Thomas to join any of his hosted rooms. As no recording of conversations is allowed, and they're not saved, you better go check it out if you're an iOS user!
App store performance: how has Clubhouse grown?
As a company, Clubhouse was evaluated at $100 million in April/May last year as it raised Series A of $12 million from Andreessen Horowitz. The audio-only app had at the time no website and modest 1500 users, according to CNBC.
However, it's obvious by now why Clubhouse is packed with entrepreneurs like former Twitter CEO Ev Williams, Reddit co-founder Alexis Ohanian, and former Y Combinator President Sam Altman. You see - 8 months later - in December 2020, the app is said to have 600,000 registered users, according to New York Times. That's a growth of 400X growth in user acquisition for an app that's invite-only.
And just as I'm writing this article, TechCrunch announces that Clubhouse has raised Series B and is evaluated at $1 billion less than one year after its beta launch! In this news round, the audio-only app has also revealed how it's going to go about its monetization strategy. It will provide solutions for creators on the platform to get paid, "including subscriptions, tipping, and ticket sales."
Let's see what happened in the app store as the user numbers of this audio-only app skyrocketed!
App store performance by countries
See Clubhouse's app store performance for several countries in the table below. We've selected the data for 15 countries with the most ratings by the 24th of January 2021. If you want to see more data like this for various apps, simply sign up for free.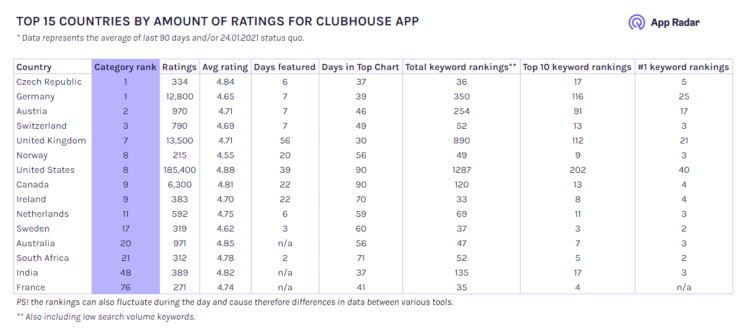 Category rankings for Clubhouse in US, UK, and Germany
Clubhouse is a great example of how much the download and ratings amount matters for your category rankings. With low focus on keywords and creatives, this app has been steadily increasing its category rankings.
Although the app has been around almost for a year and experienced growth in the US last year, it skyrocketed to number 1 in the German app stores in January 2021. It was mainly thanks to buzz from influencers that the app made on Sunday, January 17th, from position #48 to #2 the next day.
So let's compare the category rankings for social networking in German and English speaking countries. As shown below, Clubhouse reached the top three rankings in Austria and Germany quickly, compared to the United Kingdom and United States, where it hasn't yet happened.




Keyword rankings
App Store Optimization is definitely not the reason why Clubhouse has been rallying the Apple App Store. You see, although the app ranks for more than 400 keywords in the U.S., most of the best ranking keywords are irrelevant. See screenshot below: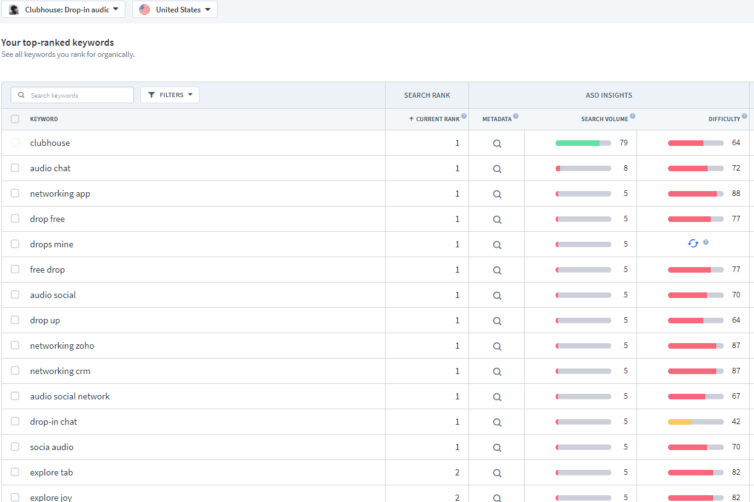 Now let's sort out the keywords that are actually relevant and have good search volumes. We clearly see that the rankings are low, and therefore, Clubhouse doesn't have the best chances to be found among search results. See screenshot below: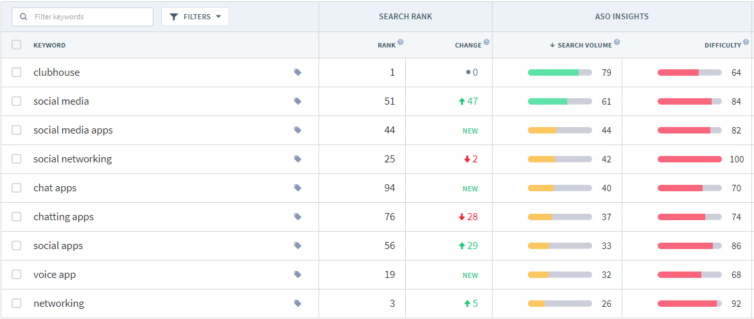 However, we can probably agree that a company with Hollywood celebrities and millions in investment is a special case. Therefore it's a great example of how downloads and media buzz can drive app growth without focusing on app store optimization.
And yet we can probably also agree that the majority of apps in the app store are not able to follow their marketing strategy. So it is important to highlight that focusing on app store optimization is a way to make sure that people looking for apps like yours, will also find it.
Top Charts
As mentioned above in the country comparison, in January 2021, Clubhouse has better rankings in Germany and Austria than in the States and the United Kingdom.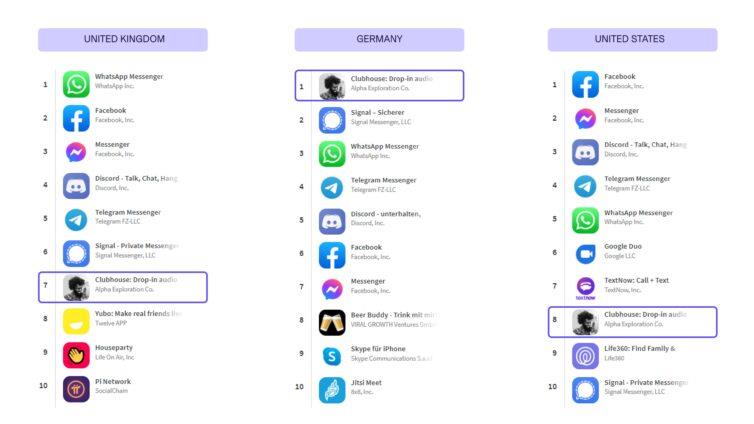 Featurings
During the last 90 days, Clubhouse has been featured in 14 countries. The longest in the United Kingdom, for 56 days, and in the US for 39 days.
Disclaimer: we can see in the morning of January 26th how the list of featured countries is growing, for example Japan, Spain, Poland have been added.
Dive deeper:
How to get featured on Apple App Store?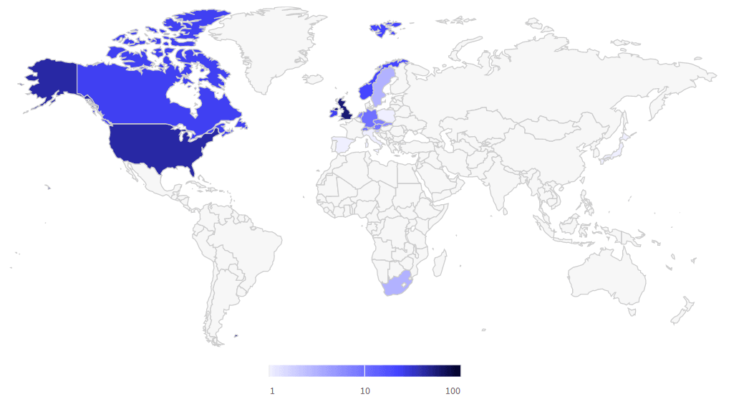 Clubhouse app store listing - would it appear in search results?
The simple answer is no. Unless of course the person searches specifically for the brand name. When all the other app promotions would fall off, this app wouldn't be found that easily in app stores as it's not focusing on any search-related marketing. In other words, there is no app store optimization nor advertising (yet).
Although the app has been available worldwide since the 1st of October, it was in the private beta phase until 26.01.21 according to their website. Therefore clearly it hasn't yet prioritized localizing its app store listings. Meaning, all countries have the store listing in English. In general, it would be recommended to focus on localization of app store listings as well.
Name and subtitle
As name and subtitle have the highest impact on the keyword rankings, we can say that the most important keywords for Clubhouse right now are "drop-in" and "audio chat." It's app name worldwide is "Clubhouse: Drop-in audio chat." There is no subtitle, although they could use 30 characters both for the name and subtitle. See comparison with Google Duo below: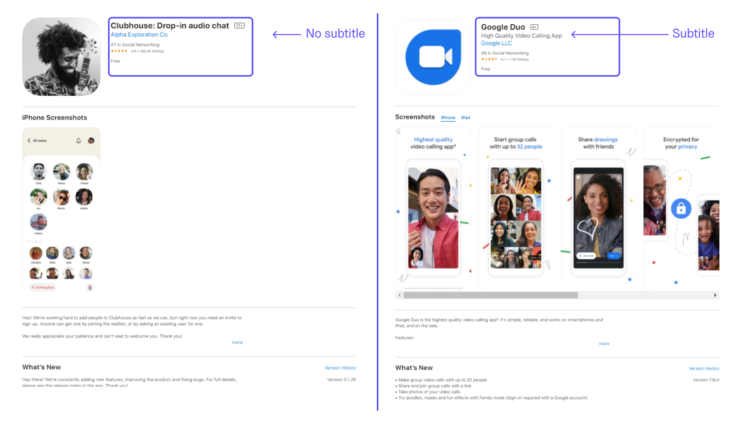 Keywords
Apple gives 100 characters to be used for keyword field. This is not public data, but we can estimate the important keywords for an app when looking at their store listing metadata.
However, when looking at Clubhouse store listings, we see a rather general description. Also, as the screenshot below confirms, the words used in the apps' description do not include any important terms to help users find the app. So we can clearly see that Clubhouse is not putting too much effort into app store optimization (yet).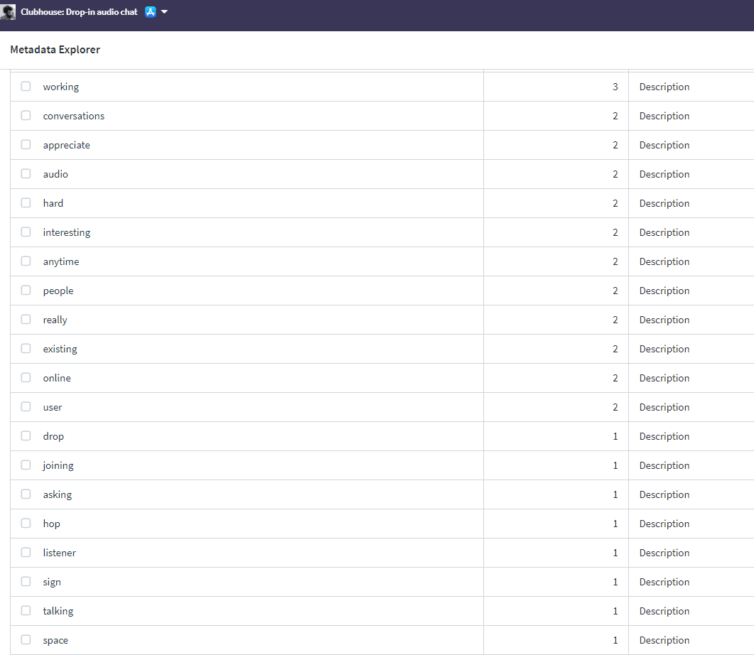 Although Clubhouse's user base is currently growing due to the network effect, the question remains if in the future shouldn't people be simply able to find the app in app stores as well? And not only based on the brand name.
If you do prefer to include App Store Optimization as part of your app store launch plan right away, then learn more here at App Radar Academy - iOS Keyword Field.
Paid keywords
When there's a new trending keyword, companies tend to place ads on them to make use of the news. As we can see from the screenshot below, the same is being done with the brand name of Clubhouse in the US as there are 3 apps running ads on the term "Clubhouse" to benefit from the buzz.
Therefore, especially in this crucial starting phase, where the rollout is still in progress, Clubhouse should consider running Search Ads to protect the most important keywords and guarantee that users are downloading the right app.
Do you know who is running ads on your app name? Tools like App Radar show you who is running ads on your brand name so you can protect yourself.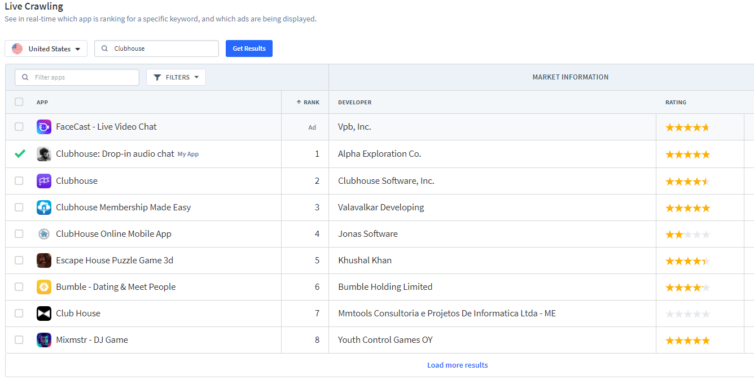 App icon & screenshots - is 1 screenshot enough?
Well, according to best practices it really isn't. But as we already know, this social app tends to do things differently.
But more interestingly, the one element in Clubhouse app store listing that has been getting attention is its app icon. They've actually been rather strategic about it - switching between featuring their active community members with every bigger release. In October 2020, Erika Batista was featured after Julie Wenah. Then Espree Devora, a Producer/Host of Tech Podcasts became the Clubhouse Icon, and after that Bomani X.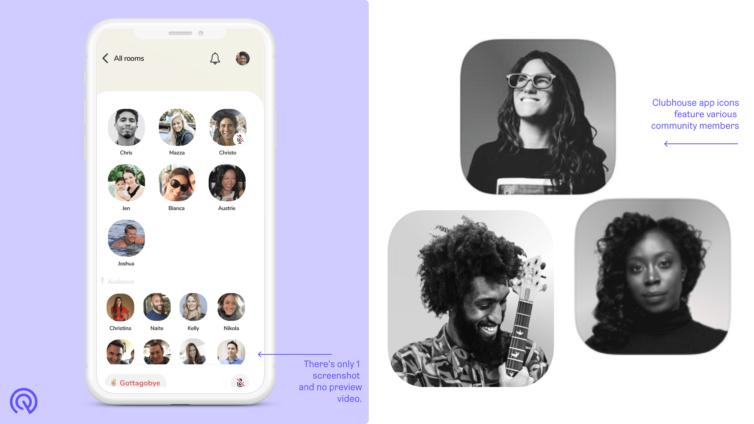 General best practices for app creatives would be: 1) include 10 screenshots (maximum that Apple allows); 2) the first screenshot should be about the main benefit of the app; 3) the screenshots should showcase what the user can do with the app; 4) combine graphics and text to enforce the message better.
Dive Deeper:
How to create compelling app store creatives?
What about the app preview video?
Well, there is none. Whereas in general this would be considered a must for app store listing, and most likely there will come one in the future, we could also perceive it as very suitable for an audio-only app. Point made.
Dive deeper:
Tips for videos on Apple and Google app stores
Frequency of updates
Since the launch in September 2020, Clubhouse started with releasing new versions on the app store bi-weekly and since December is doing it weekly or even more often. It's logical that the more users signup, the more bugs will also appear, and it's needed to react fast. But as every app developer will know - this also means significant pressure on resources.
As you can check in App Radar, the releases have been all technical, and no changes to the app store listing have been made. Except for changing the app icon a couple of times.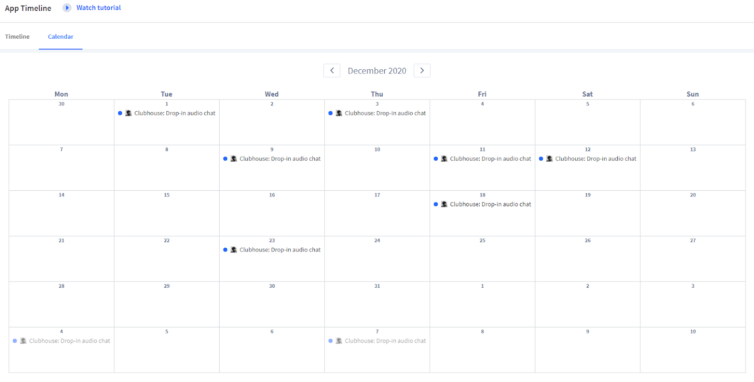 How can you analyse apps like this yourself?
What's great about app analysis is that the data you need is publicly available. You should just make your life easier by using an ASO tool instead of manual checking in app stores. For the above, I used App Radar's ASO tool, with which you can quickly track the data of any app. If you're not already streamlining your workflow with an ASO tool, I recommend getting started as it will save you a ton of time instead of manual analysis. Check out your competitors now!
Summary about Clubhouse app store performance
I tried to keep an objective view as I was looking into the buzz around Clubhouse as an Android user. But I did get influenced by our CEO, who is an iOS user and a huge fan. The use case of this app has been absolutely addicting for him. And I do agree their marketing with limited access and celebrity promotion is spot on as well.
At the current stage, there's obviously no high focus on the Clubhouse app store listing. We can see that the metadata does not include important keywords nor has there been significant consideration on creatives. This might be all okay for the current stage. I mean, how much better can your marketing really get if you already have famous and successful investors (like Andreessen Horowitz), athletes like Toni Kroos (German football star that plays for Real Madrid) or Hollywood stars like Kevin Hart using your app and pulling their fans into it?
But we could assume that like every hype, also this one will pass. For ongoing growth and scalability, focus on UA through more channels including app stores, will be needed. So I'm very much looking forward to following the marketing of Clubhouse to see how their channels and communications might be changing!
Their growth within a year has been exciting, to say the least!