Apple Search Ads were first introduced in 2016. At that time they were only available in the United States. Quick fast forward to June 2021, and Apple has announced launching Search Ads on the Apple App Store in Mainland China.
iOS Search Ads, the opportunity to advertise inside the Apple App Store, lets app marketers bid on an ad slot based on users' keyword search.
The following article looks into the new opportunities that app marketers have to start advertising towards Chinese consumers as well as potential restrictions and obstacles when launching iOS Search Ads in China.
Potential of app advertising in Chinese App Store
With a population approaching 1.4 billion people (2019), China is the world's largest and therefore the most lucrative market for app marketers.
As of 2020, there were almost 3.5 million mobile apps available for download on the various app stores in China.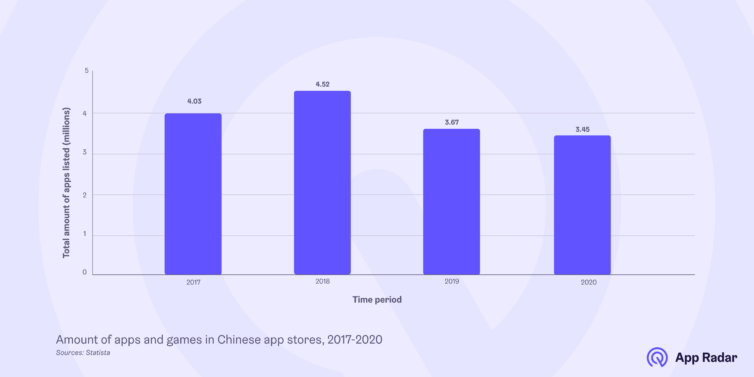 As of March 2021, the multi-functional app WeChat was the most popular app in China with over 1 billion monthly active users. Furthermore, three of the top ten were video streaming apps – Douyin, iQiyi, and Tencent Video.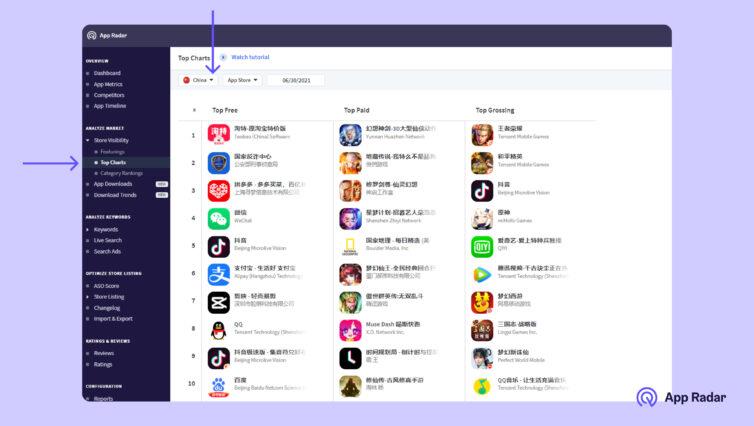 For Apple, Chinese App Store is an important source of income and a strong market. It's smartphone net sales nearly doubled year-over-year to $17.7 billion in Q1 2021. That means that 22% of mobile phone owners in China are iOS users.
Yet for app marketers China is a tricky market to access, to say the least. It's scale makes it a hugely attractive market but the strict advertising rules strongly limit what apps and how can be promoted.
China is a huge market that has been missing the app advertising option with Search Ads. This creates a great opportunity to enhance the revenue of our clients
How to set up iOS Search Ads for China?
Since June 2021, it's now possible to choose "China mainland" for "Search Results" ads.
Note: Search tab ads aren't currently available on the App Store China.
Chinese App Store Review Process
Your campaigns won't run until both your app and business have been approved. The process goes as follows:
Create your iOS Search Ads account. If you are already using an international (non-Chinese) Search Ads account, then simply select 'China mainland' in the 'Choose one or more countries or regions' section.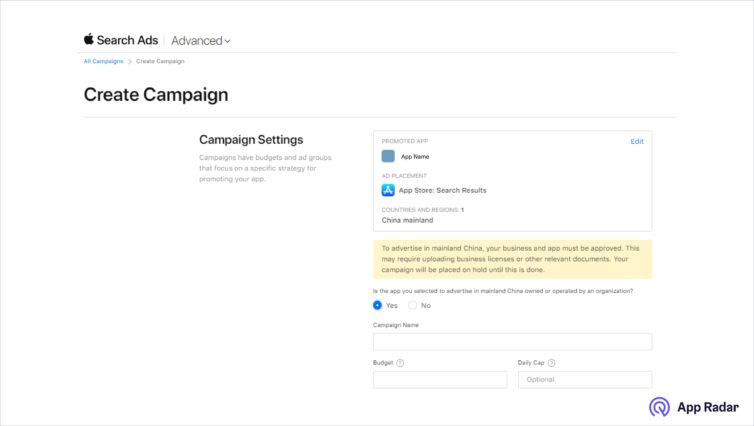 Provide appropriate licenses. Upon clicking 'Upload Documents' you will be taken to an Upload Documents page. Make sure that all relevant documents match the Legal Entity Name that you provided during account creation.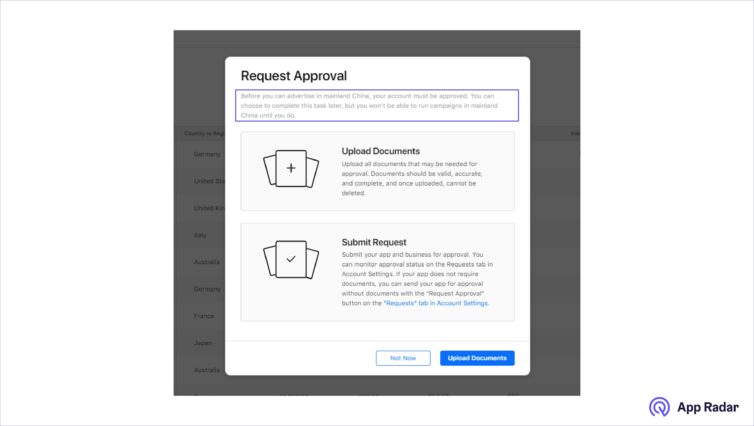 Select your app keywords. The system provides recommendations based on the details of your app, together with their popularity.
Specify your target audience. The options here are the same as for other countries. The 'Locations' section allows you to target by province and also city.
Confirm your 'Creative Sets' including metadata, screenshots and app previews. Note: we strongly recommend using localized creatives!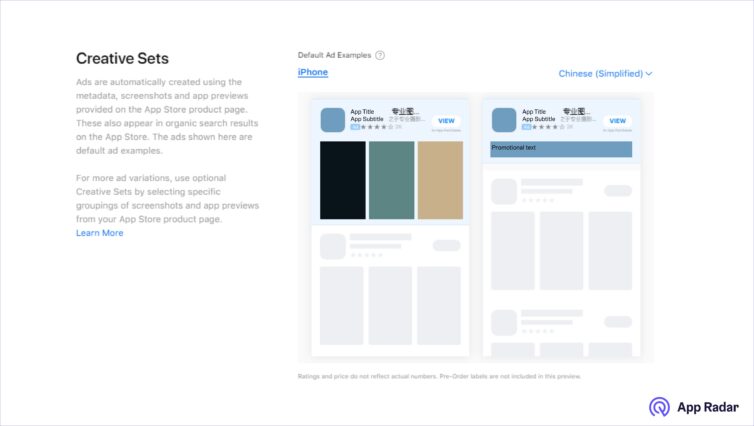 Submit your campaigns for approval. After clicking "Request Approval", your ad content, submitted documents, and account details will be reviewed. You will be notified if they are approved or if additional information is needed. It can take up to seven business days for apps and business entities to be reviewed.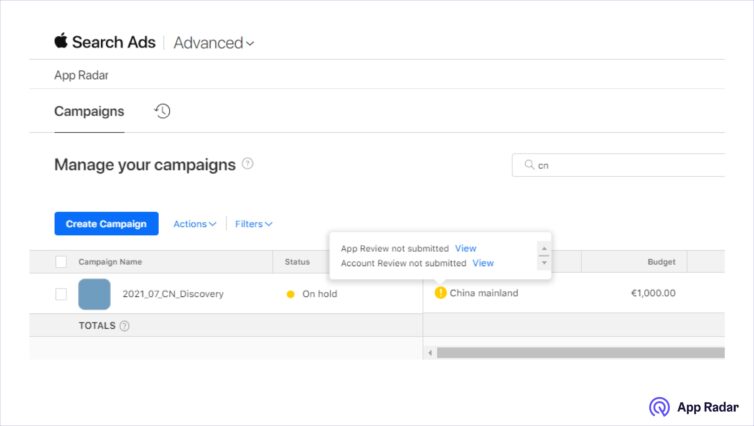 Your iOS Search Ads for Apple App Store China will be able to go live as scheduled.
Note: In order to add documents in the Files tab, make sure you've linked your Apple Search Ads account to your App Store Connect account before you begin.
Regulations for app advertising in China
To run iOS Search Ads on the Chinese App Store, your business and apps need to be approved. There's also several limitations on which apps and how can be promoted.
Tip: App marketing experts at App Radar can support you with Apple Search Ads campaign management, automation and optimization among other countries also for mainland China.
Getting your iOS Search ads account approved
Getting your search ads campaigns approved may require uploading business licenses or other relevant documents. Apple will retain the documents you provide for as long as necessary to fulfil the purposes for which they were collected or as required by law, in accordance with Apple's Privacy Policy. If you upload something by mistake, you can use the trash icon to delete it on this page. Once you click Save and Continue, documents cannot be deleted.
Note: Document upload and management must be done by the person who's assigned the Account Admin or Account Finance role for your account.
According to AppInChina, almost all of the licenses required can only be held by a 100% Chinese-owned company (or in some cases a joint venture with Chinese shareholders holding over 50%) and are therefore impossible for an overseas entity or wholly foreign-owned entity (WFOE) to obtain.
You can check the status of your documents as well as the possible rejection reason on the Requests tab. Your documents might be rejected for any of the following reasons:
Documents Missing
Documents Unreadable
Documents Expired
App Content Rejected
Business Profile Mismatch
Document(s) Rejected
Note: If you've set your campaign to run in multiple countries/regions including mainland China, then it will run in the other countries/regions. Immediately and will start running in mainland China as soon as you get the approval.
Apple Advertising Guidelines for mainland China
Importantly, Apple highlights that their Guidelines might not be sufficient to meet all applicable laws and regulations for advertising in mainland China. They also clearly state that it's your responsibility to ensure that your app advertising is compliant. Therefore we strongly recommend consulting with our app marketing team before you risk your campaigns being rejected.
Filling in Confirmation of Valid Online Agreement
Customers located in mainland China (including advertisers and advertising agencies) must fill out and submit the Confirmation of Valid Online Agreement. This document provides written confirmation that the customer or the customer's authorized representative validly agreed to the online Apple Advertising Services Terms of Service.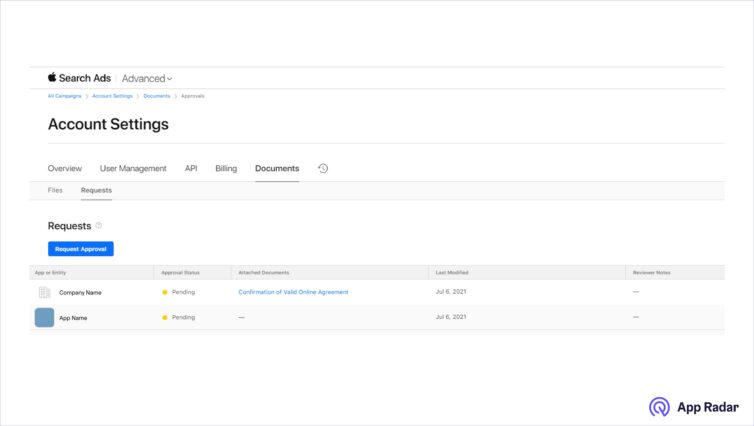 As Apple reserves the right to modify their qualifications at any time and to apply restrictions or limitations to their Search Ads at any time, we strongly recommend consulting with our Search Ads team before starting to advertise in the Apple App Store China.
Restrictions for iOS Search Ads in mainland China
App advertising is restricted for mainland China users age 18 and older in the following categories:
Games
Cosmetics and Cosmetology
Health Food
Medical Care
Dating
Alcohol
Non-corporate entities may not advertise content in Chinese app store for:
Gaming
Dating
Travel
Audio/Video Entertainment
Finance
Insurance
Commercial Performances
E-Commerce
Internet News Information Services
Real Estate
Ridesharing/Taxi
Cosmetics
Books/Periodicals
Employment Services
Mail Delivery
How App Radar can help boost your iOS Search Ads Campaigns
App Radar offers app store advertising services. Our team can support you with Search Ads campaign management, automation and optimization in China as well as other countries.
We'll help you to make smarter bids with our advanced keyword tools as well as to set up a successful app advertising strategy. We'll help you to do competitor research as well as to localize your creatives for Chinese. Our tools reduce the amount of manual work needed and full-service allows you to outsource the app store marketing completely.
If you want to start advertising your app in China, reach out to our iOS Search Ads experts today to push your app to millions of Chinese consumers!
Extra: Available countries/regions for doing app advertising with Apple Search Ads
Search Ads are a great way to increase your visibility in app stores. Below you can find the list of countries/regions where iOS Search Ads are available (July 2021).
Search Ads in Africa, Middle East, and India
Egypt
India
Israel
Jordan
Kuwait
Lebanon
Oman
Pakistan
Qatar
Saudi Arabia
South Africa
United Arab Emirates
Search Ads in Asia Pacific
Australia
Cambodia
China mainland*
Hong Kong
Indonesia
Japan
Macau
Malaysia
New Zealand
Philippines
Singapore
South Korea
Taiwan
Thailand
Vietnam
Search Ads in Europe
Albania
Austria
Azerbaijan
Belgium
Croatia
Czech Republic
Denmark
Finland
France
Germany
Greece
Hungary
Ireland
Italy
Kazakhstan
Netherlands
Norway
Poland
Portugal
Romania
Russia
Spain
Sweden
Switzerland
Ukraine
UK
Search Ads in Latin America and the Caribbean
Argentina
Chile
Colombia
Ecuador
Mexico
Peru
Search Ads in the United States, Canada, and Puerto Rico