The Best App Store Advertising Tool
Bid on the right keywords, grow your user base and profit from your
Apple Search Ads campaigns.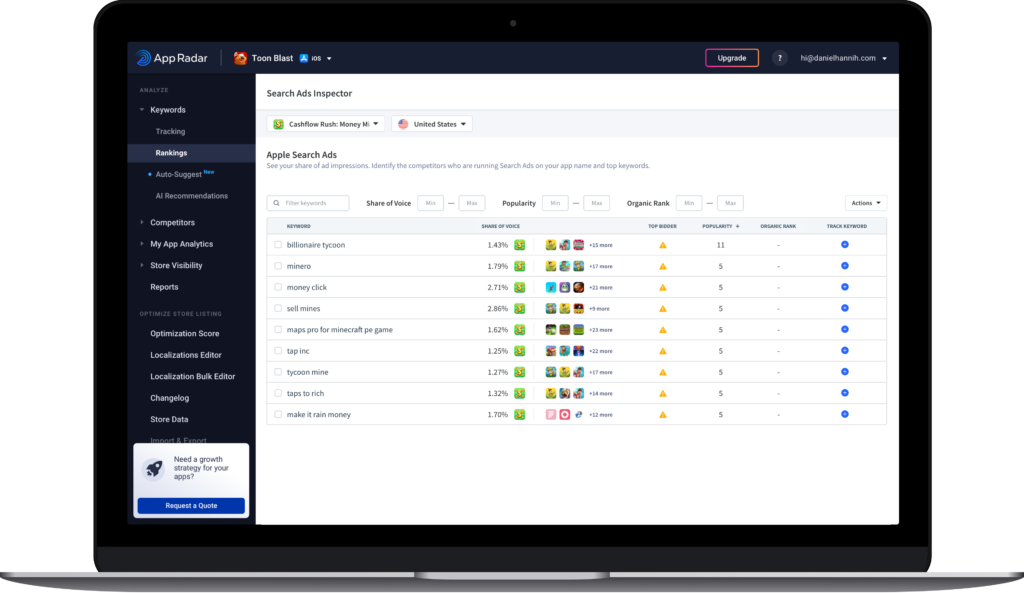 Manage and optimize Apple Search Ad Campaigns
Guided ad campaign set up and optimization directly in our App Store Advertising tool.
Track Ad Performance per Keyword
Discover which keywords are bringing more app installs with the best CPA.
Automate bid adjustment for your Apple Search Ads
Let our App Store Advertising tool automatically adjust your campaign bid and get your ad displayed in your most relevant keywords.
Spy on competitors running Apple Search Ads
Find out the keywords your competitors are bidding on and their ad share per keyword.
See Your Share of Voice (SOV)
Keep updated about your ad share per keyword and find out for which keywords your ad is being displayed the most.
Get tailored campaign recommendations
Gain App Store ad insights and recommended further action for your campaigns.