App Store Advertising (ASA)
How do App Store Advertising and Optimization Work Together?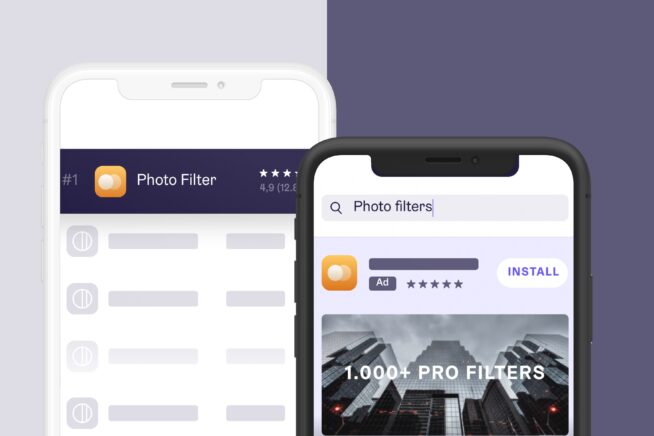 You've now learned about the 2 main channels for promoting your app, Apple Search Ads and Google App Campaign. Need a refresher? Go ahead and catch up with these previous lessons before moving on.
Now let's learn how to utilize App Store Optimization to level up your App Advertising for bulletproof results.
What is App Store Optimization?
First, you have to understand what App Store Optimization (ASO) is. We'll go over it quickly here. If you want to dive deeper, we have a comprehensive and free ASO Academy that will teach you everything you need to know about it.
App Store Optimization, also called ASO for short, is the process of increasing visibility and conversion in the app stores.
The main influencing factors are:
Keywords
Visuals
Rating and Reviews
Dive Deeper:
App Store Ranking Factors: App Store vs. Google Play
Keywords
Keywords are terms that people use to search the app stores for a specific mobile app or game. You should be placing keywords strategically in text elements to rank higher in relevant searches. Keywords make your app more easily discoverable.
Visuals
Visuals are the app icon, feature graphic, screenshots and/or preview videos you include in your app's store listing. They give potential users a sneak peek of your app's main features. People rely heavily on visuals to decide whether or not they want to download an app. Visuals make your app more appealing.
Ratings and Reviews
Ratings and reviews are another large deciding factor for potential app users. People want to know they're downloading a high quality app. And that's not the only reason they're important. Apple and Google tend to rank apps with better ratings and more positive reviews higher in the search results. Ratings and reviews make your app more trustworthy.
Now that we're familiar with some ASO basics let's move on to how exactly ASO affects your app ads.
Level Up Your App Advertising with App Store Optimization
Whether you're running Google App Campaign ads or Apple Search Ads, potential users who end up clicking on the advertisement will end up on your app's store listing page. I'm going to repeat that.
Potential users will always end up on your app's store listing page after clicking an ad. Got it? Good!
Okay, so what does this mean? This means your app store listing has to be optimized for conversion. Every element works together to entice potential users to download your app. If your store listing is not optimized, people won't download your app, and you end up wasting the money you spent on the initial advertisement.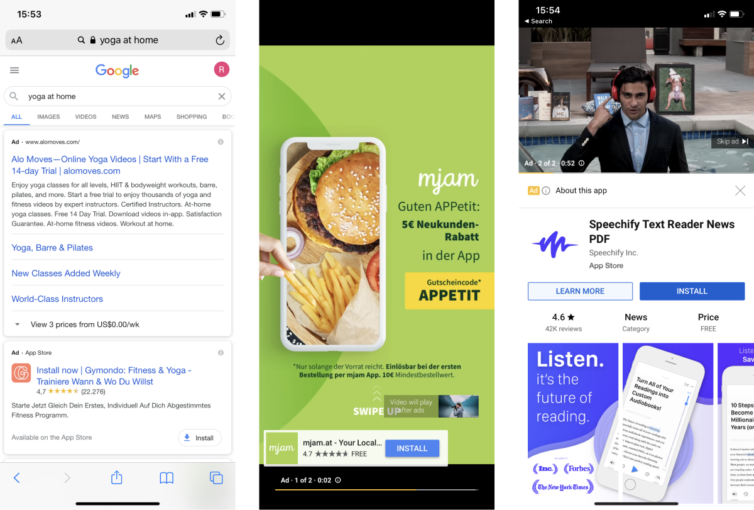 Optimizing Your App Store Listing
This is where App Store Optimization comes in. In order to have a well-converting ad, you need to have a well-converting store listing. The text, visuals, and other aspects, like ratings and reviews, have to all be in tip-top shape. And when you optimize your app's store listing for paid campaigns, you simultaneously optimize it for organic growth. No loss here!
Make Sure Your Keywords are Popular and Relevant
Start with keywords. The same keywords that appear in your app store listing should also appear in your app advertising. But not so fast! Before running your ads and spending money on them, you want to make sure that people are actually searching for and attracted to the keywords you're using. You can see how popular keywords are with App Radar's Keyword Tracking tool.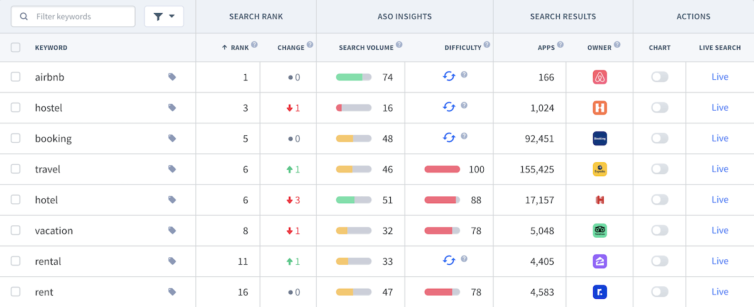 In addition, you should check whether your chosen keywords are related to your app. You are also able to do this with App Radar. Go to the Live Search feature. It will show you the current search results in the Apple App Store or Google Play Store for specific keywords. Don't have an App Radar account yet? Sign up for free today!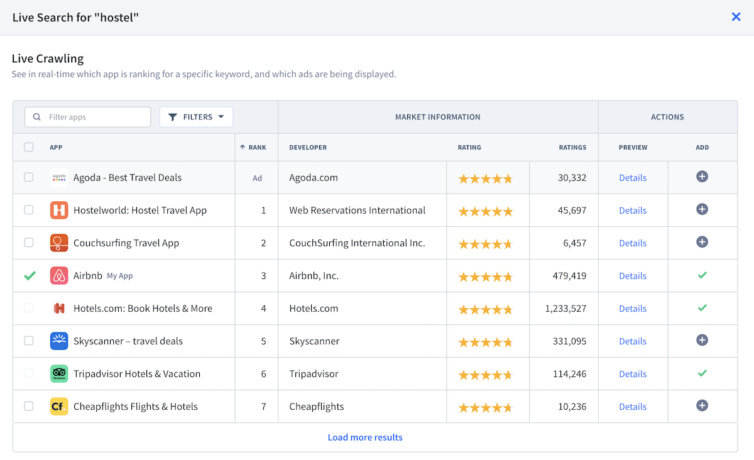 When the keywords in both your ad and your store listing are popular and relevant, you'll attract the right people who are most likely to become loyal users. As a result, you'll have created better short- and long-term returns on your app advertisements.
Create Scroll-Stopping Visuals
We bombarded daily with content from every direction. To get people's attention, you'll have to create eye-catching visuals that make people stop in the middle of their scroll. Visuals should always be designed to appeal to your app's target audience. Each audience is different, depending on their age, location, culture, etc.
Furthermore, the visuals must highlight your app's best and biggest features. What can people expect when they download your app? Why should they download your app? Answer these questions in both your app ads and your app store listing.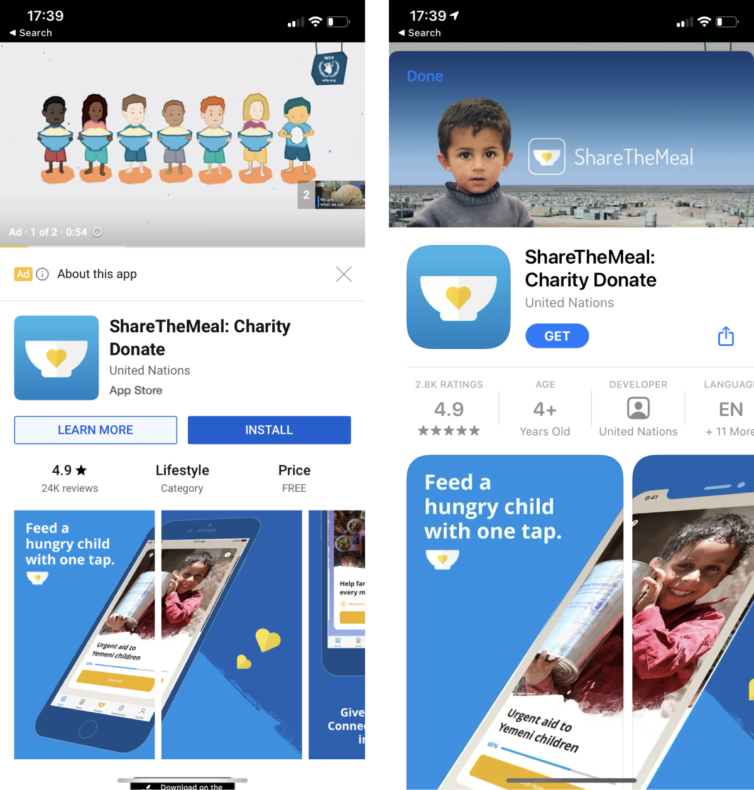 The images and videos you include in your app advertisements need to match the ones that are used in the store listing. They don't have to be exactly the same, but the branding has to be consistent. For example, using the same colors in the ad and store listing helps potential users recognize that the ad and your app are related. It also boosts their certainty that they are downloading the app advertised.
Lastly, the final download decision is made once the person clicks on the app ad and lands on the store listing. You definitely want to be confident that the screenshots and preview video you have on there are appealing. If not, people will just click away rather than downloading.
Having a High Rating and Positive Reviews
Ratings and reviews show up on both Apple Search Ads and Google App Campaign. When your app's ratings and reviews are negative, people will not even pay attention to it. So it's vital to your paid user acquisition strategy to improve your app's ratings. Aim for an average 4 stars or higher.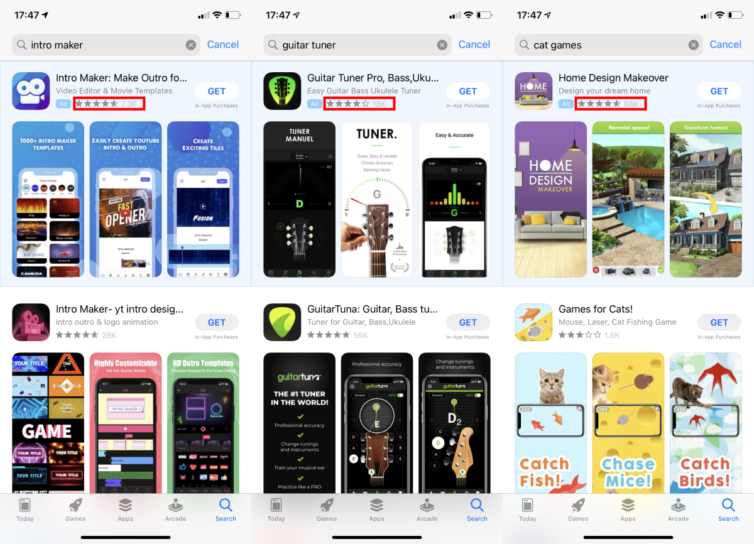 As you can see above, ads for apps with better ratings appear more trustworthy and are more likely to be clicked.
App Advertising and App Store Optimization Summary
App Store Optimization is inevitably intertwined with a winning app advertising campaign. An easy way to figure out if your app advertising and App Store Optimization are working harmoniously is to keep track of your installs. With App Radar, you can detect spikes in your downloads that correlate with an effective ad campaign.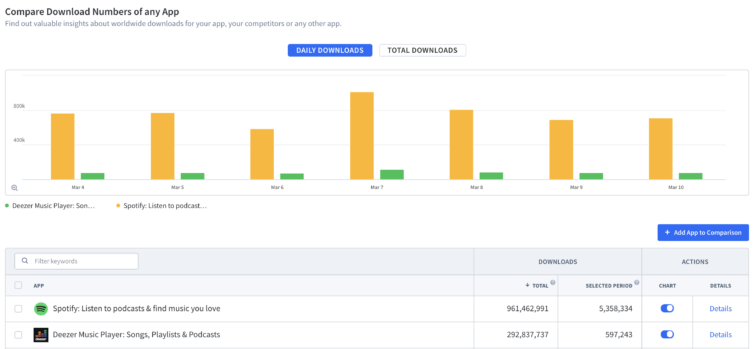 And remember, no matter where you run your app ads, people will always end up on your app store listing as the last step before they decide to download. Never forget to optimize your app store listing.